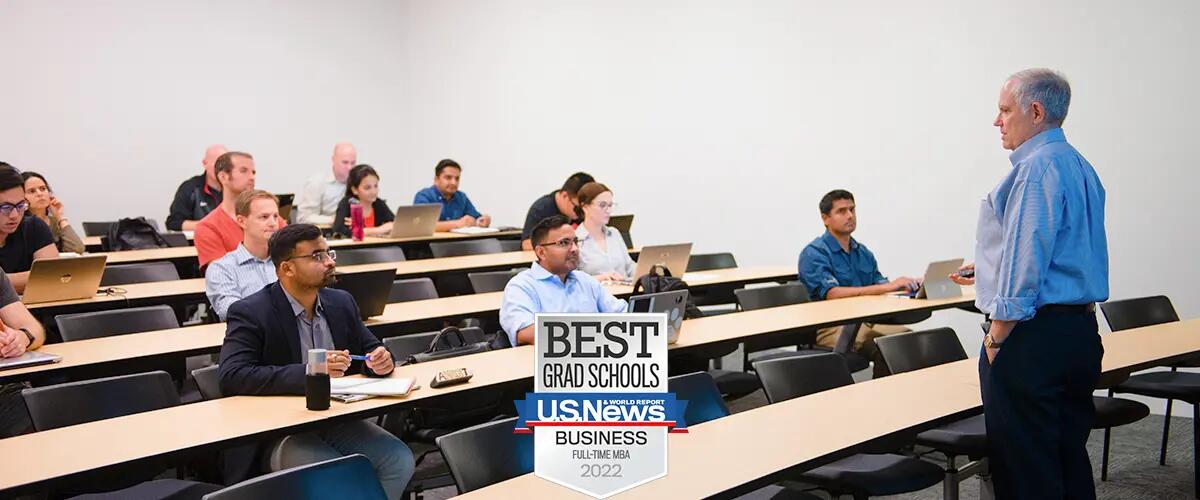 Strong employment outcomes help Rutgers Business School rank among the Top 25 public MBA programs in the country according to U.S. News
Rutgers Business School's Full-Time MBA ranked No. 21 and Part-Time MBA No. 22 among public business schools in the nation according to U.S. News & World Report's annual findings. According to the report, 97% of Rutgers Full-Time MBA students were employed three months after graduation, ranking Rutgers Business School No. 9 in the U.S. for employment outcomes among ranked business schools.
Overall, out of 493 AACSB-accredited MBA programs in the U.S., Rutgers Full-Time MBA was No. 45 and Part-Time MBA No. 34 in the U.S. In addition, the Rutgers Supply Chain Management MBA concentration was ranked strongly as No. 12 in the U.S. [see report].
"Rutgers Business School is again one of the top 25 public MBA programs in the U.S. in this highly competitive environment," said Dean Lei Lei. "Over the years, the reputation of our MBA programs has shown a strong positive trajectory in the U.S. News & World Report annual rankings."
U.S. News & World Report looks at employment outcomes, salaries and both peer and recruiter assessments among other factors to determine its rankings.
"Dean Lei and the leadership team have provided us the resources and autonomy to attain the No. 9 ranking," said Dean Vera, assistant dean, MBA Office of Career Management. "Credit must be given to our hardworking Rutgers students (now alumni) of the Class of 2021. We coached and connected them to employers, and they competed well. The rest, it turns out, is historic. [see top recruiters]."
This is the third time Rutgers Business School has been in the top 10 for employment outcomes in the U.S. News rankings.
Rutgers Business School has a track record of driving a strong return on investment for our graduates. Rutgers MBA alumni experienced on average a 166% salary increase three years after graduation, ranking No. 1 among public business schools in the Northeast U.S. according to the Financial Times [see story].
Motivated and collaborative students from all backgrounds and cultures in the Full-Time MBA program have found that there has been no substitute for an affordable, in-person Rutgers MBA experience in the New York Tristate area.
Part-Time MBA students also value in-person learning and networking but enjoy the flexibility of taking classes online, at night or on Saturdays and Sundays.
Here are student stories showing the impact the Rutgers MBA program has had on their lives:
Marsha Fils went all in when she picked Rutgers Business School for her MBA. She navigated virtual learning and networking during the pandemic forging her experience into a job at Google [see story].
The Rutgers MBA program offered one Wisconsin native a chance for a new career in the Northeast. Midway through his first year, Thomas Parker realized some of the advantages of having relocated to the East Coast to earn his MBA recently accepting a position at Johnson & Johnson [see story].
When Fironica Lao hit "a ceiling" five years into her work as an animal technician in a large research laboratory in Northern California, her Rutgers MBA jumpstarted her career with an opportunity at AbbVie [see story].
Learn more at a Rutgers MBA Info Session.
Press: For all media inquiries see our Media Kit