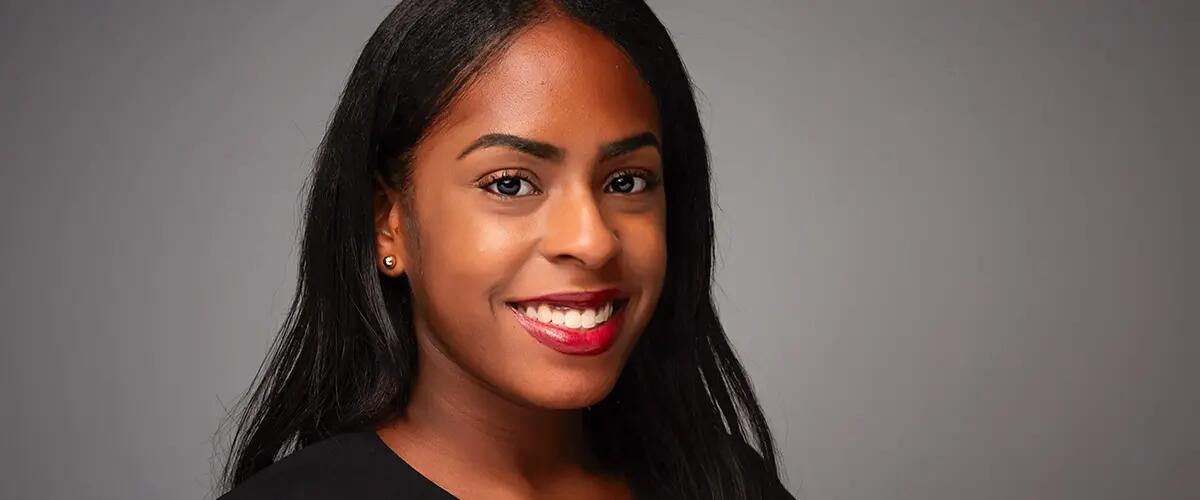 Student credits B-STAR program for helping her to succeed
Stories of resilience, resourcefulness and responsibility
The Business Student Transition at Rutgers (B-STAR) program at Rutgers Business School-Newark and New Brunswick not only gave Jasmine Clarke a jump on her college career, but on her professional one.
Through B-STAR, Clarke learned the ropes of college life and earned six credits before starting her freshman year at Rutgers. Now a senior, she has secured a post-graduation job as a risk analyst for Goldman Sachs.
"The B-STAR program gave me guidance and helped me map out a vision for my college career and beyond," Clarke said.
Charles A. Brown, assistant dean for diversity programs at Rutgers Business School, said Clarke embodies Rutgers Business School's three R's – responsible, resourceful and resilient. "Jasmine is a go-getter who has risen to the challenge time and time again," Brown said. He said he has watched her grow from a shy freshman into a campus leader who mentors fellow students.
In its sixth year, the award-winning B-STAR program supports high-performing students accepted to RBS through their college years. About 120 students are currently in the program at the two campuses, Brown said.
Clarke spent six weeks in the summer of 2016 on campus and earned an impressive grade point average that allowed her to apply for merit scholarships. Clarke said she has earned five scholarships during her college years.
The honors accounting major was assigned a professional mentor from Goldman Sachs, and the B-STAR program's leadership development and volunteering opportunities provided her face time with other business executives.
"The program kept me in the loop so I was considered for opportunities," Clarke said.
All through her years at Rutgers Business School, she took advantage of resources on the Newark campus, including the Writing Center, the Office of Career Management, and open-door access to the dean's office.
One of B-STAR's benefits "is being around other ambitious college students who are constantly uplifting and encouraging each other," the 22-year-old said. The East Orange resident is also involved in Women BUILD, which strives to overcome workplace issues faced by minorities and women.
Clarke aspires to become a certified public accountant, a career that wasn't on her radar when she attended Saint Vincent Academy in Newark. "I did not enjoy math at all, and I never thought I'd go into a math field," she said.
Her opinion shifted when she participated in the Accounting Career Awareness Program — hosted by the RBS Office of Diversity Programs — as a high school junior and spent a week at Rutgers-Newark learning about the various career paths the field offers.
RBS and its B-STAR program helped transform Clarke. "I was really timid and unsure of myself, but I'm so different now. B-STAR definitely strengthened my confidence," she said. "Now there are people looking up to me."
-Margaret McHugh
Press: For all media inquiries see our Media Kit