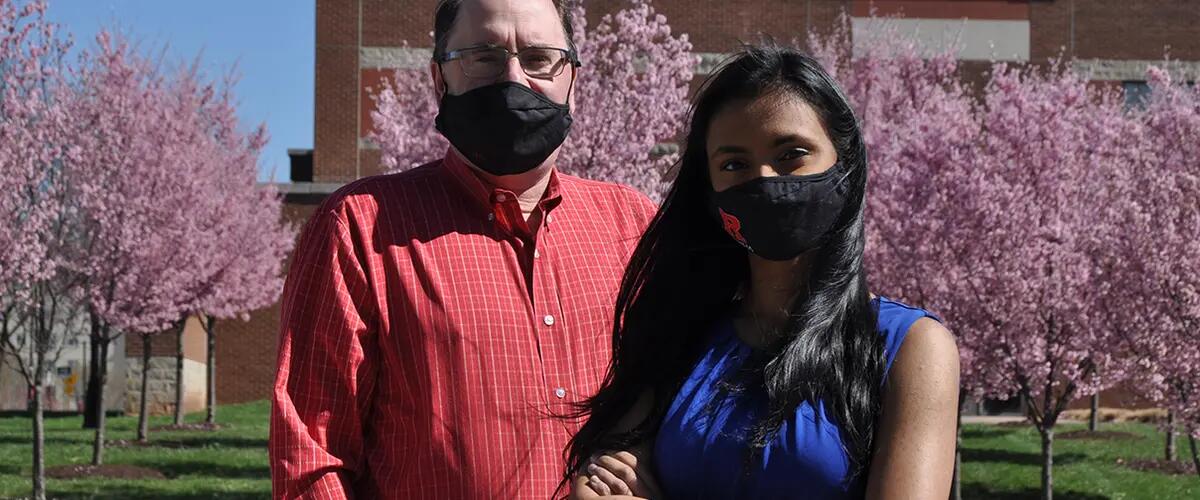 Students rebuild program to provide youth with fast start to success
Rutgers Business School-New Brunswick student Ankita Kodali successfully mobilized her classmates and friends to help rebuild the Rutgers University Business for Youth program. "RUBY is completely RBS student-run," she said. 
When senior Ankita Kodali learned that a dean's program to introduce high school students to college had remained shelved for years at Rutgers Business School, she set out to revive it.
After nearly two years of organizing, planning, recruiting classmates, and finally, pivoting to virtual programming, Rutgers University Business for Youth, known as RUBY, has attracted 145 students from nine high schools. In 2020, 65 of the program's original students continued their participation, and another 80 sophomores joined, including five from the Asbury Park Boys & Girls Club.
Kodali, a calm, soft-spoken accounting and finance major, remains surprised at the numbers. "I didn't expect it to take off so quickly," she said.
The students participating in RUBY come from different school districts and diverse backgrounds. What they share is a determination to excel and prepare for the future. "These high school students are so motivated," Kodali said.  "They are inspiring."
RUBY provides high schoolers with a variety of experiences offering them a sense of college life and a business school education. They work closely with college student mentors who help them with presentation skills and teamwork. The Rutgers students coach them through business plan competitions and case studies. RUBY offers them opportunities to attend presentations with RBS faculty and to meet visiting executives.
High school sophomores in their first year of RUBY get experience developing business ideas and competing for prize money in a business plan competition. Junior students move on to business case studies – a hallmark of the business school experience. The mentors help with both.
Even as RUBY went virtual, Kodali said the mentoring continued. "Every person in RUBY is a mentor in some capacity. They all have a team of students or are helping the mentor by working with the high school teachers," Kodali said. 
Five teen-agers who are part of a college-readiness program (Learning, Earning Advancing Dreams) at the Asbury Park Boys and Girls Club joined RUBY in September. While the club's program covers business and entrepreneurship, Daniel Rivera, area director of the Boys and Girls Club, said RUBY gave students the ability to dive deeper into those areas.
"This gave them the chance to learn about the work that goes into building a business," Rivera said. The students have had a chance to create business plans and go through the experience of a business plan competition, he said.
Rivera said the mentoring from college students is something valuable that he can't provide. People at the club are older, so the college students close the gap in age and the students appreciate that, he said.
Sarah Hayek, who teaches marketing and honors business management at Jackson Liberty High School's Academy of Business, said the RUBY program augments the business focus her students receive. Nine juniors from the Academy of Business participate in RUBY.
"The program gives them a deeper insight of the business areas and (before COVID) gave them an opportunity to visit the business school campus," Hayek said. "They are all likely candidates for business school."
When Kodali took on the project of reviving RUBY in the summer of 2019, she worked closely with Martin Markowitz, a senior dean at Rutgers Business School who created RUBY, and Ron Richter, a finance instructor, who runs the week-long summer business camp at Rutgers Business School for high school seniors. Kodali worked as one of Richter's camp counselors in 2018.
Kodali also spent some of that summer recruiting other college students to be mentors in the RUBY program. She reached out to other counselors from the business camp and friends who she knew were community-service-minded.
At the start, there were 20 RUBY mentors. Some went with Kodali on visits to six high schools in Central Jersey to sell teachers and students on the program. At one point, Kodali said she drove a group of them to a high school in Jackson Township. "The mentors were so motivated to get this program off the ground," she said, "they took time out of their schedules."
RBS junior Sejal Shirshikar, who has been working closely with Kodali, said she immediately realized the value of RUBY. "I thought what a difference this program would have made for me during high school," she said.  "I wanted to be part of it and help make that difference for students."
For Petrina D'Antonio, a student from Jackson Liberty High School, the program has taught her about career opportunities, but also about teamwork, networking and public speaking. "Since joining the program my confidence with speaking in large groups has grown proficiently and has improved my soft skills tremendously," she said.
Rivera from the Asbury Boys and Girls Club said RUBY's impact has also been significant on his students as well. "This programming is extremely important to the students in our community," he said. "They're able to test the waters when it comes to higher education or going into business for themselves."
In January of 2020, Shirshikar and Kodali were leading a full-day event that brought the group's 65 high school students to campus. The next on-campus, full-day event was cancelled in March as a result of the COVID-19 Outbreak. "We put a pause on everything," Kodali said.
By May, the students were ready to continue RUBY virtually. Kodali had remained connected with the high school teachers via email. Meanwhile, students from two more schools and the Asbury Park Boys & Girls Club joined RUBY.
To support the additional growth, Kodali said the Rutgers students decided to expand RUBY's structure, adding lead mentors who provide mentoring support and help communicate with the high school teachers. RUBY has more than 50 students working as mentors or lead mentors now. There is also now a 10-member student e-board which helps oversee the program.
"RUBY is completely RBS student-run," Kodali said.   
Professor Richter said he is not surprised at what Kodali and Shirshikar have accomplished. "They are exceptional students who believe in what the program can do for students," he said.
Dean Markowitz said his goal was to create a college- and career-directed micro-culture among qualified high school students who did not have access to appropriate resources.
"In a previous life when I was a junior high school teacher in an underserved community, I saw the students in my classes had virtually no chance to go to college and pursue the type of careers that are open to college graduates," he said. "The RUBY Program was created to provide the right environment to give these students direction and support."
The Rutgers Business School students have given the program an infrastructure it needs to influence high school students to pursue college – or business school, Markowitz said. "I could not be happier to see RUBY growing and benefitting so many high school students."
Kodali, who only recently felt comfortable calling herself Ruby's president, said she has also benefited from the experience. "I did not expect the level of organizational, managerial, negotiation, and communication skills I would develop running RUBY.  It has been an intense course in team building and management," she said.
 "I will bring all those skills and experience to my professional career," she said.
Interested in getting involved in the RUBY Program? High school students or teachers who want to participate or college students who want to mentor may contact: rbs.ruby.program@gmail.com.
Press: For all media inquiries see our Media Kit