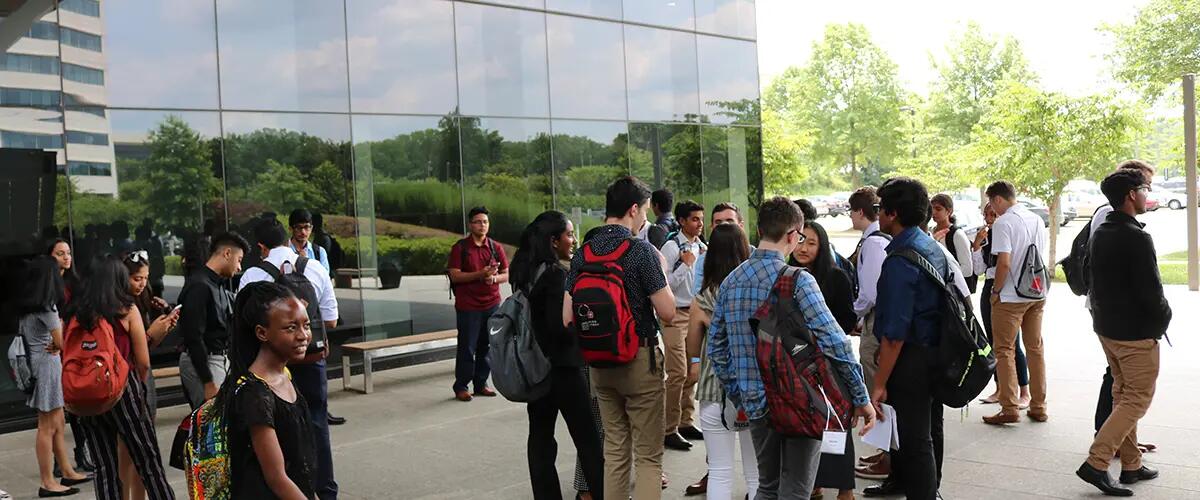 Summer Business Camp provides college experience and career insights to high school students
After graduating from high school, Dhvani Shah knew she wanted to study business in college, but she didn't know what area of business she wanted to focus on or what would most interest her and lead to a meaningful career. Then she learned about the Rutgers Business School Summer Business Camp. Shah spent a week on the university's Livingston Campus learning about college, majors, and careers. Shah just completed her second year at Rutgers Business School, majoring in supply chain management.  
"I really enjoyed the business camp. Professors from the different departments provided a good look at the majors and what we would actually be doing in different careers," Shah said.  "Eugene Spiegle talked about supply chain management and that really spoke to me. I liked getting an overview from production to distribution to consumer and also understanding that any problem along the way could stop the entire process, but we could learn how to manage supply chain disruptions."
"I stayed in touch with Ron [Richter, the program director] and I wanted to help new students the way the student counselors helped me during camp.  This summer is my second year back as a student counselor," said Shah. "This cohort came together and were really invested in the camp right away."  
During the week-long business camp, the students visited four different companies: AT&T, Johnson & Johnson, MassMutual, and Top Golf. During their visit to MassMutual Tri-state for a panel discussion by financial planning advisors, the students also had an opportunity to record "elevator pitches." While students waited their turn, they paired up and practiced presenting to each other.
At MassMutual Tri-state, three financial planning advisors from different backgrounds told their stories of how they came to their careers. Kate Reilly graduated from Amherst College with a degree in psychology.  "A lot of this job requires understanding people and their feelings," she said.
After a career in the United States Air Force running plant operations for PSE&G, and then working as a certified welding inspector, Jerry Wade turned his attention to financial planning. He created On Point Strategic Planning, a veteran-owned business dedicated to providing complete financial solutions and helping families with businesses and developmental disabilities secure greater futures.
Jatil Kodati earned a bachelor's degree in economics at Rutgers Business School.  He explained how he analyzes his clients' financial situations, identifies their goals and concerns, and then offers solutions.
During the panel discussion, all three provided advice about professional development and career growth. They also presented the realities of sales-call rejection, daily work life, and the empowerment they feel from commission sales. Among some of the insights they shared were these: You determine your earnings. Don't wait for someone to recognize your work and give you a raise. Work hard and smart and you will be rewarded.
Press: For all media inquiries see our Media Kit