This summer camp is all business
Students hike through companies, dive into business, and aim for success.
Now in its 3rd year, the Rutgers Business School Summer Business Camp provided high school juniors and seniors an immersive week of learning and living as college students on the Livingston campus.
"We open up their ideas about college, studying business, and the range of career possibilities," said Senior Associate Dean Martin Markowitz. 
"Most of the students have vague notions of what accountants or financial advisers do," Markowitz said.  "It was an entirely new world when we took them to an information technology company where executives explained IT supply chain management."
The camp is an intensive experiential learning week of lectures, site visits, and teamwork, culminating in a friendly business plan competition.  Students learn the basics of business along with introductions to accounting, finance, marketing, supply chain, and entrepreneurship.  The business world is appealing to more students. Forty-seven students participated this summer compared to 18 two years ago when the program started.
Seventy volunteers, including current students, alumni, faculty, staff, and a dozen business executives, filled the program from 8:00 AM to 10:00 PM.  Monday and Wednesday, current RBS students ate dinner with the students and mentored them on applying to college and beginning to identify potential college majors.  Tuesday and Thursday, business executives ate dinner with the students in small groups talking about careers and answering questions.  Each evening after dinner, the RBS students or the executives worked with the campers on their business plans.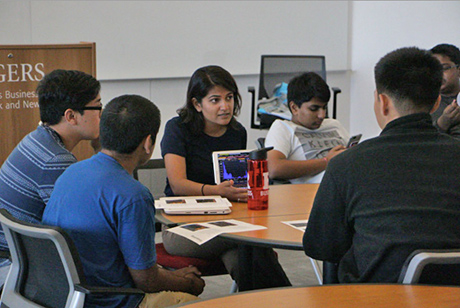 Saloni Gupta, credit analyst at Bloomberg LP, ran an hour and a half session on her career and the industry.  She also worked with the students in small groups and answered questions.
"The executives volunteering their time and expertise to the program demonstrated networking to the students in the best possible way," said Ron Richter, director of the Summer Business Camp.  "I taught Saloni as a high school student, and I taught her as a Rutgers Business School student," said Richter.  "Now she is here giving back to students and helping the program as a professional in the finance world."
Yoselin Hernandez attended this year's camp, and became "hooked" on studying business when she goes to college.  She demonstrated significant interest and drive to learn about business, as well as her entrepreneurial spirit, through fundraising the camp cost.  The week long live-on-campus business camp cost $1,300.
"I used various methods to fundraise," said Hernandez. "I used social media like 'Go fund me,' but it didn't work out. My most effective method was creating a letter that explained what the camp was, why I really wanted to attend, and why I need to. This required me to reach out to individuals in person and to speak out, going place to place.
Supply chain management was unfamiliar to her prior to attending the camp. 
"The concept-to-consumer process, as well as the goals for supply chain management, gave me an entirely new understanding of how products get to consumers," Hernandez said.
The professors and industry speakers were highlights of the week for Hernandez.  "They not only knew their material and stressed the importance of quality research," said Hernandez, "but they also knew how to teach it."
Hernandez summed up the program as: "an amazing experience where groups form and become family."
-Sean Ireland
Press: For all media inquiries see our Media Kit