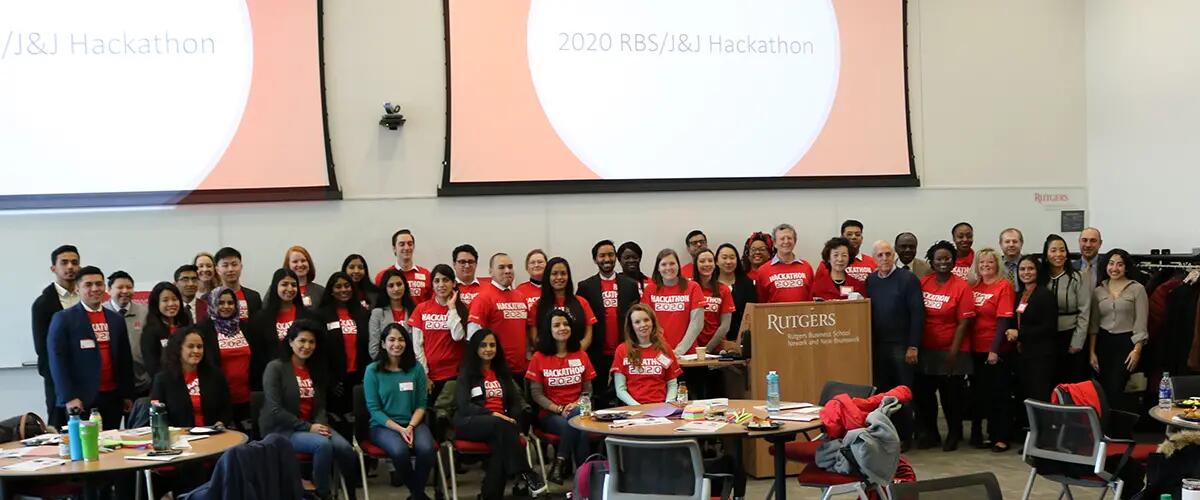 Team diversity and little time spark ideas in inaugural hackathon
"How might we inspire more young women to choose a career in data analytics?"
The first annual Rutgers Business School / Johnson & Johnson Hackathon kicked off with a welcome from Dean Lei Lei.  She also congratulated the 30 students selected from over 250 applicants.  "We are very excited to partner with Johnson & Johnson today to apply our considerable student brainpower to formulate an innovative, actionable plan to answer the question: "How might we inspire more young women to choose a career in data analytics?"
Professor Doug Brownstone said, "Dean Lei has wanted a hackathon for some time now.  She connected me with John Thaler, senior director - strategy and innovation at J&J and we have been working hard on this event for more than six months."  This hackathon was open to undergraduate and graduate students from all Rutgers University schools.
J&J has used the hackathon model for innovative approaches to problem solving at least 20 times, said Thaler.  "When tackling a difficult problem, time and again we have seen that a diverse group yields the best solutions," Thaler said.  "The hackathon model is effective because in a short, focused timeframe, teams produce plans that can be implemented and tested."  Thaler said that this is the first time that J&J held a hackathon with a university and they look forward to doing it again.
Brownstone said, "We are piloting the hackathon this time and it is going very well.  In the future we hope to expand it to include Big10 schools and maybe more companies."
Parnika Anand, finance, and Alizette Soto, accounting and leadership & management agreed that the diverse teams of individuals that they did not know was challenging and productive.  "We went back and forth with different perspectives, and came to a much better result," said Anand.  "The short timeframe sparks new ideas."
Suraj Sanyal, computer engineering, said, "The J&J representatives were very helpful.  They shared their real-world experiences and insights that were invaluable to the team."
Subrina Suchona, supply chain management and management information systems, brought her experience from working on the annual biopharmaceutical case competition at Rutgers Business School to bear while contributing to organizing the hackathon.  "The entire team worked so well together to put on this event," Suchona said.  "We received so many terrific applications; it was difficult to select participants.  We read their resumes and built diverse teams with a range of interests."
Rutgers MBA candidate Akshay Arora, '21 marketing and pharmaceutical management, strategy, worked tirelessly along with Suchona and the other volunteers and also posted the event in real-time on Instagram: rutgersbschool.
Subject matter experts Professor Kristina Durante, Sally Liu, Janssen Supply Chain; Kristen Von Seggem, Janssen Supply Chain; and Denise Weber, Janssen HR educated the students with insights from scholarly research and corporate experience.
The six teams analyzed the problem, brainstormed ideas, storyboarded a solution narrative, polled their social media connections on solution ideas, and made a short video pitch for the judges.
-Sean Ireland
Press: For all media inquiries see our Media Kit