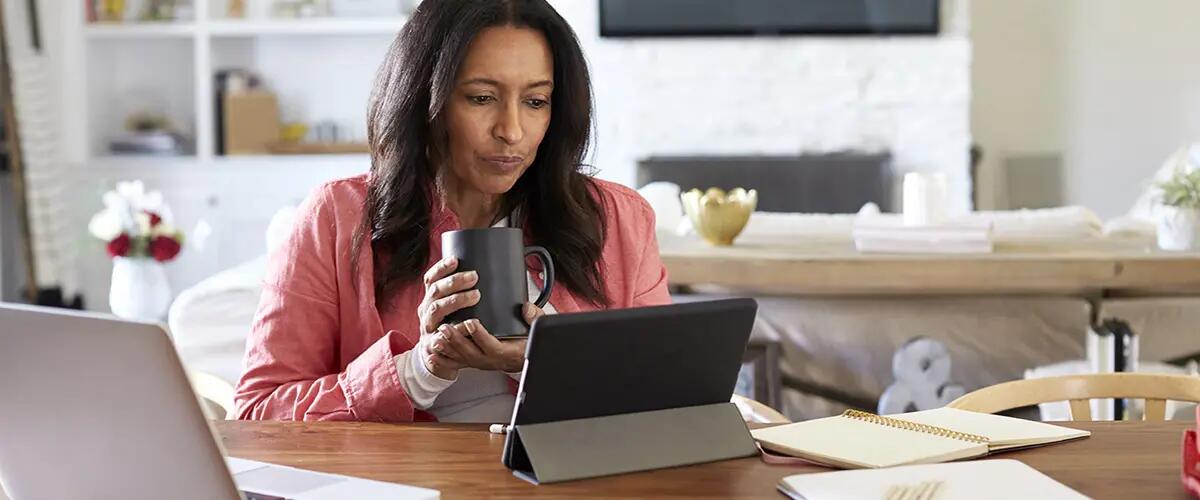 Technology adds hybrid quality to Rutgers Master in Taxation program
Students have the option of attending courses virtually while still getting the benefits of a traditional classroom experience.
In an effort to bring an element of digital convenience to the Master of Accountancy in Taxation at Rutgers Business School, program director Jay Soled is offering students the option of "attending" class remotely.
It's not online. It's better.
Students can easily connect to class using the video-conferencing tool WebEx if they are unable to attend physically. Videos of entire, individual classes are also available to students on the web-based learning tool Blackboard, offering them the opportunity to see and hear what they missed if they weren't able to be in the classroom.
Working students – 95 percent of the students in the taxation program are employed – are often juggling meetings, work-related travel, family and parenting commitments, as well as the course work to complete the master's degree. In New Jersey, there's also traffic and long driving distances that add to challenge of time management.
"Many students put a premium on convenience," Soled said. "We have students who are from Western or Southern New Jersey who have asked about the prospect of online classes. This is a good compromise."
When Radmila Salmanova started the program last fall, she commuted nearly 72 miles one way from South Jersey to Newark to attend class once a week. When she began attending virtually using WebEx, she only had to travel to Newark to take the mid-term and final exams.
"It's amazing," Salmanova said. "It saves me a lot of time."
Salmanova, who works as a tax accountant, said she can still participate in class discussions and ask questions using WebEx. The experience isn't the same as taking an online class, she said. "This is different, in a good way," she said. "This is like the real thing."
For the first half of 2020, all six of the courses offered to students in the program will have the WebEx option. "This way, on those occasions when students can't attend, they don't feel they're sacrificing their tuition dollars," he said.
Each class will also be filmed so students can "attend" later or use the video as a resource to review the material covered by the professor. "I've found that some students perform better if they have a chance to re-listen to classes," Soled said. "From a pedagogical point of view, it makes a lot of sense."
Students are still required to take exams in class, and Soled said he continues to work hard to ensure the classroom experience is something students find valuable.
The Rutgers Master of Accountancy in Taxation is known for its challenging curriculum and strong faculty. Accounting Degree Review recently ranked it No. 5 among graduate-level taxation programs in the U.S. 
Still, times are changing and Soled said the ability to provide students with flexibility is essential. "This is the best of both worlds," he said.
- Susan Todd
Press: For all media inquiries see our Media Kit