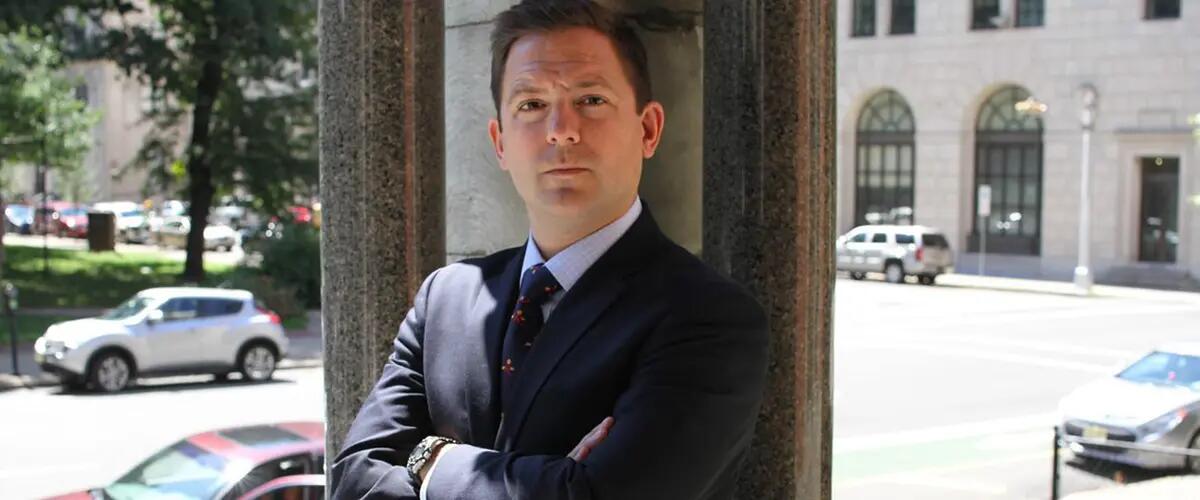 Vet's experience, perseverance and Executive MBA land him ideal job
Chris Wilson never thought he would land a job that trumped the experience he gained serving with the Marines in Afghanistan.
But as the new director of strategic growth for the Headstrong Project, the 31-year-old Rutgers Executive MBA alumnus is involved in vet outreach and education, fund-raising and developing a strategy for the organization's expansion across the country.
"I think in my head a lot about what's more gratifying, serving my country or working to help veterans who have served my country," Wilson said. "I am a huge believer that if Headstrong can help this generation of veterans become mentally healthy, it will benefit the United States." 
A non-profit organization, Headstrong partnered with Weill Cornell Medical College in 2012 to provide Iraq and Afghanistan veterans with free treatment for mental health issues, including post-traumatic stress disorder and depression. Headstrong offers services ranging from peer counseling to psychotherapy. In three years, it has treated more than 100 veterans.
Wilson knows first-hand how valuable those services can be in preventing a vet's post-military life from unraveling.
After returning to civilian life in early 2012, he landed a job in sales with International Paper. He was two years out of the Marines and mid-way through the EMBA program at Rutgers Business School when he started experiencing symptoms of post-traumatic stress disorder.
He had trouble sleeping, often waking up sweaty and out of breath as if he had been running away from something. He had headaches so incapacitating that he couldn't drive or hold a conversation, and there were other times when he thought he was choking.
In his quest for help, he went from the VA Hospital to the Headstrong Project in New York City. Wilson had learned about Headstrong from his friend Zach Iscol, a combat decorated ex-Marine who is the organization's executive director.
Wilson said he filled out a form online and within 12 hours, he was contacted by a therapist. He was diagnosed with post-traumatic stress disorder in May of 2014.
When he was diagnosed, Wilson met with Professor Farrokh Langdana, the director of the Executive MBA program. He knew he was on the verge of beginning the program's most demanding semester. "I wanted him to know that I was getting help," Wilson said. Above all, Wilson said he wanted to express his determination to complete the program.
Langdana describes Wilson as having a "tremendous presence of self."
"In him, I saw a true leader," Professor Farrokh Langdana said of Wilson.
"After Chris came to me," he said, "I made sure the professors appreciated the fact that this was someone who had seen and experienced the dark side of human conflict, had led his men through it and suffered tremendously in the process."
Wilson said he came to understand that the post-traumatic stress was triggered by 10 points of trauma he experienced during his deployment. "When I began treatment, I was really afraid that I would have to live with these symptoms for the rest of my life," he said. After six months of treatment, including a psychotherapy technique known as EMDR, Wilson said his symptoms went away.
In the spring of 2015, he learned about a new position the Headstrong Project's board wanted to add to their team, and after a two-month-long interview process, he was hired as the director of strategic growth. A month later, Wilson completed his Rutgers EMBA.
Langdana wasn't surprised that Wilson persevered. "In him, I saw a true leader," he said.
Wilson said his experience as a Marine and his treatment at the Headstrong Project still would not have been enough to land him his new job. "Without the core classes I had in the Executive MBA classes, I would not be able to help Headstrong in the way I am," he said. "There's economics, supply chain, strategy and marketing that I apply on a daily basis."
"I analyze things differently," he said. "My brain has been retrained to think in a business way."
"The Headstrong Project is a non-profit, but it's a business like any other business," he said. "And if I'm not doing the right things and making the right decisions, we can go out of business."
It's a very different sort of career than the one Wilson originally envisioned for himself.
After college, he decided to enter the Marines rather than use his Rutgers University degree in criminal justice to pursue a career in law enforcement. His decision was rooted in the memory of the attacks of 9-11 and the media coverage of Americans who subsequently died in Iraq and Afghanistan. Wilson was deployed to Afghanistan twice and earned the rank of captain during four years of service.
"They were life experiences I never want to relive, but I wouldn't trade for the world," he said.
- Susan Todd
Press: For all media inquiries see our Media Kit