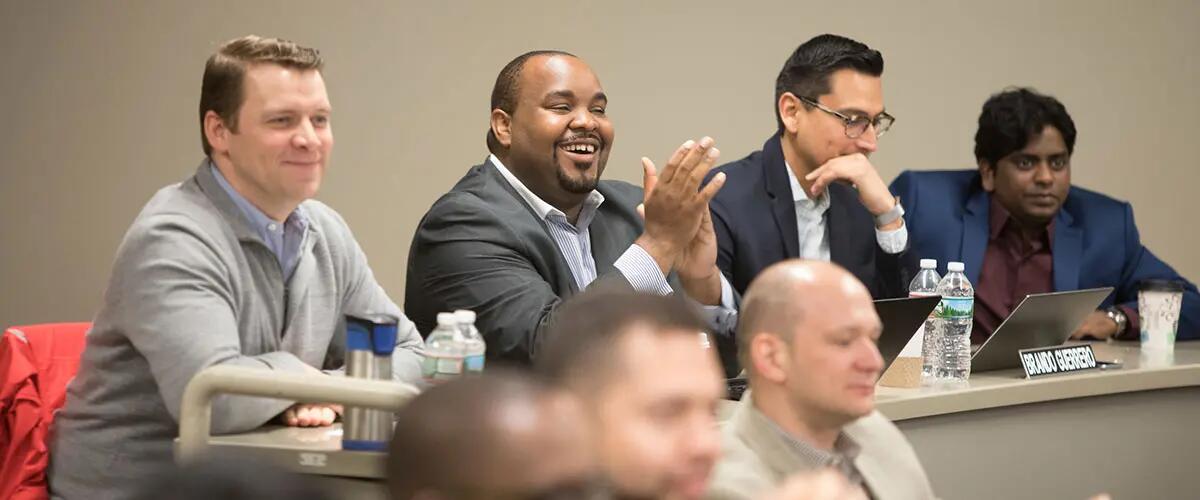 Executive MBA Admissions Process
Join the Powerhouse
The Rutgers Executive MBA program is a highly competitive program for experienced executive and mid-level managers. Our 20-month, limited-enrollment program is rigorous and demanding, and designed so that you can continue working while pursuing your advanced degree. Each year, at the beginning of the fall semester only, our program accepts an exclusive group of around 60 students.
If you want to broaden your perspective, add depth to your business skills, sharpen your ability to make effective management decisions, and enhance your opportunities for career advancement, acquiring an Executive MBA from Rutgers will give you that advantage.
EMBA applicants must:
Have a bachelor's degree from an accredited institution
Have roughly ten years of full-time employment experience in any discipline
Demonstrate potential for success at senior management levels
Demonstrate the ability and motivation to participate in a rigorous and intensive course of study while employed
Domestic EMBA applicants, unless retired, must be employed* and able to provide a Verification of Employment letter if required.
For international students: The Executive MBA program is not eligible for Curricular Practical Training (CPT). International students interested in CPT should contact admit@business.rutgers.edu.
*Due to the structure of the Executive MBA program, NJ Unemployment Benefit vouchers are not applicable. Applicants seeking to utilize NJ Unemployment Benefit vouchers should contact graduate admissions  
The Office of Financial Aid can assist with any questions in reference to federal, state and institutional aid.
Testimonial from Mike Stanzione, Emba 2021, in the frontline of the Battle Against Covid-19:

Prof. Langdana reminds us of your famous dictum, Rosa: "Correlation does not imply Causation" And this has been fundamentally important in "identifying" the causality using your statistical analysis. In addition, Farrokh had told us in our interviews with him, that the Statistics that you taught us, Rosa---ranked #3 in the world in all EMBA Programs by Financial Times---is the very foundation, the bedrock, for Digitization and Big Data Strategy (which subsumes Data Analytics). And he was so right!

I've been in the weeds with these brilliant statisticians and epidemiologists aligning on study design and, because of you and your classes, Rosa, I actually understood what they were talking about for the first time in my career! We were able to not only control for COVID, but also match the population to a control group of over 1000 characteristics!

Thank you very much from a humble student of yours!
— Michael Stanzione, REMBA 2021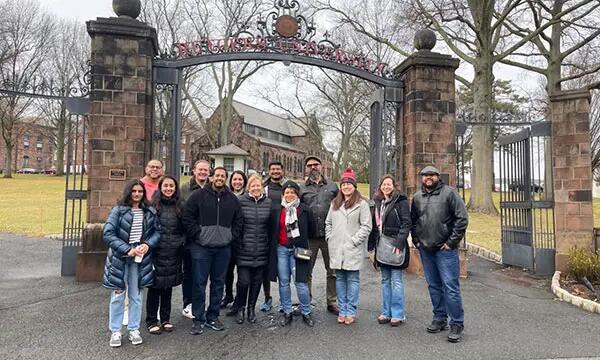 EMBA at Kirkpatrick Chapel
Rutgers EMBAs walk over from their Week In Residence to Old Queens, the Heart of Rutgers going back to 1766, to visit the famous Kirkpatrick Chapel.
Experience the Powerhouse
The best way to learn about the Rutgers Executive MBA program is to come and experience it for yourself through an open house. Because our open houses are held during EMBA class days, you experience the Powerhouse first-hand—you'll sit in on a class, talk to our students and professors and learn more about the application sequence, criteria, and entrance exam waivers.
Application Process Overview
Get started by completing your initial application or calling the Rutgers Executive MBA office.
The following are required for admissions to the Rutgers Executive MBA program:
Completion of an Initial Application. The purpose of this initial application is to provide you with a timely indication of the likelihood of your acceptance into the Rutgers Executive MBA Program. If you are notified that your basic qualifications make you a good candidate for admission, you will be directed to schedule an interview with EMBA Program Director, Professor Farrokh Langdana. Even if you need to take the GRE or GMAT* exam or are waiting for clearance from work, we recommend that you contact us and secure your seat today.
Completed Formal Application for Admission and $70 application fee. The form is to be completed only after the interview. Admission to the EMBA program is made on an ongoing basis, so please note that your "place in line" regarding admission is determined by the date of receipt of your fully completed Application for Admission.
Two letters of recommendation.
Official transcripts.
Application Deadline: July 31, 2023
GRE or GMAT Admissions Tests
The GRE/GMAT is waived for all applicants with graduate degrees (Masters, Ph.D., etc.). In cases where the applicant has a significant amount of professional experience, the GMAT/GRE may be waived at the discretion of the program director. This waiver can be discussed with the director during the interview.
Applicants seeking admission are encouraged to take the Executive Assessment. The Executive Assessment is specifically designed to evaluate the business school readiness of seasoned professionals. The assessment focuses on skills that are critical both at work and in an EMBA program: higher order reasoning, critical thinking, analysis, and problem-solving. Because it was designed specifically for experienced professionals, it requires modest preparation, takes only 90 minutes to complete, and includes flexible rescheduling options. The test is administered by the Graduate Management Admission Council (GMAC), creators of the GMAT® exam. Learn more about the Executive Assessment by visiting gmac.com/ea.
Contact Us
If you still have questions and would like to speak with someone, please call or e-mail us. 
Rutgers University Executive MBA Program
1 Washington Park, Fourth Floor
Newark, NJ 07102
Phone: (973) 353-5015
Phone: (973) 353-1697
Fax:     (973) 353-1424
I recently took a new position as CFO at the Museum of the City of New York. Needless to say, REMBA provided me with skills, accreditation, and, most importantly, confidence to take on the job.
— Brian Herrin, EMBA Alumnus
Veterans
Rutgers University welcomes current and prospective students who are veterans and Reservists. To view resources that are available to you, please click here.