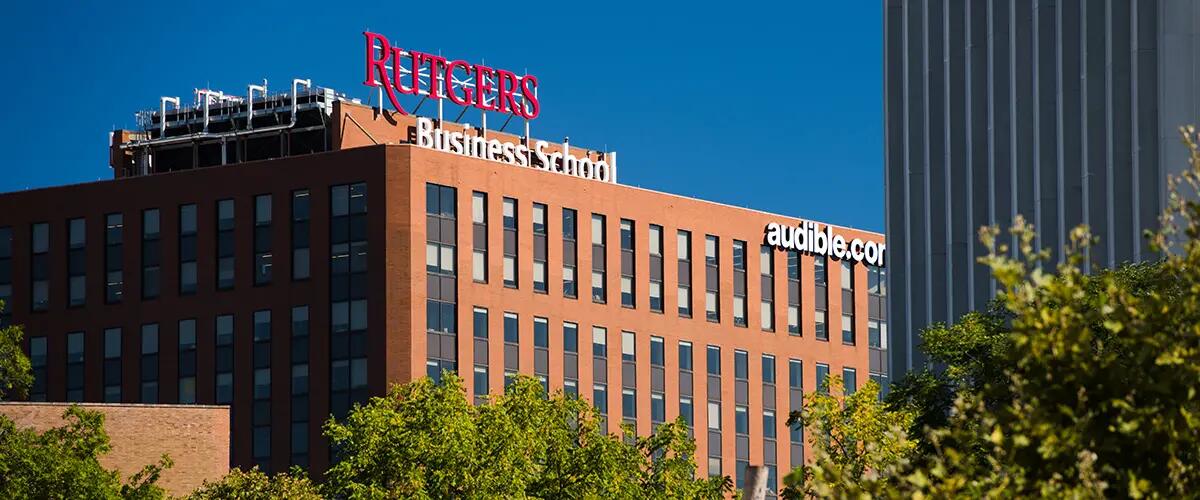 Women make their mark: Females account for 51 percent of the new class of full-time MBA students
Nicole Coates spent five years in the financial services industry, long enough to learn why it remains important for women to differentiate themselves in the workplace if they want to get ahead.
The 27-year-old from Jersey City can recite some of the telling statistics: "At Fortune 500 companies, only 5 percent of the chief executive officers are female, and at those same companies, women account for 14 percent of senior executives."
"Those statistics are abysmal," said Coates, who knows companies such as her former employer, American Express, have taken steps to groom women for executive roles and help improve those numbers.
When it came to her own work life, Coates decided to pursue a Rutgers MBA to broaden her knowledge of business, to round out her experience and demonstrate a commitment to her career.
And the path she chose is becoming a more common one for women.
At Rutgers Business School, women represent 51 percent of the new class of 79 full-time MBA students – the highest since 2007 when female students made up 48 percent of the class. In 2013, the incoming class of full-time MBA students was 39 percent female.
The increase reflects a variety of interesting trends – more women are taking the GMAT exam, an increasing number of females from places like China, Russia and Vietnam are pursuing MBAs and some schools are emphasizing women in their recruiting, according to information collected by the Graduate Management Admission Council, which owns the standard MBA admissions test known as the GMAT.
Another specific factor for Rutgers Business School: The atmosphere is perceived as supportive of women, according to students as well as the head of graduate admissions.
"Women can really stand out here," said Rita Galen, assistant dean and director of graduate admissions at Rutgers Business School. "They can be heads of clubs. They can be heads of the teams in case competitions. They can also be leaders in student government."
"This is a place where women are respected and supported," Galen said, "and it's a place where they feel like they can compete with men."
Vanessa Duvert, a 27-year-old with five years of experience doing public relations for non-profits, said she initially thought business school would be dominated by males. And the idea of that, she said, was a bit daunting.
"As a woman, especially as a black woman, these are the things you look at when you take your career in a different direction," Duvert said.
What she found at Rutgers Business School was very different.
"The Rutgers MBA is known for its supply chain program and at the head of the program you have Professor Lei Lei, a woman of Asian descent. There's also Sharon Lydon, the director of the MBA program, another woman," she said.
 "There are women here in leadership positions," she said. "That in itself is very empowering."
Michelle Sparkman Renz, director of research communications at GMAC, said more women than ever are sitting for the GMAT exam and they're doing it at a younger age. In 2013, women younger than 25 made up 53 percent of the test takers. Men still make up the majority of older test takers, according to GMAC's data.
The success a school has in recruiting top female candidates depends on its programs, the scholarships it offers as well as its recruiting efforts, Sparkman Renz said.
She said some of the things that Duvert observed – such as women in leadership roles – when she considered entering the Rutgers MBA program are just the sort of "what happens on campus" factors that can make a school "more inviting" to female applicants.
"The things that admissions recruiters talk about," she said, "matter in whether candidates view the school as women friendly."
Data collected by GMAC about the incoming class of MBA students shows that women represent the majority of students pursuing master's degrees in accounting (62 percent), marketing and communications (65 percent) and management (54 percent).
Women also represent 43 percent of the applicants to Flex MBA programs, according to the GMAC. In contrast, the proportion of women applying to full-time MBA programs fell slightly in 2014 to 37 percent compared with last year's 39 percent.
In a survey of prospective MBA students last year, GMAC found that a higher percentage of women (73 percent compared to 64 percent of men) wanted to pursue an MBA because they thought it would increase their job opportunities.
That remains one of the motivating reasons for many women, including Rutgers MBA students Coates and Duvert.
Jaclyn Kirna graduated from Bucknell University and then spent two years teaching in an underprivileged area of eastern North Carolina as part of Teach for America. Her experience involved communications, analyzing data, negotiating – as well as teaching.
"I wanted to leverage those skills," Kirna said, "and going to business school to purse my MBA seemed like the next best step to advance my career."
Kirna said when she used to think of CEOs, she envisioned men, but during a leadership conference on the University of North Carolina campus, she listened to a number of female executives who were speakers at the event.
"I realized," she said, "I could be that person."
-Susan Todd
Press: For all media inquiries see our Media Kit