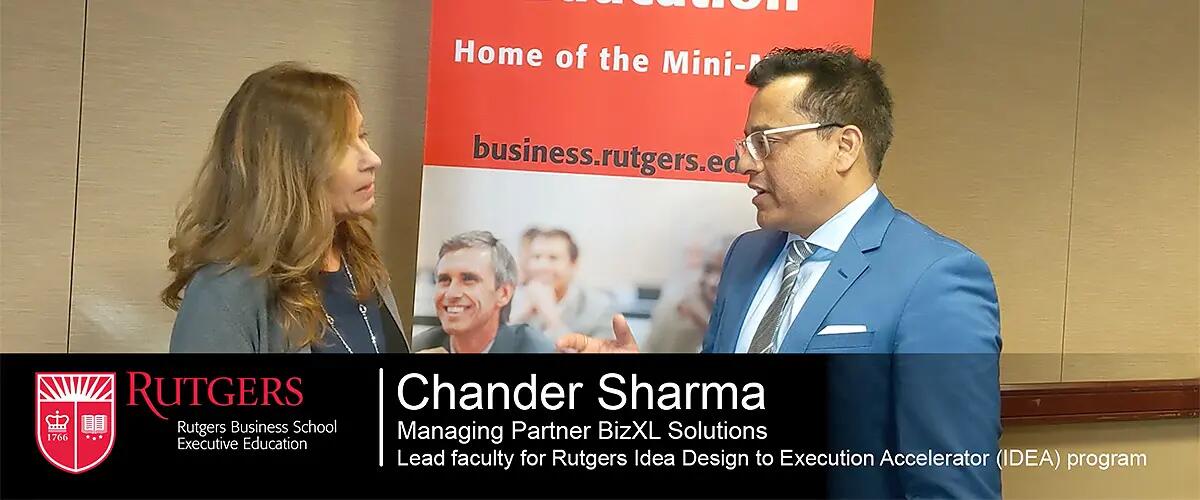 Breakthrough Business Thinking: How can corporations provide fertile ground to stimulate innovation?
Listen as Chander Sharma, founder and co-president of BizXL and lead faculty for our Mini-MBA™: Idea Design to Execution Accelerator (IDEA) program, shares his thoughts on bringing multiple disciplines together, such as Design Thinking, Lean Six Sigma and Change Management, to stimulate innovation and manage the "Idea Design to Execution Accelerator" process within a corporation.
Did you know? - Rutgers Business School Executive Education works directly with corporate clients to identify, build and deliver strategic training opportunities, which may include management development training sessions and/or workshops with senior leaders. We bring deep industry research and emerging best practices to the table, while tapping extraordinary talent and consulting expertise to provide scale, execution capability and global coverage. Contact us today to learn how we can help you leverage "Breakthrough Business Thinking" at your company.
Press: For all media inquiries see our Media Kit