Mission
The Institute for Ethical Leadership is dedicated to the study of leadership ethics and to programs for students and practitioners that aim to cultivate the knowledge and imagination to exercise ethical and effective leadership.
Vision
The IEL builds better leaders for a better world.
Values
To accomplish its mission and to achieve its vision, the Institute, including its staff and advisory board, in association with the University faculty and administration, as well as its partners and vendors, is committed to a set of values that create the organizational culture for ourselves and for those whom we serve.
Respect
We consider respect for each human being as fundamental to promoting a work environment, among individuals and within organizations, where people relate in a civil, consensual, and authentic manner to advance the open expression and exchange of ideas and viewpoints. We support and promote nurturing, growth and development for those with whom we work.
Personal and Professional Integrity
We strive to build trust with all those we serve and with whom we work by adhering to values of ethical and fair dealings, open and honest communication, and personal and institutional accountability and integrity. This includes fiscal responsibility, which is a key component of sustainability.
Commitment to Excellence
While holding to the highest standards of quality and achievement in all our programs and activities, we strive to exceed the expectations of our students, program participants and clients. We are a creative and innovative learning organization with an entrepreneurial spirit that embraces a focus on personal and professional growth and change.
Collaboration
We promote a partnership-oriented work style that offers a high degree of accessibility and responsiveness among associates within and outside the University.
Diversity
We actively seek diversity of human life, thought and experiences among our staff, advisory boards, partners, participants, clients and vendors to create an enriched environment for increased creativity, innovation and productivity.

History
Our Co-Founders
The Institute is distinguished by the practical experience and credentials of its co-founders, Alex J. Plinio and James Abruzzo. Together, Plinio and Abruzzo possess over seventy years of experience that spans domestic and international nonprofit management and consulting, higher education, research, large corporate and foundation leadership, and the start-up of several nonprofit and philanthropic organizations. Both have many years of board service and track records of expanding the reach of their respective businesses and activities.
Mr. Plinio developed and headed a major corporate foundation that was instrumental in the redevelopment of the city of Newark and led the turnaround of one of the world's largest international volunteer based organizations.
Mr. Abruzzo, through ongoing consulting, has participated in the growth of numerous nonprofits in Newark and throughout the United States, and placed scores of executives in leadership positions.
The Institute for Ethical Leadership's programs reflect the practical knowledge, experience, entrepreneurial spirit and social conscience of its founders.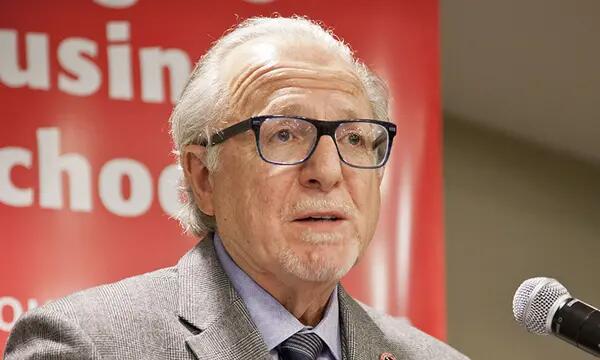 Co-Founder Spotlight
James Abruzzo
Mr. Abruzzo is the co-founder of the Institute for Ethical Leadership at Rutgers Business School (RBS). He is an internationally recognized nonprofit management consultant, writer and educator. He concurrently serves as Executive Vice President and Managing Director of the Nonprofit Practice of DHR International, a global executive search firm. Over the last thirty years he has provided ongoing strategic advice to many national and international nonprofit organizations. He is on the faculty of RBS and additionally, Mr. Abruzzo serves on the faculty of the Department of Economics, University of Bologna and is a frequent guest lecturer at the Freie Universität of Berlin. The author of Jobs in Arts and Media Management, Mr. Abruzzo served on many nonprofit boards; for the last sixteen years on the Board of the Alvin Ailey American Dance Theater Foundation.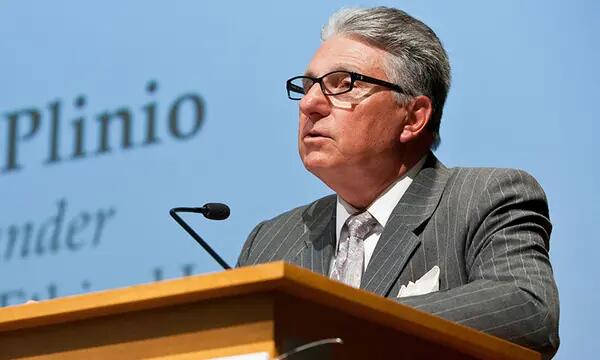 Co-Founder Spotlight
Alex Plinio
Mr. Alex Plinio is the co-founder of the Institute for Ethical Leadership at Rutgers Business School (RBS). Former President/CEO of AFS-USA, the largest nonprofit international and intercultural student exchange program in the United States, Alex Plinio previously held senior executive positions at Prudential Financial in the areas of insurance, investments, financial services and public affairs. His business experience includes executive positions in marketing, operations and administration, change management and start-ups. He was head of Prudential Annuity Services, a billion dollar retirement products business. He also led the start up and served as President of the Prudential Foundation.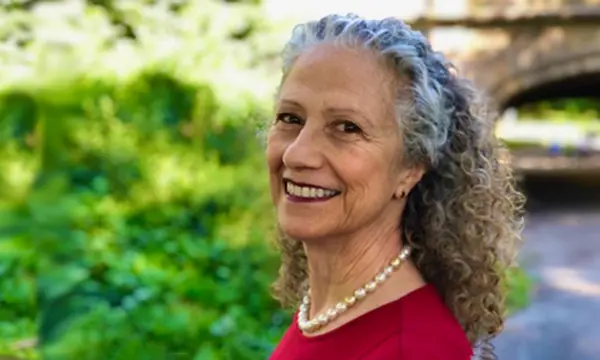 Faculty Spotlight
Professor and Director of the Institute for Ethical Leadership
Joanne B. Ciulla is a pioneer in the field of leadership ethics. Her research focuses on the ethical challenges of leadership. She has also written extensively on topics in business ethics such as meaningful work. Before joining RBS, she held the Coston Family Chair in Leadership and Ethics at the...
Institute Staff
Victoria Fernandez, MPA, Acting Executive Director
Victoria Fernandez, MPA, is the Acting Executive Director of the Institute for Ethical Leadership (IEL). She is an experienced non-profit leader with a background particularly focused on program development, community engagement, and effective management. In her evolving role at IEL, Vicki has helped hundreds of nonprofit leaders from the greater Newark area develop and find support through a variety of Institute programs and initiatives. Her proudest achievement with the Institute is increasing programming and practice around access, diversity, equity, anti-racism, and inclusion. Prior to joining the Institute for Ethical Leadership, she worked at WBGO Jazz 88.3fm where she expanded and formalized community and education initiatives for the Newark-based public radio station. Initially coming to Newark for study at the Rutgers - Newark School of Public Affairs and Administration (SPAA), Vicki completed her MPA in 2012 with a concentration in non-profit administration and a capstone thesis on marketing in the public sector. At SPAA, Vicki met Pat Kettenring, founder of GlassRoots, a nonprofit glass blowing studio in Downtown Newark using glass arts as a tool for youth and professional development. In 2016, Vicki joined the GlassRoots Board of Trustees and served through 2019. As a lifetime Girl Scout, Vicki volunteers with the Newark Girl Scouts and aims to complete 5 murals with a team of dedicated Newark organizations in honor of a project started by the Girl Scouts and Newark icon and IEL alumnus, Rodney Gilbert, before the end of 2020. Vicki earned her BA at Ramapo College of NJ where she majored in Communications and Fine Arts and minored in Political Science.
Gerald Harvey, Executive-in-Residence
Gerald Harvey is the Executive-in-Residence for the Institute of Ethical Leadership at the Rutgers Business School. Mr. Harvey has forty years experience as an attorney and corporate executive. As the Executive Vice President, General Counsel and Secretary of Breeze-Eastern Corporation, a publicly-traded company, he oversaw SEC, NYSE, environmental and legal compliance. He also served as a managing director of the company's subsidiaries in England and Germany and worked extensively with its Brazilian subsidiary. Prior to that Mr. Harvey was a partner in a multi-office law firm where he focused on cross-border transactions and international arbitration. For a number of years he worked for a Japanese trading company with assignments in New York and Tokyo working extensively on international joint ventures. He began his overseas work as a foreign lawyer associate in the Tokyo office of a Japanese law firm.
As an outside attorney and as a general counsel of a corporation, Mr. Harvey worked extensively with senior managements and boards of directors on ethics and compliance matters. He also served as a member and chairman of the governing boards of a private school and a public university, served on and chaired audit committees at these institutions and served a proactive role in their respective compliance and ethics initiatives.
Mr. Harvey is a graduate of Columbia Law School, where he served as editor-in-chief of The Columbia Journal of Transnational Law, and of Rutgers University. He received an honorary Doctorate in Humane Letters from Rutgers upon completing his term as Chairman of the University's Board of Governors. At Rutgers, he and his wife have endowed the Keiko and Gerald Harvey Scholarship in Support of Women in Engineering.
Noting that the most stable, equitable and successful societies and institutions have strong traditions in values-based and ethical behaviors, Mr. Harvey seeks to use his experiences in cross-cultural environments to help advance the goals of the Institute of Ethical Leadership at the Rutgers Business School.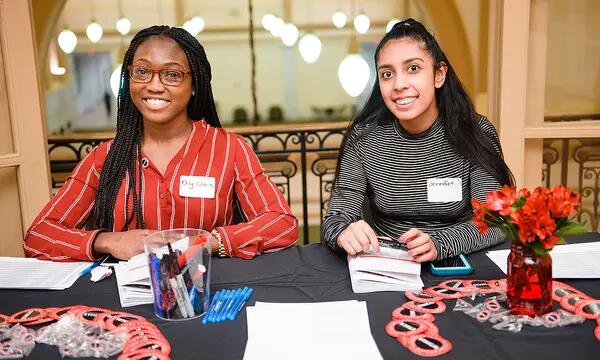 Interns
IEL has proudly helped Rutgers University students transition from the classroom to the work place through internships in the Newark campus office. Students engage in programming and special events, marketing and communications, reporting and more. Student interns have gone on to roles in businesses like KPMG, HSBC, Google, Jefferies, Unilever, Broadridge, Disney, and beyond.