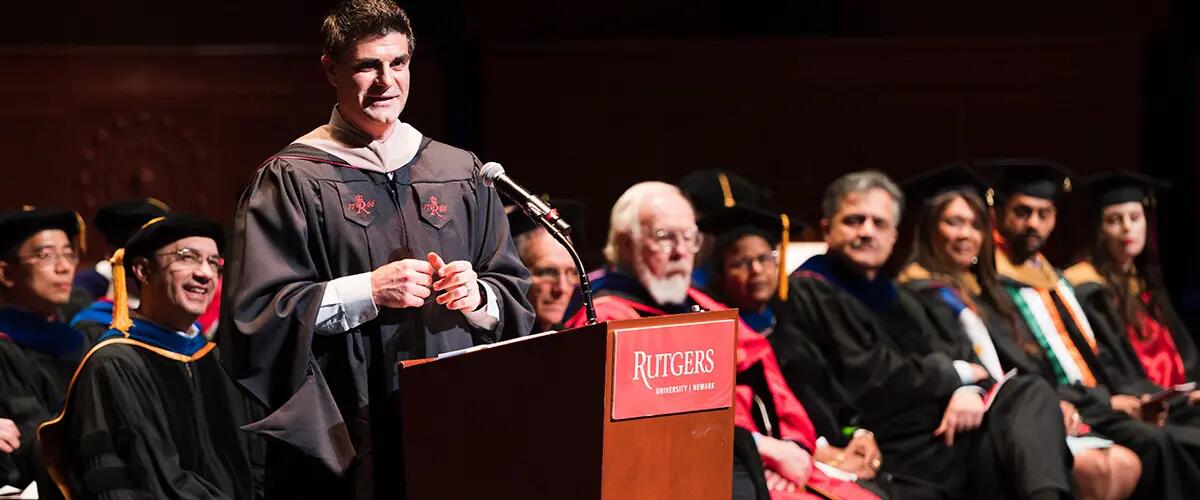 CEO alumnus tells graduates: "Be true to your heart, invest in others, leave a legacy"
Hundreds of Rutgers Business School graduate students celebrated the completion of their master's degrees during a ceremony marked by the speech of an alumnus who spoke to them about leadership and living with purpose.
Jeffrey Hermann, who completed a Rutgers Executive MBA in 2015 and later became chairman and chief executive officer of a family-owned logistics company, urged the graduates to ask themselves every day what they will leave as their legacy.
"Learn to love fear. Embrace the power of giving. Fail forward," he said, listing traits he said he hoped would have a "profound and lasting impact" on the careers and lives of the graduates.
In addition to running his business, Hermann sits on the dean's board of advisers at Rutgers Business School. Earlier this year, he provided critical support to create a new student program, Road to Supply Chain Leadership, to help prepare undergraduates for careers in supply chain management. 
"They say the sign of a great leader isn't what happens during their time of leadership but what happens when they're done," Hermann told the crowd assembled in the New Jersey Performing Arts Center's Victoria Theater. "It's their ability to encourage others," he added, "their ability to inspire others, their ability to leave things better than the way they found them."
Hermann also shared some of the history of his family's business to emphasize the role strong women like his grandmother have played in business and to make a point about the importance of equality.
While his grandfather, the founder of Hermann Services, was serving as mayor of the Middlesex County community where the family lived, his grandmother, Myrtle Hermann, ran the company. "It was Myrtle, a true pioneer, who took over as chairwoman and president during an era when not many women had positions of leadership, especially in the trucking industry," Hermann said.
"Embrace equality," he told the graduates.
Rutgers Business School Dean Lei Lei provided her own inspiration to the graduates. "RBS has prepared you to take on challenges. You can compete with graduates of any business school in the nation," she said to rousing applause.
Lei told the crowd that in Rutgers Business School's 95-year-old history, it has produced 591 chief executive officers. "We expect more to come," she said.
Before the ceremony began, the lobby outside the theater was crowded with graduates wearing black gowns, colorful hoods, with mortarboards in hand. They chatted in small groups, hugged one another, and talked on cellphones. Joshua Acosta, who completed a Master's of Science in Supply Chain Management, was standing among them, looking for his place in a line that was assembling by academic department.
Acosta, who is already working in supply chain, said he wanted to do the master's program to enhance his knowledge and learn more about best practices. There was another more personal aspect to the achievement, too. "I'm the first in my family to get a college degree and the first to get a masters," Acosta said. "It's a pretty big deal."
Rutgers Business School's Class of 2023 included more than 600 graduate students, including more than 200 who received MBAs and hundreds of others, like Acosta, who completed a variety of different specialty master's degrees.
- Susan Todd
Press: For all media inquiries see our Media Kit