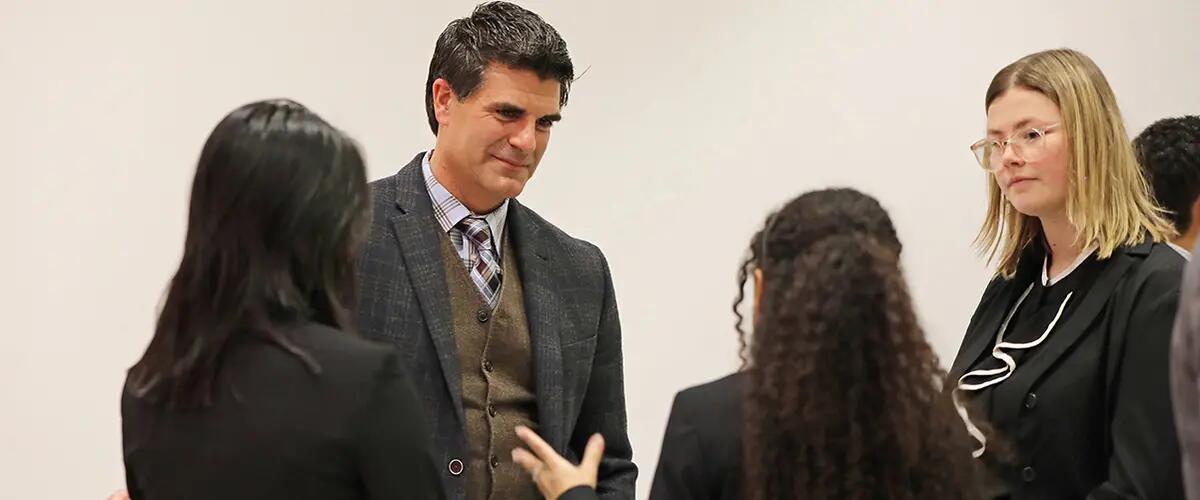 EMBA alumnus is driving force behind creation of new Road to Success Program
The Road to Global Supply Chain Leadership is the latest in a collection of programs specifically designed to prepare students for careers by connecting them with mentors, working professionals and opportunities to gain real world experience while they're still in college.
On a September day in 2017, a convoy of six trucks arrived in Houston with a police escort, each 53-foot rig packed to the limit with donated relief items en route to the victims of Harvey, a massive category-4 hurricane that had made landfall in Texas on August 25. The tractor-trailers had been dispatched from the New Jersey headquarters of Hermann Services, Inc. by a team of associates including Jeffrey Hermann, an executive vice president at the family-owned supply chain business who, a year later, would become CEO.
Hermann's business philosophy has always been outward-looking, focused as much on the community his company serves as on the products they store and transport. In addition to employing their company's resources to help victims of disasters like Hurricane Harvey, Hermann Services has committed itself to a wide variety of local and national charities, including the Marines' Toys for Tots, Wreaths Across America, South Brunswick Food Pantry, and the anti-trafficking nonprofit Project Protect Our Children. The idea and vision of paying it forward is, and has been, part of the company's ethos.
"What we focus on," Jeffrey Hermann said, "is giving back to the community and creating an organization that prides itself on being able to share its profits and giving them back to those in need of help."
Most recently, he extended that focus to Rutgers Business School in the form of a new program that will select high-performing undergraduates and set them up for careers and leadership positions in the supply chain field.
Beginning in fall 2023, Road to Global Supply Chain Leadership will join the business school's collection of Road to Success programs – Road to Wall Street, Road to CPA, Road to Silicon V/Alley, and Road to Consulting – bringing together a diverse set of motivated, committed, high-caliber students and offering them in-depth academic preparation, soft skills training, mentoring, certifications, and internships. It was Hermann who came up with the idea for the program, during a call with Sundar (Sandy) Raman, an assistant professor of professional practice in supply chain management. Hermann is also providing significant resources and serving as the leading donor, committing to four years of funding to support its launch and continued growth and success. Hermann describes the endeavor as "a different approach to giving back, creating opportunities for students and Rutgers Center for Supply Chain Management, and being part of something bigger." 
Hermann, who sits on the dean's board of advisors at Rutgers Business School, has an intimate understanding of what it takes to lead and how much a leader needs to learn. Before assuming the role of CEO of the family-owned Hermann organization – founded by his great-grandfather, Fred, and grandmother, Myrtle, in 1927 – he worked full time in the business for 15 years, starting in an entry-level customer-service position and moving on to terminal manager, then general manager, and then executive vice president in various divisions. He could, of course, have successfully helmed the company simply by drawing on the knowledge he'd picked up in the field. But in 2013 he made the decision to enter the Rutgers Executive MBA (EMBA) Program "to enhance, my overall understanding of the various components of the general business market," he explained, and to learn from his peers in a range of other industries.
He chose Rutgers for its excellent reputation, but, he said, "when I met with Farrokh [Langdana, director of the EMBA program], it was the icing on the cake – his passion and drive for the program was solidification for me." Langdana, for his part, notes that "even in a class of sixty-plus high-achieving students, Hermann stood out from day one. From his questions in class and the discussion he generated and from the way the class reacted to him, it became readily apparent that he was an exceptional student and a natural leader."
Those leadership abilities, Langdana said, helped Hermann steer his company through "the worst supply chain shock ever experienced on this planet – Covid-19," an achievement he attributes to Hermann's "mastery of finance, strategy, global macroeconomics, and supply chain analysis."
"He positioned his company perfectly between container shipping and warehousing to capture both the booms and the busts in the business cycle," Langdana said.
As a leader in the supply chain industry, Hermann expects that Road to Supply Chain Leadership will help to develop a future workforce equipped to rise to whatever challenges the economy presents. He also envisions it as a way to further expand Rutgers Business School's reputation and reach and, on a personal level, as a way to stay connected with the academic community ("You never stop learning," he said.) Most of all, though, he sees it as an opportunity to help deserving students advance their careers.
One of the drivers of the program, Hermann notes, is his deep esteem for the leaders of the business school. Of Langdana, he said, "he's so passionate about the Executive MBA program, and he also has a passion to help his students." He praises Lei Lei, dean of Rutgers Business School, for creating its extraordinarily supportive culture of engagement and passion for success.
As for the program he's funding, Hermann's hope is that, year after year, it can expand its reach. The Road to Global Supply Chain Leadership will launch with 25 students, but the team, led by Raman, envisions that number increasing, over time, to 200 or more. Hermann anticipates it becoming the basis for a network that will remain fruitful long after participants in the program have graduated. And he foresees those graduates "landing jobs where they're making a difference."
- Leslie Garisto Pfaff
Hermann, of course, is perfectly placed to understand just how gratifying that can be.
Press: For all media inquiries see our Media Kit