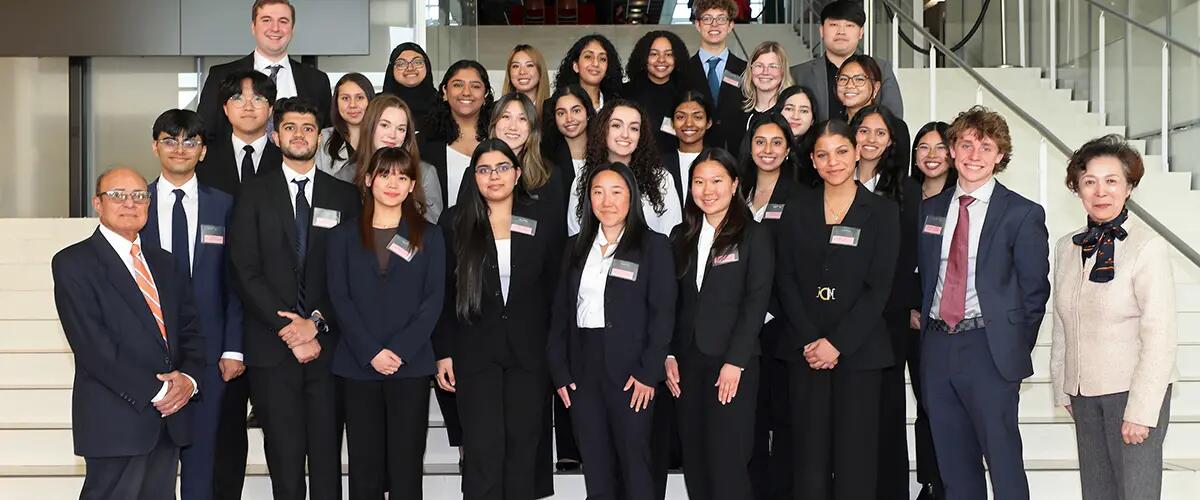 Road to Supply Chain Leadership Program is launched with leaders, industry support and networking
Thirty students selected as members of Road to Supply Chain Leadership got their first taste of networking with industry professionals during a special event launching the new program.
In a large classroom at Rutgers Business School-New Brunswick, the students filled two rows of desks and were surrounded by representatives of companies sponsoring the program, faculty, and members of the dean's board of advisors, including Jeffrey Hermann, CEO and chairman of Hermann Services Inc., who founded Road to Supply Chain Leadership.
The event featured a panel of government and business officials who discussed leadership and their experiences with supply chain issues. The panelists were Beth Rooney, director of the Port of New York and New Jersey; Kris Kolluri, CEO, Gateway Development; John Harmon, CEO of the New Jersey African American Chamber of Commerce; and James Cahill, Mayor of New Brunswick.
After a question-and-answer session with the panelists, representatives from the sponsoring companies – Johnson & Johnson, Colgate, Pfizer among them – went into rooms and sat at tables around the mezzanine, offering the program's first members a chance to network. Some students took the opportunity to introduce themselves and chat with Hermann.
Like the more established Road to Wall Street Program, Road to Supply Chain Leadership will provide select students the opportunity to be mentored by working professionals, to gain soft skills and networking experience with the goal of helping them gain real-world work experience through internships and, ultimately, jobs to help launch their careers. "We have high expectations for this program," Rutgers Business School Dean Lei Lei said during the event. Both programs are part of a collection of Road to Success programs.
Pfizer is among the companies that agreed to sponsor Road to Supply Chain Leadership. Glenn Schneider of Pfizer Global Supply, who attended the launch event, said the company was excited about the potential of the new program.
"It is great to see a program that partners with industry to develop top students even further beyond Rutgers' impressive Supply Chain Management program, offering them increased interactions with the industry sponsors such as Pfizer and further refining skills beyond those learned in the classroom to prepare them to be successful in the business world," Schneider said. "By leveraging tools such as mentorship, experiential learning projects, and internships, I am confident this program will produce strong, capable supply chain leaders." 
Some of the students chosen for the program also expressed excitement for the opportunities the program would provide to them and how they would augment their classroom lessons.
"I'm most excited for the opportunities that are involved with internships and working with the companies sponsoring the program," said sophomore Ben Williams. He said he decided to study supply chain because it offered him a chance to work in different areas and the uncertainty of changing conditions seemed challenging to him.
Khushi Vora, a sophomore studying supply chain, said she wanted to be a member of Road to Supply Chain Leadership so she could take advantage of mentoring by professionals in the field and the prospect of getting hands-on learning during internships.
For Kaitlyn Lee, supply chain is interesting because it's always changing, and the goal is to continually make things more efficient. Road to Supply Chain Leadership appealed to her because it will allow her to focus on supply chain and attaining skills to be a leader in the field.
"I'm not going into the workforce to do any job," she said, "it's going to be one that requires leadership."
In addition to Vora, Williams and Lee, the first members of Road to Supply Chain Leadership, include the following students from both the New Brunswick and Newark campuses: sophomore Fatema Ahmed; sophomore Gabriela Carabajal; freshman Katelin Chen; sophomore Dylan Curnow; sophomore Samantha Freire; freshman Dafney Jimenez; freshman Anushka Joshi; freshman Lavanya Khanna; sophomore Crystal Kilfeather; sophomore Laura Kim; sophomore Sydney Leong; sophomore Mahek Mansuri; freshman Joshua McCain; sophomore Amreen Mukadam; freshman Seetha Murugappa; sophomore Annabel Park; sophomore Olivia Parker; sophomore Phoebe Pilapil; sophomore Siddh Rajput; sophomore Mansi Rana; freshman Viraj Saini; freshman Nuriel Santo; sophomore Chelsea Setlight; freshman Hyun-Mok Sul; sophomore Justin Vahalla; sophomore Emily Viela; and freshman Johnny Xu.
Press: For all media inquiries see our Media Kit