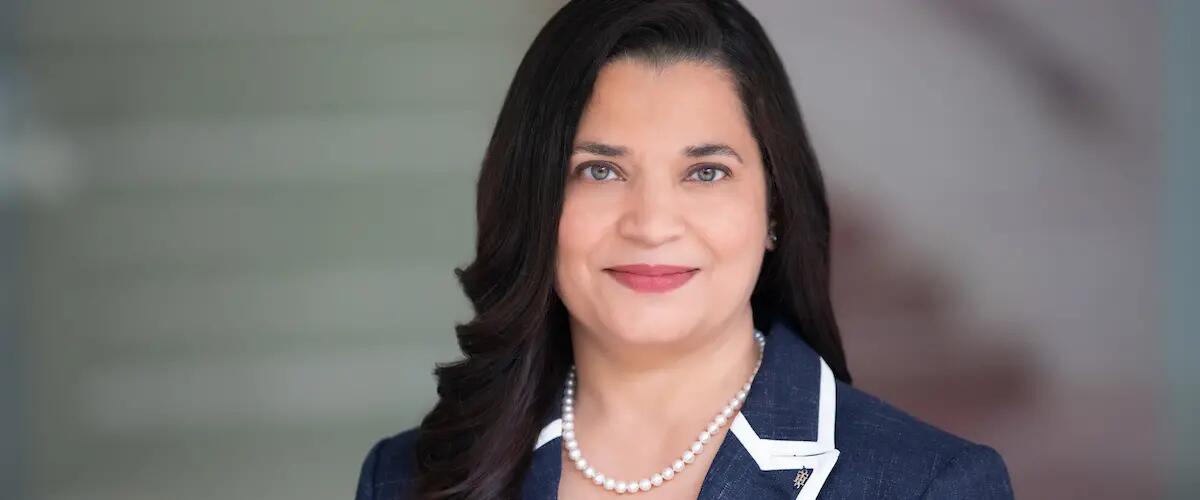 Executive still embraces the growth mindset she honed as a Rutgers MBA
If you're trying to locate Ketaki Mahajan, don't look in her comfort zone. The CFO and vice president of Corporate Operations and Global Finance Talent Management at Johnson & Johnson has always embraced discomfort as a path to growth. That was true when, as a recent emigrant from India, she enrolled in the Rutgers MBA program, and it's been true throughout the subsequent two-plus decades in which she's put that MBA to use.
It's outside our comfort zones, Mahajan said, that we get to "embrace that growth mindset and build that spirit of continuous learning."
She honed her growth mindset in the finance MBA concentration at Rutgers Business School, which allowed her the flexibility to venture beyond finance, in classes like marketing and operations management. "That really gave me a good breadth of knowledge that I could apply to the different roles that I ended up pursuing," she said. And while finance has always been the lynchpin of her career – as category finance director at the consumer goods company Reckitt Benckiser, for example, and director of U.S. sales finance at Mondelez, the confectionary food company – she relishes the chance to take on roles outside the financial realm.
Currently, she spends half her time in what she describes as "a very traditional role," supporting four of J&J's executive committee members, all of them global heads (of human resources, corporate affairs, legal affairs, and information technology). But she also manages the global finance talent pool. "I'm responsible for all the programs that would result in our creating a bench strength of talent – internships, co-ops, MBA leadership development programs," she explained. "It's more about the human aspect of our function."
"It's outside our comfort zones that we get to "embrace that growth mindset and build that spirit of continuous learning." - Kataki Mahajan
One of the reasons she took on the role, she said, was that it was "putting me off my comfort zone, as well as helping me pay it forward." She can't even count the mentors, sponsors, and advocates who've helped her move forward in her career, and now she can do that for so many others. In doing so, she said, she's pushed to "think differently, more as a people leader, as opposed to just a business leader." Equipping new team members with the tools and support systems they need to flourish at J&J, she said, "is what really pushes me to do my best."
Another way she pays it forward is through mentoring, to colleagues within and outside J&J. She encourages her mentees to build strong networks, something she's done assiduously throughout her career. "All my moves along my career journey," she said, "have been driven by either my mentors or my network of professional peers." A side benefit of mentoring is the opportunity it affords her to bring new talent into J&J.
Recruiting specifically from Rutgers Business School is a key way for her to pay it forward. When she was at Reckitt Benckiser, for example, she had the opportunity to recruit several summer interns from RBS, all of whom were ultimately hired by the firm. One of them is now a senior finance director at NBC. "The fact that I could mentor him and help him navigate the corporate environment was very gratifying," she said. "And I know he appreciated that as well." (She was invited to his wedding.) Recruiting from Rutgers, she said, has been one of the most satisfying aspects of her career.
Through Rutgers Business School's Alumni & Corporate Engagement Initiative, she encourages alumni to further their connections with the business school and, in turn, connects with promising students at the school to "help further build a strong J&J talent pipeline."
Throughout her career, she's drawn consistently on what she learned in the MBA program. When she was charged with managing a major transformation in J&J's supply chain, for instance, she applied what she'd learned in a class on operations and change management taught by Professor (now Dean) Lei Lei about how to encourage people to think differently and embrace change. "I leverage what I learned in that class even today," she said.
Now that her two children are older, she'd like to take advantage of the extra time outside of work to enhance her ties with the business school, perhaps through an involvement with the Center for Women in Business, which helps women develop the skills and confidence necessary to succeed in the corporate realm. More than a way to share her time and expertise, doing so would be an act of gratitude. "One of the things I value," she said, "is to be able to give back to the school that gave so much to me."
- Leslie Garisto Pfaff
Press: For all media inquiries see our Media Kit