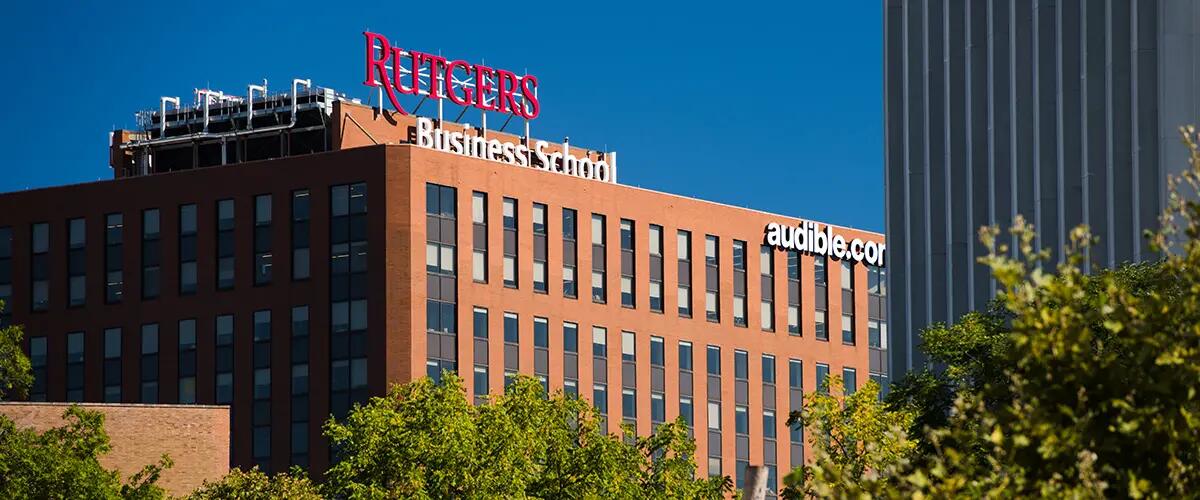 Improving reputation and high return-on-investment fueling demand for Rutgers innovative MBA program
Looking for the skills necessary to succeed in the 21st Century economy? Rutgers Business School's MBA program has developed an innovative curriculum with valuable hands-on experience to ensure graduates reach their career goals.
"Rutgers has always been at the leading edge of academic innovation," said Sharon Lydon, executive director of Rutgers MBA program. "We are looking at our curriculum and working with our industry-connected faculty to make sure the courses are as timely and relevant as possible."
As Rutgers Business School has received more recognition and accolades over the past five years, including a #3 ranking in Supply Chain Management by Gartner Supply Chain Leaders and #1 Public MBA Program in New York metropolitan area according to US News & World Report, applications for the Rutgers Traditional Full-Time MBA program have risen 48 percent. Rutgers students have found they receive a world-class education that leads to promising careers without being saddled with the huge debt that comes with attending an Ivy League business school.
In a recent study by Bloomberg Businessweek, Rutgers Business School ranked 33rd in the United States for MBA Pay [read story]. It found that after graduation, a Rutgers MBA offered a 169 percent return-on-investment (ROI) looking at a graduate's average compensation compared to the total program's cost. Columbia, on the other hand, offered a 95 percent ROI, NYU Stern 97 percent, and Yale 90 percent.
Taken together with Rutgers Business School's strong corporate partnerships, 95 percent of MBA graduates were working three months after graduation. This compares favorably with other top business schools; Yale had 85 percent job placement, Columbia 90 percent and NYU Stern 93 percent.
In fact Rutgers was recently ranked 10th on a list of where Fortune 500 CEOs went to school by US News & World Report [read story].  Rutgers awarded 11 degrees to Fortune 500 CEOs; Columbia had 18; and Yale and NYU Stern were not ranked because they did not have at least 10 CEOs at Fortune 500 firms.
Located in the heart of New Jersey's bio-pharma corridor, Rutgers has turned a geographic advantage into a top MBA in Pharmaceutical Management.  In collaboration with the program's board of advisers, including Bayer Healthcare, Bristol-Myers Squibb, Eisai, Johnson & Johnson, Merck, and Novartis, full industry scholarships are available for top applicants.
Students have also excelled in finance winning the CFA Institute Investment Research Challenge two years in a row and three times in the past five years.  "I think this proves that Rutgers is among the top business schools in the country," said John Longo, the student team's faculty adviser and professor, finance and economics. "Not only to win in back-to-back years, but for the third time in five years beating other top business schools from Cornell, Dartmouth, and NYU. We have the students that can compete with anybody."
One of the winning recent teams was even invited to meet with Warren Buffet [read story]. And all of the winning student teams had an opportunity to ring the closing bell at NASDAQ [see video].
Rutgers Supply Chain Management and Marketing Sciences Department is fortunate to have tremendous support from the New Jersey and surrounding business community.  Many corporations offer "Honors Track Scholarships" to students who declare Supply Chain Management as their concentration and meet the criteria.
"The role of supply chain executives has expanded and changed dramatically over the past five years," said Professor Lei Lei, Chair of the Supply Chain Management and Marketing Sciences Department.  "They are now getting a seat at strategy meetings and are expected to report to the CEO. We understand very well how important a sustainable talent pipeline is to industry, and we are striving to develop graduates with the skill set to become dynamic knowledge leaders in supply chain management."
The spirit of entrepreneurship is infused in Rutgers Business School's MBA concentration in Entrepreneurship, designed for students who want to develop skills to launch new businesses, or take on business development and other leadership roles at growth-oriented organizations. Rutgers Business School's annual business plan competition, by awarding $40,000 in prize money, has launched successful businesses by Rutgers students over the past five years. One such company, Tea & Honey Blends, was even featured in a Bloomberg Businessweek profile [read story].
Core MBA concentrations in Management and Business Strategy, Global Business and Marketing are taught by industry scholars with wide-ranging research backgrounds, thought leaders in their fields [see Faculty Insights].
Other specialized concentrations offer career paths in exciting fields like marketing research and analytics. Information security, accounting systems and software engineering are taught through the Analytics and Information Management MBA concentration.
Students know that when they graduate they will join a career network of over 350,000 Rutgers alumni. And with Rutgers joining the Big 10 Conference and continuing to participate at prestigious events like the Olympics, Rutgers reputation will continue to grow.
Rutgers MBA At-A-Glance
Of 502 AACSB-accredited MBA programs nationwide, Rutgers is:
#1 Public MBA program in NYC region – US News & World Report, 2014
#3 MBA program in NYC region – US News & World Report, 2014
#3 MBA Supply Chain Program, North America – Gartner Supply Chain Leaders, 2011
#7 MBA Employment nationwide – US News & World Report, 2014
#9 Part-Time MBA – Bloomberg Businessweek, 2013
#10 in awarding ≥ 10 degrees to Fortune-500 CEOs, US News & World Report, May 2012
#33 in "Top B-Schools for MBA Pay," Bloomberg Businessweek, 2012
Top-4 among 600+ universities worldwide (2008, 2011, and 2012) – CFA Institute Research Challenge
- Daniel J. Stoll
Press: For all media inquiries see our Media Kit