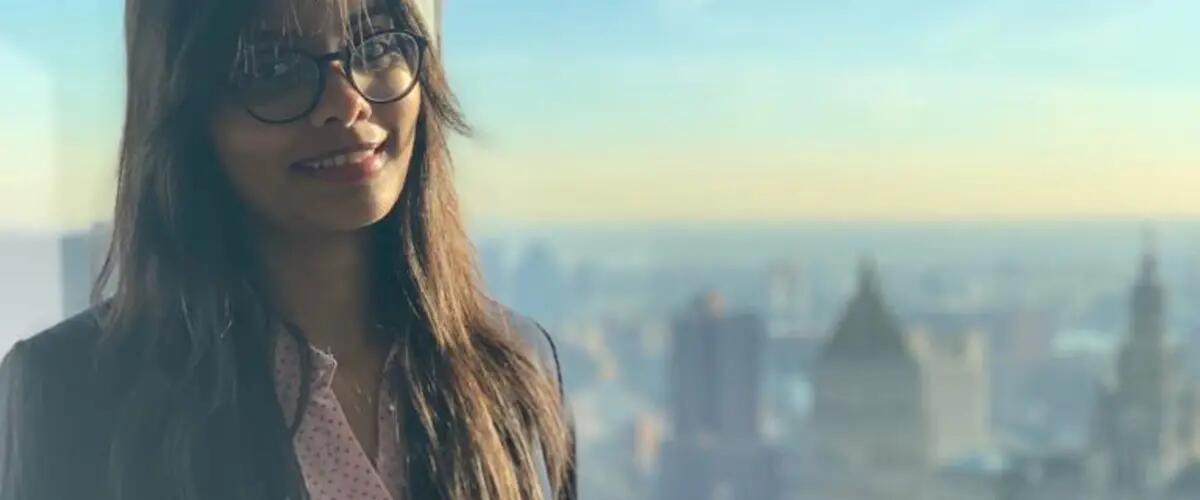 Master of Quantitative Finance Program set student on path to career in financial industry
Ayesha Shaik decided to pursue a Rutgers Master of Science in Quantitative Finance when she became fascinated with the financial industry.
After studying engineering as an undergraduate in India, Shaik spent a year working in a bank building models to predict the possibility of default by the bank's loan customers. It was her first exposure to finance.
"I wanted to learn and understand how these big banks worked," she said. "I wanted to understand Wall Street. I wanted to know everything about the financial industry."
For an engineer with a penchant for math, the quantitative finance program seemed like the ideal master's program to immerse her in the industry. "For me, the most important thing was the knowledge of finance and the quantitative skills" she said of the MQF program. "I found it very rewarding. It helped me to build my career."
Shaik received several offers from companies as she approached graduation. She accepted an offer from Goldman Sachs to work as a credit risk analyst. "I wanted to join Goldman Sachs because of the prestige of the brand and the ability to go higher in the company," she said.
Shaik gained a knowledge of finance from her classes, but she said she learned a lot about the jobs in the industry from the professionals who came into her career management class to guest lecture. She also took advantage of networking opportunities at special events and conferences she was invited to attend by Ronnee Ades, the program's director of career management, to make connections.
"The opportunities to network are a great advantage," Shaik said. The guest lecturers provided glimpses of what working on Wall Street and financial companies was like, she said, and the professionals "all stayed" to meet with students and answer questions about their work.
"It's one thing to read about (the industry) in a textbook," she said, "but it's another thing to see how someone is using the knowledge in a job."
Shaik is the third Rutgers MQF student to graduate with a full-time job offer from Goldman Sachs, according to Thomas Hill, the program coordinator.
Her journey illustrates the program's valuable combination of robust academics and career management, which connects students with working professionals who can provide them with real-life knowledge of the industry, especially the different employment opportunities available for quants within the financial world.
As February came to an end, she moved to Dallas, a part of the U.S. where she had never been. After two weeks in her new job as a credit risk analyst at Goldman, she transitioned to working remotely as Texas imposed stay-at-home orders in response to the coronavirus pandemic.
"It's been extremely challenging," she said. "I am definitely very eager to get back to the office and start working and learning from my team, and I'm looking forward to making strong and meaningful connections at my workspace."
Press: For all media inquiries see our Media Kit