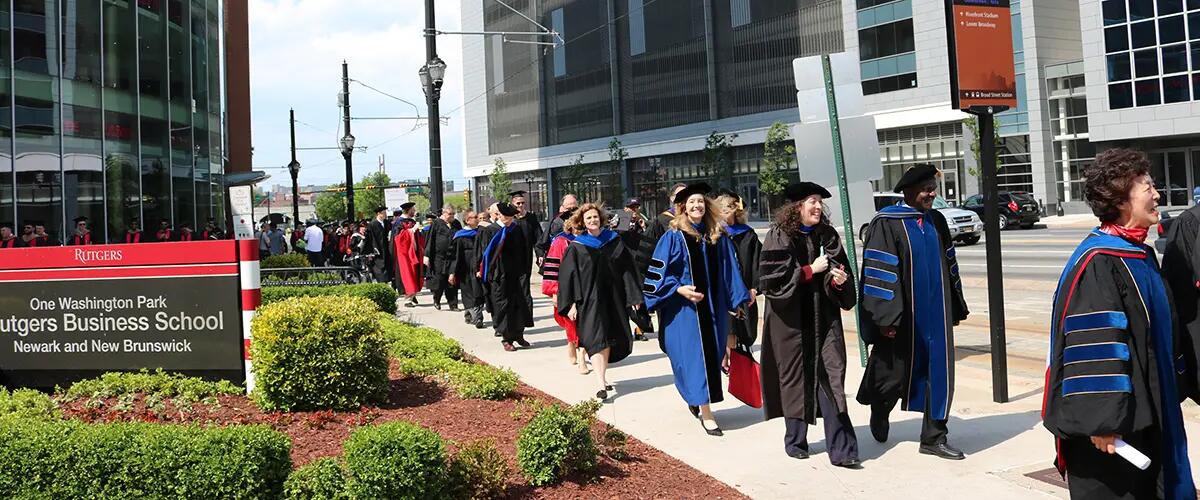 Prudential CFO Robert Falzon tells nearly 600 graduate students, degree will make a difference in how people look at you
Nearly 600 students from graduate programs at Rutgers Business School celebrated the completion of their studies during a convocation ceremony May 20 at the New Jersey Performing Arts Center.
Robert Falzon, chief financial officer at Prudential Financial and a Rutgers University alumus, delivered a commencement address resonating with advice, insight and humor. "The fact that you have completed your graduate degree speaks volumes about you," Falzon told the graduating students. "It puts you in the Top 9 percent of the U.S. population."
"It will make a difference in how people look at you and how you will perform," he said. "Be proud."
Falzon reflected on his own career, including the experience of having been fired from one part of Prudential's business and then coming back to work his way into one of the company's most senior posts.
In hindsight, he said the situation gave him an opportunity to expand his skills.  It was also character building, he said, and he was grateful for having the support of his wife and friends.
Falzon paused in his speech and asked the students dressed in caps and gowns to stand and look at their classmates on each side of them and turn around to see the guests who had crowded into the theater to celebrate their accomplishment. These are the individuals, he said, who will be your network and your source of support.
"They will help you get to where you want to go next," he said as applause thundered through the theater.
Rutgers University-Newark Chancellor Nancy Cantor and Vice Chancellor Jerome Williams, who is also a distinguished professor at the business school, attended the ceremony.
Rutgers Business School Executive vice Dean Yaw Mensah, Phyllis Siegel, senior associate dean of graduate programs, and Sharon Lydon, associate dean of MBA Programs, also participated in the ceremony. Dozens of faculty members, wearing traditional regalia, attended the commencement.
In her address, Dean Lei Lei cited some of the rankings Rutgers Business School has received in the past two years, including one for 2016 that puts RBS in the No. 3 spot for post-graduate employment for full-time MBA students.  "You deserve credit for this national ranking," she said. "Your strong performance at interviews is what attracts more and more recruiters to come to us."
The words from the podium fueled the excitement of the graduates and the enthusiasm of thousands of their friends and families who shouted and cheered as the students filed onto the stage to receive their degrees.
As they stood outside waiting for the procession to file into NJPAC, Sayeh Arian and her husband Soheil Arian, described the comradery among the 54 graduating Executive MBA students. "It's amazing that we did it all together," Arian said. "We learned together and that made it really special."
The Arians were married on the Great Wall of China nearly a year ago when the EMBA class went to Beijing. One of their instructors, Lewis Kerman, a retired Rutgers professor, officiated, and their classmates attended as guests.
After graduation, Sandra Rucker said she would join her husband in a business he has started.
"This took a lot of support from my family," Rucker said. "It means a lot to me. I'm a 50 plus so now I can re-invent myself."
After the last students graduating from the Masters of Quantitative Finance received their degrees, handshakes and hugs, Sebastian Rojos, a new graduate of the Rutgers MBA program, rang the class bell. And with a turn of their collective tassles, the 583 students were celebrated as graduates.
-Susan Todd
Press: For all media inquiries see our Media Kit