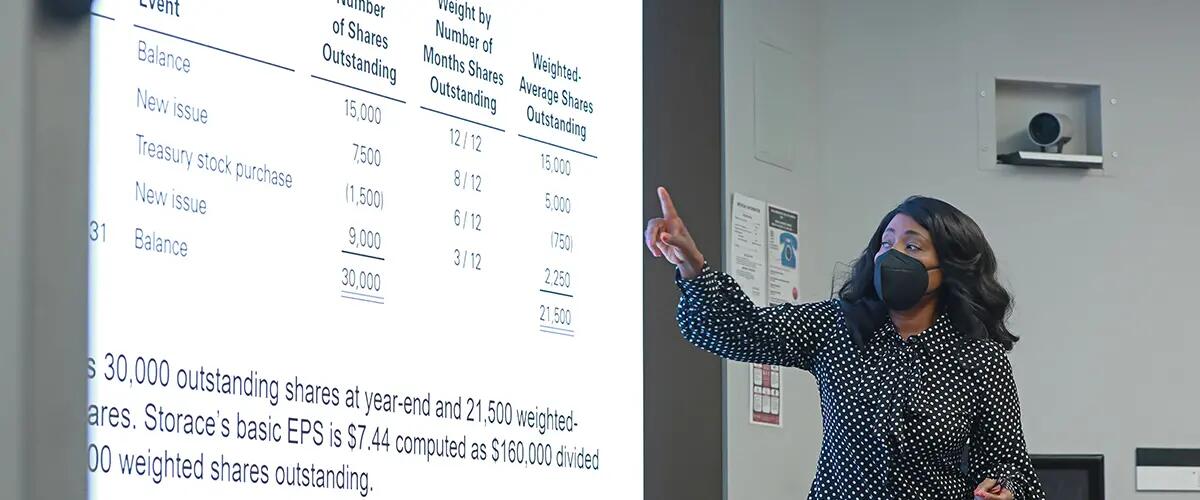 Road to CPA-Newark workshops solidify students' understanding of accounting concepts
Nearly 30 years since setting her sights on becoming an accountant, Yao Ngoran Ngbra is only months away from earning her bachelor's degree from Rutgers Business School-Newark and sitting for the certified public accounting exam.
"I've always liked numbers, and I like challenges," said Ngbra, who worked in retail and then home health care when her family emigrated from Africa's Ivory Coast in 2013.
The 49-year-old recently spent four Saturdays attending workshops to prepare for the CPA exam, reviewing concepts from intermediate accounting classes. The workshops were the first series offered through RBS–Newark's Road to CPA program. Launched last summer, Road to CPA was designed to enhance accounting awareness and create a culture of CPA preparedness.
"We want to enable students to succeed, so the workshops reinforce what they've learned in class and give them the opportunity to practice and build technical competencies," said RBS Assistant Professor of Professional Practice Joyce Joseph, director of the Road to CPA-Newark program.
Between 35 and 45 students attended each three-hour session, Joseph said. Workshop participants weren't required to be in the Road to CPA-Newark cohort. At the final session in June, Joseph reviewed how to calculate two benchmarks that investors use to evaluate a company's financial performance.
"There will always be questions on the CPA exam on calculating basic earnings per share and diluted earnings per share considering the impact of convertible debt, preferred stock, and/or stock options. Always!" Joseph said.
Projecting sample problems on a large screen, Joseph gave step-by-step instructions for solving them. "If you understand the rationale behind the components of the earnings per share numerator and denominator, you'll be in great shape," she assured students.
"We want to enable students to succeed, so the workshops reinforce what they've learned in class and give them the opportunity to practice and build technical competencies." - Joyce Joseph, accounting professor and director of the Road to CPA-Newark program.



Nineteen-year-old Noelle Wistuk said the workshops "helped me solidify some of the concepts." The junior from Bloomingdale signed up with RBS senior Dave Teophin. The two are friends and academic partners, helping one another succeed in their common pursuit of a double major in accounting and finance.
"I always look for opportunities to help me achieve my goals," said Teophin, who is doing his second internship this summer with EY. (It is his fourth internship.)
Like Ngbra, Wistuk and Teophin are enrolled in the Road to CPA-Newark program. Applicants must write two essays and have a minimum 3.0 GPA. Nearly 100 students are in the growing program, Joseph said.
Road to CPA has multiple prongs. Sixty-four participants have taken mock CPA exams to identify areas of strength and weakness. The practice tests are offered over winter and summer breaks so as not to interfere with their classes, Joseph said.
More than half of the Road to CPA-Newark cohort, including Ngbra and Wistuk, have completed the Road to CPA mentor program, in which cohort members are paired with CPAs from the Big Four public accounting firms and other medium-sized firms.
"It provides them insight into the firms and to learn more about the technical competencies they'll need to master," she said. It also provides the opportunity for students to establish relationships with professional staff, including partners and senior managers at firms.
Panel discussions with representatives from the Big Four accounting firms allow students to ask what it's like to have a CPA career and what it takes to succeed in the profession, Joseph said.
Road to CPA also includes a new summer elective class for seniors and recent graduates. The three-credit course "is exclusively focused on preparing for the financial accounting and reporting section of the CPA exam," she said.
Students decribed Joseph as a tremendous resource, providing academic and professional guidance. "She has had an amazing, trailblazing career, and any time I can have a chat with her, I do, and take her advice," Teophin said.
"Professor Joseph has inspired me and helped me understand the importance of practicing skills, reading, and asking questions if you don't understand something," said Patricia McNeal, who at age 60 is pursuing her bachelor's degree. McNeal attended the four workshops and now plans to apply for the Road to CPA program.
The Irvington resident has worked in the finance field most of her adult life, and earned an associate's degree in business administration. In fall 2020, McNeal enrolled in RBS, initially taking classes online due to the pandemic. "I wanted more skills because the market has shifted and become more analytical," she said. McNeal, on track to graduate in spring 2023, said RBS has reawakened her passion for learning.
Ngbra, who will graduate in August, said she feels she will be ready for the four sections of the CPA exam. "I'm confident of everything, because it's all clear to me," she said.
Press: For all media inquiries see our Media Kit