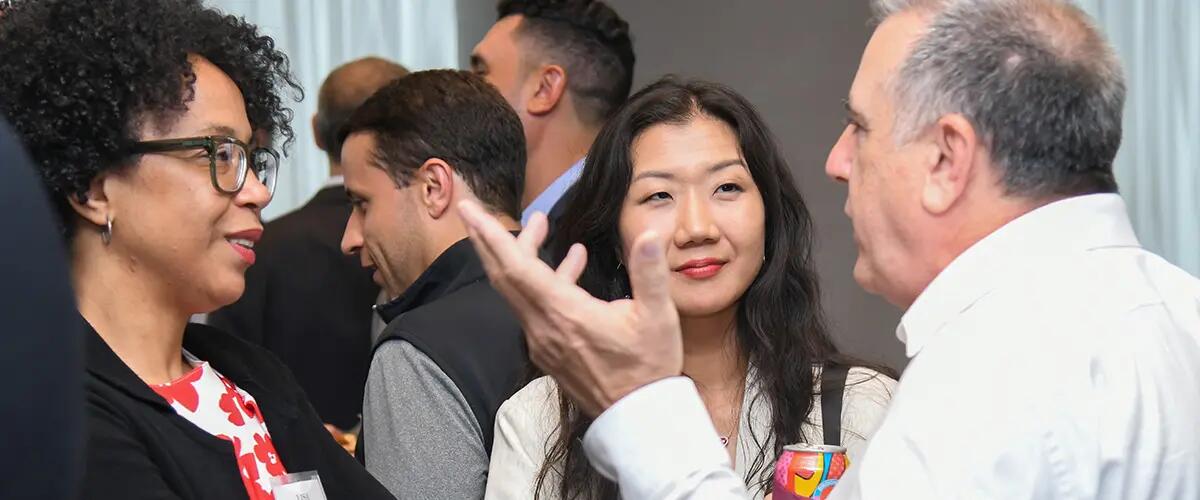 Road to Wall Street Program celebrates 10 years with alumni networking event
Dozens of alumni from Rutgers Business School's Road to Wall Street Program gathered at Wells Fargo's 30 Hudson Yards in June for a networking event marking the program's first decade.
In a room overlooking the Hudson River from the building's sixty-third floor, the alumni gathered with Rutgers Business School's staff, members of the Road to Wall Street Program advisory board as well as trustees from the Rutgers University Foundation. George Rusnak, a managing director at Wells Fargo and a member of the business school's finance advisory board, helped to secure the venue for the event.
During a pause in the networking, Art Certosimo, a co-founder of Road to Wall Street, spoke about the program's start and its purpose of connecting Rutgers alumni who are working on Wall Street with students who want to have careers there.
"The program has been wonderfully successful at launching students into the front offices," Certosimo said. "Be proud," he told the crowd of Rutgers alumni, "we're showing up in C-Suites all over the place."
Certosimo and Ken Freeman, director of the Road to Wall Street Program and a Rutgers Business School alumnus, encouraged the crowd to support the program by speaking to students or mentoring, and when they can, by donating money and recruiting RBS graduates for jobs in their companies.
Freeman said such events are important for the continued success of program. "Because we are connecting our students to Wall Street, it's important for us to always maintain that point of contact," he said after the event. "It's not so easy for our alumni to get back to campus because they are starting out their careers working long hours, this makes it that much more important for us to show up and give them our support."
RBS alumnus Omotayo Okusanya, president of the Road to Wall Street advisory board and a Rutgers Foundation board member, moderated a discussion during the event that showcased the careers of a group of young Road to Wall Street alumni. The alumni, Ty-Lynn Johnson, Alex Rodriguez, Serena Simpkins, Sean Slayzik and Rithvik Vakacharla, talked about how their careers have progressed since their graduation. Soobin Yoo, an RBS alumna and member of the Road to Wall Street's advisory board, also shared her experiences as a Road to Wall Street mentor and supporter with the crowd. 
Listen to remarks from Art Certosimo and Ken Freeman and some of the discussion among the Road to Wall Street alumni.
The gathering reflected the deepening network of Wall Street professionals connected with Rutgers Business School and positioned to help students with ambitions of working in banking and finance. Each year, about 70 Rutgers Business School sophomores with a strong interest in the financial markets are selected to participate in the Road to Wall Street Program. While mentoring is a major focus of the program, the students also learn networking and interviewing skills that help them to secure internships and jobs with Wall Street firms.
In addition to more than 80 alumni and current supporters, the networking event also attracted Wall Street professionals interested in mentoring and providing financial support to the program.
Photos by Samuel Adepoju and Sarah Orsay
Press: For all media inquiries see our Media Kit