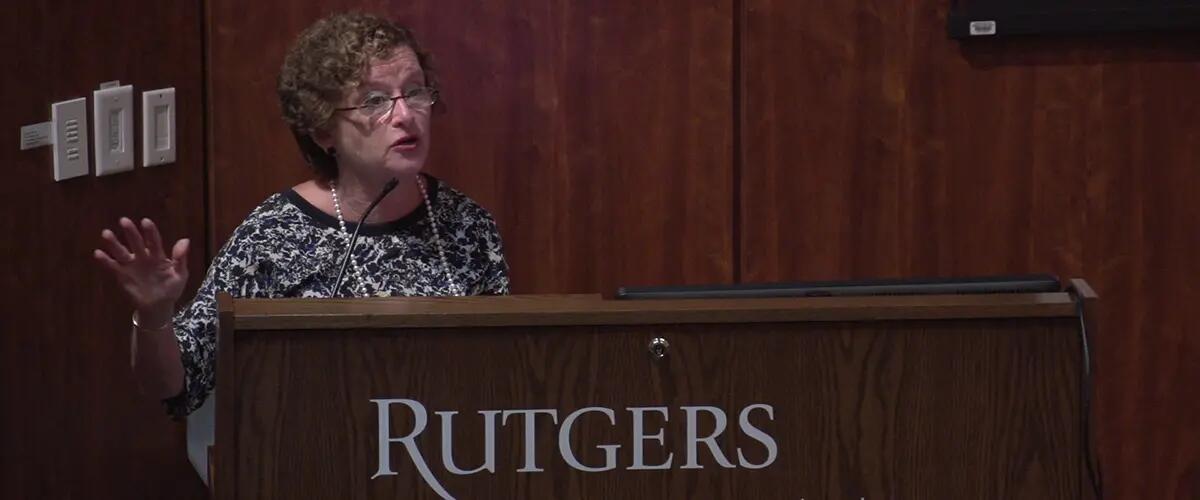 Rutgers aims to broaden its role as a partner in Newark's economic change
"Collaboration is the way forward not only for Newark, but for metropolitan areas across the nation and around the world," said Rutgers University – Newark Chancellor Nancy Cantor.
Rutgers Business School will host a business community symposium Friday, June 3, to showcase the partnerships it has with Newark's industry, schools and entrepreneurs that have succeeded in creating jobs, stronger businesses and change in the city.
"Driving the Rising Tide of the Greater Newark Business Community: Higher Education's Role as a Strategic Partner," will feature existing cross-sector collaborations with community partners and explore opportunities for expanding those networks to integrate Rutgers Business School and Rutgers University – Newark even more deeply with the city and region. 
Newark Mayor Ras Baraka will be one of the featured speakers during the event.
"Collaboration is the way forward not only for Newark, but for metropolitan areas across the nation and around the world," said Rutgers University – Newark Chancellor Nancy Cantor. "We have such tremendous assets in this city and region, first and foremost our multi-dimensionally diverse and multi-talented people. We have an unparalleled, resilient transportation infrastructure and a robust ecosystem of companies ranging from small businesses to multi-national corporate headquarters."
"At this symposium we will unpack ways in which partnerships with RBS and Rutgers-Newark are really working to leverage those assets and many others, as well as seek ways to broaden and deepen connections to leverage this moment of such incredible promise in Greater Newark," Cantor said.
Through a series of panel discussions and speakers, Rutgers Business School will describe the impact of such programs as RBS Prep and the Entrepreneurship Pioneers Initiative.
See more details, including the line-up of speakers, and to register for the event.
The Entrepreneurship Pioneers Initiative helps nurture business people running start-up companies and help them advance to their next stage of growth. The program's graduates are credited with creating 181 new jobs in the Newark area.
RBS Prep introduces high-performing, diverse and underserved high school juniors to the college environment and, specifically, the opportunities offered by a business school. The program helped 18 underserved Newark students get accepted to a four-year college in 2016. Read about one class of students who participated in the program: "Pre-college enrichment program gives high school students a sense of college requirements, potential business careers."
"We're excited to share the impact of our programs and research through collaborations and public-private partnerships with the Newark business community," Rutgers Business School Dean Lei Lei said.  "As the anchor business school of New Jersey, headquartered in Newark, we're eager to hear ideas the community may have for future new initiatives."       
Rutgers University-Newark Chancellor Nancy Cantor and Dean Lei will open the symposium with welcoming remarks.
The programs highlighted during the symposium embody the strategic vision for the Rutgers University-Newark Campus to have an integral role in the community. That vision calls for Rutgers-Newark, including Rutgers Business School, to share its resources and research with Newark area business, schools and government leaders in an effort to help drive economic development and improve the socio-economics of the city.
Four panels of speakers will address the following topics: "Enhancing Urban Manufacturing Productivity," "Urban Entrepreneurship Initiatives," "Cross Campus and Community Collaborations," and "Facilitating Minority Access to Higher Education."
In addition to established programs like RBS Prep, Rutgers Business School is developing new ones, including a procurement management plan which encourages major corporations and institutions in Newark, including Rutgers, to purchase goods and services from Newark-based manufacturers.  
Other programs like Young Entrepreneurs Academy and the new Black and Latino Technology program foster entrepreneurship among middle-school students and provide a network of support for promising African-American and Latino-American tech-oriented entrepreneurs.
The six-year-old Entrepreneurship Pioneer Initiative also enhances local economic development efforts by assisting first-generation entrepreneurs who are running young companies identify sources of financing, to receive peer coaching and to increase their professional networks.
In the area of education, the RBS Business Student Transition program offers high-potential freshman minority students admitted to Rutgers Business School a six-week prelude to their college career, with two courses and an introduction to staff who will advise, mentor and support them through their coming four years of college.
For more information about the symposium, please contact Susan Todd at Rutgers Business School: stodd@business.rutgers.edu or 973-353-5224. 
Press: For all media inquiries see our Media Kit