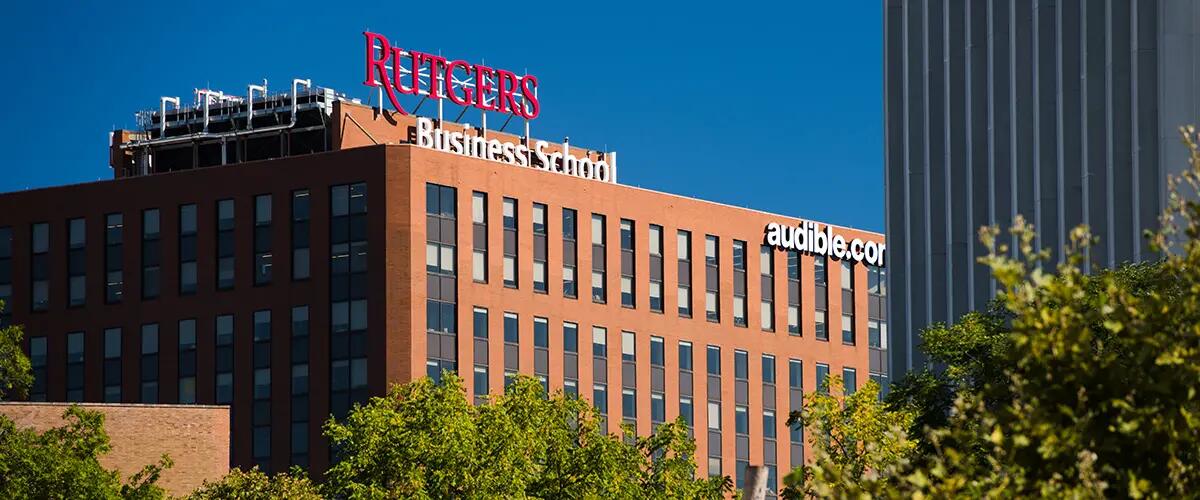 Rutgers Flex MBA rises in U.S. News and World Report ranking; MBA job placement and supply chain management program highlighted
Rutgers Flex MBA jumps 30 spots to #39 in U.S.; Traditional Full-Time MBA ranks #7 in employment nationwide
Rutgers Business School's Flex MBA ranked among the Top 50 part-time business master's programs in the country, according to U.S. News & World Report's latest ranking of best business schools.
The Rutgers Flex MBA Program, which provides working professionals with the flexibility to pursue a master's business degree, moved to No. 39 in the annual ranking, climbing past Temple, Fordham and Pace. The placement represents a huge boost, pulling Rutgers up 30 spots based on the results of U.S. News & World Report's latest survey of business school deans and MBA directors from across the country.  
The annual ranking by U.S. News & World Report also showed that Rutgers continued to improve its post-graduation job placement – Rutgers Business School ranked No. 7 this year, climbing 11 spots over last year – and it lifted the Rutgers MBA Supply Chain Management Program to No. 13, ahead of both Columbia University and Harvard University.
The Rutgers Full-Time MBA program was ranked No. 60 – up from 61 – based on data collected from business school deans, MBA program directors and corporate recruiters in late 2013 and early 2014. The 2014 ranking confirmed Rutgers being the #1 Public MBA program in the New York metropolitan area.
Dr. Sharon Lydon, executive director of the MBA Program, said Rutgers Business School has worked very hard to make it possible for working professionals to secure a rewarding graduate business education, which is a component of U.S. News & World Report's ranking.  
"Our MBA students are balancing so many things – work, family, along with going to b-school ," Lydon said. "Our recent rankings are a testament to their hard work and success. We are extremely proud."
The Rutgers Full-Time MBA program offers concentrations in such popular fields as entrepreneurship and supply chain management as well as the more traditional areas of pharmaceutical management, marketing and finance. Rutgers Business School is able to leverage its connections to leading corporations, its proximity to New York City as well as its network of successful alumni to provide internship and job opportunities to current students.  
Rutgers MBA Leads to Jobs
Rutgers continued to improve on its strength of placing graduating MBA students in full-time jobs. In 2013, 95 percent of the Traditional Full-Time MBA students were employed within the 90-day, post-graduation period. The new ranking pushes Rutgers Business School into the Top 10 in the country for post-graduation employment featured in U.S. News & World Report, "10 MBA Programs That Lead to Jobs."
"In our offices we know what we're doing to help students be competitive," said Dean Vera, an assistant dean and director of the MBA Office of Career Management. "We teach them what needs to be done."
Vera said the strong job placement is also helped by a vibrant regional economy and by the specialized MBA concentrations offered at Rutgers, including supply chain and pharmaceutical management.
"We have strong industries in New Jersey. It starts with pharmaceutical, but we have consumer electronics, utilities," he said. "We like to say that whatever industry exists in New Jersey, you'll find Rutgers alumni in it."
Top Supply Chain Management MBA
The Rutgers Supply Chain Management Program, which was listed by U.S. News & World Report for the first time last year, earned more favorable assessments in data used to compile the new ranking. Supply Chain ranked No. 13 compared to last year when it filled the No. 20 spot.
Professor Lei Lei, who chairs the Supply Chain Management Department, attributed the MBA program ranking to strong curriculum and enduring collaborations with major companies, which results in faculty research and attracts recruiters to Rutgers students. The strength of the program is evident in another key area: The Supply Chain Management MBA Program has maintained 100 percent placement rate for summer internships since 2008.
"We are the leaders in collaborations and innovative curriculum," Lei said, "and it really helps with reputation and rankings."
Online Master of Government Accounting Ranked #27
U.S. News & World Report acknowledged Rutgers Business School for its online Master of Accountancy in Governmental Accounting. The program, which was started in 2007, offers the only advanced degree in governmental accounting. The 10-course online program earned the No. 27 spot on the latest ranking of online graduate business offerings.
-Susan Todd
Press: For all media inquiries see our Media Kit