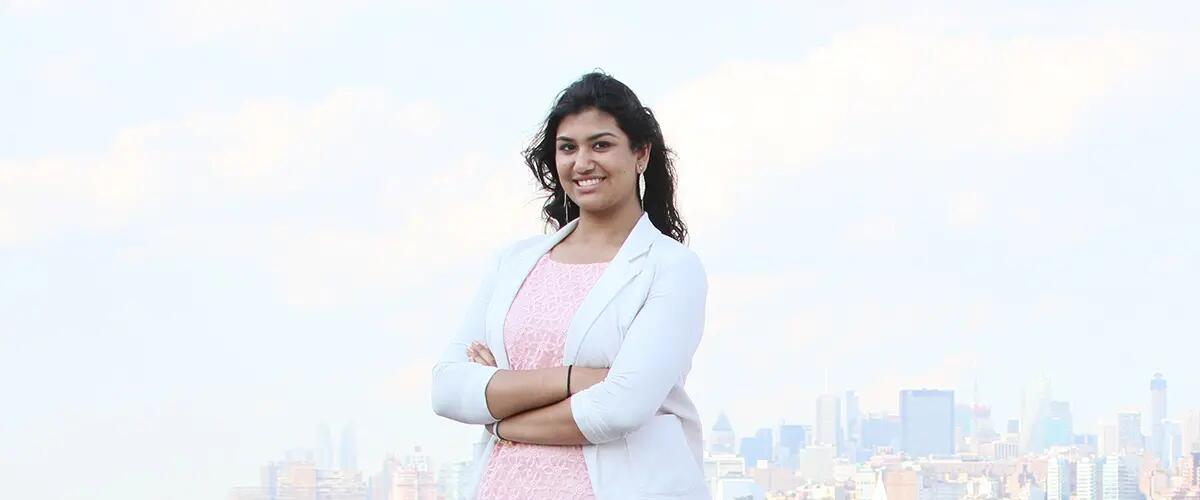 Urvi Tiwari, RBS '16: "My time at Rutgers Business School taught me to push my intellectual boundaries"
2016 Distinguished Leadership Award Winner: Urvi Tiwari, Rutgers Business School – Newark Undergraduate Program
The dean's Distinguished Leadership Award was created in 2011 to recognize student leaders from Rutgers Business School's graduate program and its undergraduate programs in Newark and New Brunswick. The award is given to students who demonstrate outstanding academic achievement, service to RBS and leadership potential. The name of each recipient is engraved on the Rutgers Business School bell.
Urvi Tiwari, who majored in finance and in accounting, was chosen to receive this year's award from the undergraduate program in Newark. She received a full-time job offer at KPMG during her second year at RBS and has been working in the KPMG audit financial services department since January.
Why did you decide to study business?
"A business degree allows you an immense amount of flexibility in the sense that the skill sets you obtain here will be valuable within any industry. I chose to study business because I believed that having a strong financial and managerial understanding would prove integral to my career progression. After my first year at Rutgers Business School, I decided to double-major in finance and in accounting, primarily because I loved that accounting allowed me to dissect a company's financial health into numerical format, and finance taught me how to interpret these numbers for the long run. By obtaining a business degree, I've officially gained a strong foundation for my career map, and I know that regardless of the industry I move into, I'll have strong business acumen to guide me."
In which clubs/activities were you involved at Rutgers Business School?
"Throughout my four years at Rutgers Business School, I have been actively involved as the president of the Dean's Advisory Council, co-founder of Fashion and Business, assisted in coordinating a large-scale fashion show, an ambassador and contact point for students interested in the Business of Fashion major and concentration, the ambassador for KPMG within Rutgers Business School - Newark, and co-founder of a local book club."
Which RBS class was your favorite and why?
"My Favorite RBS course was Introduction to Finance taught by Professor Tavy Ronen. It was the first class that not only challenged me, but pushed me to learn the material thoroughly rather than focusing on the grade. Professor Ronen's teaching methods, while eccentric, effectively engrained the material within my mind and encouraged me to think critically and creatively. Both the class and Professor Ronen inspired me to keep striving to learn instead of concentrating on the end result."
What do you think the program has done to prepare you for your future?
"I honestly wouldn't be where I am without the support of RBS and its faculty and staff. Through the school's many resources I was able to secure a full-time job offer at KPMG during my second year, and I have been working in the KPMG audit financial services department since January, 2016. Not only that, but my time at RBS taught me to push my intellectual boundaries, the power of networks, the key to public speaking, and the importance of continuous development. The accumulation of my time at RBS provided me with a pocketful of learning experiences and skill sets that are so essential to my professional development."
What was your favorite "RBS Moment?"
"My favorite RBS moment was when I, alongside my classmates, planned, set-up, and executed a full-fledged fashion show that incorporated designers from Newark and the surrounding areas. It was an immense challenge to shift everything that we had learned in theory to reality. From creating a mood board to assisting the designers during the actual show, this taught me the difference between textbook learning and real life experience. To see our fashion show come to life and the models walk down the runway with their designers proved to be the most memorable moment and something I would do again in a heartbeat."
What are some of your impressions from the Rutgers University Commencement?
"Sitting amongst my fellow graduates at High Point Solutions Stadium, the excitement and energy in the air was absorbing as everyone waited for the President of the United States to deliver the commencement address. President Obama's words made an impression on everyone in the crowd," said Tiwari. "He pushed us to discover the facts before making decisions, always have a kind and honest heart, and not to let jaded opinions stop us from believing we can make a change."
"Additionally, just hearing about the many achievements that Rutgers' alumni have accomplished over the last 250 years left me feeling empowered to achieve my goals and create a difference wherever I go," Tiwari continued. President Obama's, the Chancellor's, and all of the honorable speakers' words marked the perfect beginning of a journey that for many of us is a road to self-discovery, success, and international impact."
-Sean Ireland
Press: For all media inquiries see our Media Kit