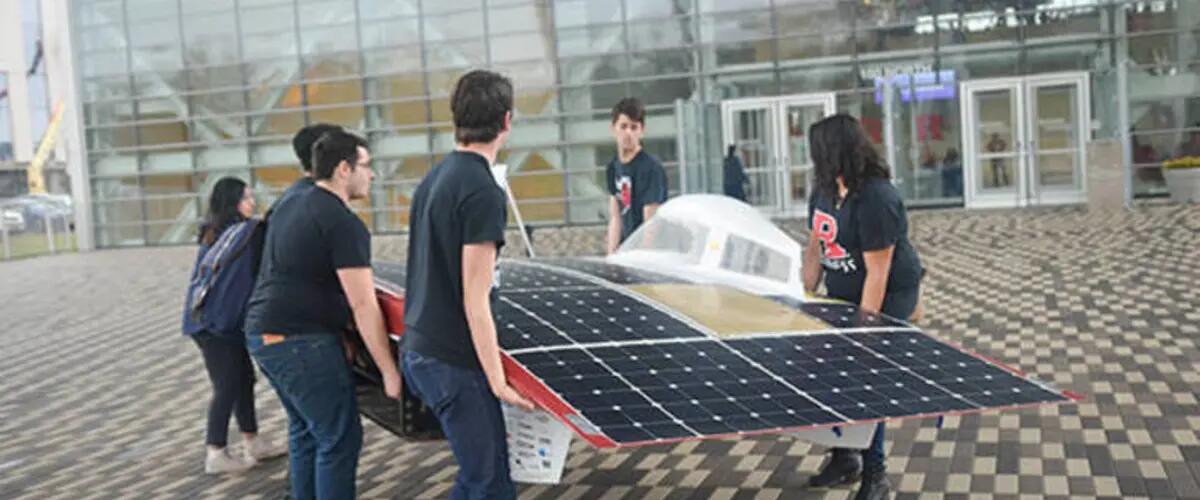 Navigating the Rutgers Startup Ecosystem: Resources for Undergraduates
By Sri Narayanan
From a young age, I always had an entrepreneurial spirit. Coming to Rutgers, I was excited to be on a campus filled with so many opportunities and with students driven by the spirit of innovation. I have put together this list because Rutgers is such a large campus, and I found it essential to identify all the resources available on campus to help current and aspiring undergrad student entrepreneurs navigate the Rutgers startup ecosystem.
Please note that even though this guide has an emphasis on undergrad entrepreneurship on campus, it can still be applied to alumni and graduate students.
I have structured this guide to focus on these key sections:
Undergrad Courses
Student Organizations
Funding
Events
Other Resources
I. Undergrad Courses
The Entrepreneurship Concentration is offered at the Rutgers Business School. It is an excellent opportunity for students not only to learn to think out of the box but also to brainstorm ideas and identify various solutions to solve problems. It counts as a concentration for RBS students and as a minor for non-Rutgers Business School students.
For RBS students pursuing the concentration, they will take a total of 3 courses (9 credits). This includes 1) 2 Entrepreneurship required courses 2) 1 Entrepreneurship elective.
You can find course descriptions, class numbers, and credits here
For non-RBS students pursuing the minor, they will take six courses (18 credits). This includes 1) 3 Preliminary Core Requirements 2) 2 Entrepreneurship required courses 3) 1 Entrepreneurship elective
You can find course descriptions, class numbers, and credits here
Besides the entrepreneurship minor and concentration, other courses that students may find useful include:
Brand Management (MKTG 498)
Marketing Consulting for Small Business (33:630:499)
Engineering Economics (14:540:343)
Rutgers also offers a summer study abroad experience known as Doing Business in Israel. Through a partnership with Ben-Gurion University. Besides getting to travel through Tel Aviv, Ra'anana, Haifa, and Beersheva, students have an opportunity to learn about entrepreneurship and innovation with a focus on understanding business in Israel and the Israeli Entrepreneurship Ecosystem. Students will have the chance to learn from well-known venture capitalists, entrepreneurs, and industry leaders. This program is led by Professor Gary Minkoff.
II. Student Organizations
There are so many opportunities for students to get involved on campus through organizations that will help them build their networks, expand on their ideas, connect with alumni and other prospective entrepreneurs, and find a co-founder/team. Here are a few organizations to check out:
Rutgers Entrepreneurial Society (RES): help student entrepreneurs by providing direction and connecting them with valuable resources, networks, and knowledge.
RU Makers: Great org for expanding creativity & entrepreneurial skillset — they host a variety of workshops.
Rutgers Enactus: A student org that brings students together to use entrepreneurial action to improve the quality of life and standard of living for people in need.
Road to Silicon V/Alley: This program is focused on helping students start their journey with innovation and entrepreneurship.
Rutgers VC Club: Rutgers Venture Capital Club
RUWIB: Rutgers Women in Business
Beta Gamma Sigma: International honor society in business.
FORM: Fashion Organization of Retail and Marketing
RAMS: Rutgers Association of Marketing & Strategy
RC: Rutgers Consulting Club
Rutgers Data Science Society: Student org with a focus on building the data science community at Rutgers.
Rutgers Blockchain: Student org with an emphasis on educating students about the business applications of blockchain technology.
RutgersBit: Student org with an emphasis on exploring the technology behind cryptocurrencies such as Bitcoin.
USACS: Undergraduate Student Alliance of Computer Scientists
Rutgers WiCS: Rutgers Women in Computer Science
Rutgers Women in ITI: Rutgers Women in Information Technology
Eta Kappa Nu- Electrical and Computer Engineering honor society
Tau Beta Pi- Engineering Honor Society
Rutgers Formula Racing: Rutgers Formula Racing team — design, manufacture, and race a Formula SAE race car each year.
Rutgers Solar Car: Student-led engineering team competing in the Formula Sun Grand Prix.
III. Funding
Dorm Room Fund: Launched by First Round Capital, they focus on investing in companies started by students.
Rough Draft Ventures: Started by General Catalyst. It's an extensive network of student founders who are a student-led team that works to empower student founders.
Contrary Capital: They invest in a dozen teams from universities across the country. During the school year, they have venture partners on campus, and during the summer, they run a selective accelerator for university entrepreneurs in San Francisco.
Prototype Capital: $5 million pre-seed firms focused on backing young entrepreneurs and students. Their focus is to support students that may not fit the "stereotypical Ivy League-educated founder mold."
Pear Competition: $25K to launch your student startup. They consider all ideas, and this is designed for students who want to launch their startups.
Big Idea Ventures: A VC firm looking to support the world's most compelling plant-based food companies and protein alternatives.
RBS Business Plan Competition: Total cash prizes of $45,000.
Hult Prize Competition: Competition that challenges students to solve pressing social issues. There's an opportunity to win $1,000,000 in startup funding.
NSF I-Corps: The primary goal of I-Corps is to foster entrepreneurship that will lead to the commercialization of technology that has been supported previously by NSF-funded research.

IV. Events

There are a variety of tech/startup events happening, check out these links and subscribe to follow along:

HackRU: HackRU is a 24-hour hackathon at Rutgers University. Industry experts and mentors share their knowledge. This is a great environment for learning through tech talks, one-on-one guidance, and expanding your skills. This is open to all experience levels.
HackHers: Hosted by Rutgers Women in CS, this is a 24-hour women-centric hackathon at Rutgers University. Opportunity to learn at workshops and hear from distinguished speakers, mentors, and peers.
RBS FB page (check out their distinguished speaker series events)

V. Other Resources

Student-Alumni Career Connect System: Provides an opportunity to connect with Rutgers alum, get advice on startup ideas, and hear from their experiences.
Rutgers Makerspace: This is a hidden gem on campus! It's an excellent resource for students to work collaboratively with other students, faculty, and staff from all academic disciplines. Students can design and create anything they desire, and this space makes it easy for students to develop prototypes.
Legal Services through the Rutgers School of Law: Legal services include help with intellectual property and small business counseling.
Legal Services through the Office of Student Legal Services: Provides students with professional legal advice at no cost by attorneys licensed to practice in the state of NJ- an excellent resource for students to get their questions answered.
Rutgers Center for Urban Entrepreneurship & Economic Development: This center is an excellent resource for all entrepreneurs and hosts a variety of initiatives that provides excellent support for entrepreneurs.
Rutgers Open System Solutions at Rutgers:Open System Solutions at Rutgers — this comprises students and system admins who work towards developing open-source software into an enterprise-level computing environment for the Rutgers community.
Newark Venture Partners: They are a fund that makes a direct investment in seed-stage companies. They work closely with the resources of Rutgers and RBS.
Y Combinator Startup School: This is an excellent resource for starting a startup with YC's free 8-week online course. Keep your eye out for YC office hours hosted by a YC Partner in NYC.
ELEVATE-The growth accelerator: Greycroft and Hubspot launched this program. It's a virtual accelerator that helps early-stage startups achieve rapid growth and learn the basics of inbound marketing, sales, and service. The format is very organized and easy to follow along.
Apart from all these resources, I would like to mention that networking and building personal relationships are among the most important things as an entrepreneur. I reached out to professors, alumni, staff, and even my peers to grow my network on campus. If anyone had time, I would share my ideas and ask for feedback. To build my network beyond Rutgers, I attended several conferences with an emphasis on entrepreneurship (Startup Grind Global, Forbes 30 Under 30). I also reached out to other entrepreneurs on LinkedIn to hear from their experience.
Thanks for checking out this guide! I hope you found this post useful to help you better navigate the startup ecosystem at Rutgers and transform that business idea into reality. If you have any further questions, feedback, or if anything stood out and you would like to chat, I'd love to hear about it! Feel free to email me at sn562@scarletmail.rutgers.edu. Good luck!
About the Author
Sri Narayanan is a rising senior majoring in Business Analytics and Information Technology and Marketing with a concentration in Real Estate. She has a passion for entrepreneurship and is highly involved with the entrepreneurship ecosystem at Rutgers and has even launched several of her own projects. She is also president of Rutgers Women in Business and Beta Gamma Sigma; director of professional development for Rutgers Venture Capital Club; VC scout for Anthos Capital and a student journalist. She was a data science intern at Teladoc during Summer 2019 and the following school year. In summer 2020, she will be a summer analyst at the Blackstone Group.
Press: For all media inquiries see our Media Kit