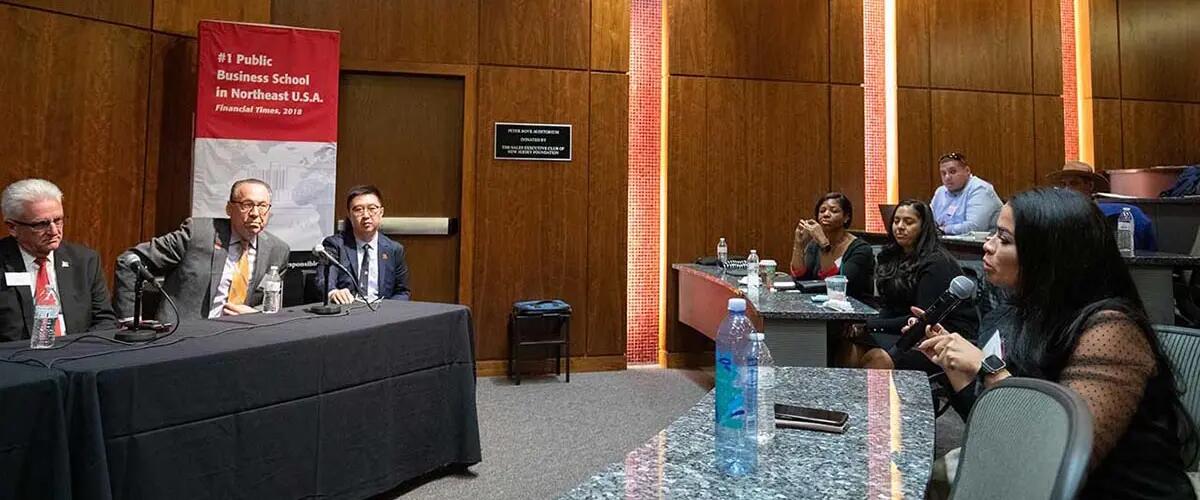 Symposium showcases the resources Rutgers offers to help grow area businesses
Small business owners attending the annual Business and Community Engagement Symposium learned about some new resources available to them when they're trying to overcome growing pains and challenges: Rutgers students
The opening panel themed "Tapping into RBS Talent" provided attendees with a variety of programs and courses that connect students with area businesses to work on "projects" requiring marketing skills and knowledge of supply chain.
The symposium – in its seventh year – seeks to connect Rutgers Business School with the region's business community as it showcases the services of America's SBDC NJ. The SBDC, a 45-year-old program fueled by the federal Small Business Administration, has offices at universities and colleges across the nation, including Rutgers Business School. The SBDC office at RBS-Newark is the state's headquarters.
Kelly Brozyna, state director and chief executive officer of America's SBDC NJ, described that arrangement as a reflection of Rutgers Business School's desire "to support local and regional businesses."
While the day-long symposium featured networking opportunities and a series of workshops, the morning panel provided insights about what Rutgers University-Newark Chancellor Nancy Cantor described as the "new generation talent pool" at Rutgers.
James King, senior director of the Office of Career Management at Rutgers Business School, urged the audience to "engage with our students."
King said his office could help companies establish internships. "We can be a facilitator for companies looking for student talent." He also said small business, generally, is "a growing area of interest to students."
Marketing instructor Erich Toncre and John Impellizzeri, who teaches supply chain management, explained how both of their departments have courses designed to provide students with real-life experiences working with companies.
"Our students can't graduate from the (supply chain management) program without getting real-life work experience," Impellizzeri said.
"Migrating through a Changing Economy"
Press: For all media inquiries see our Media Kit