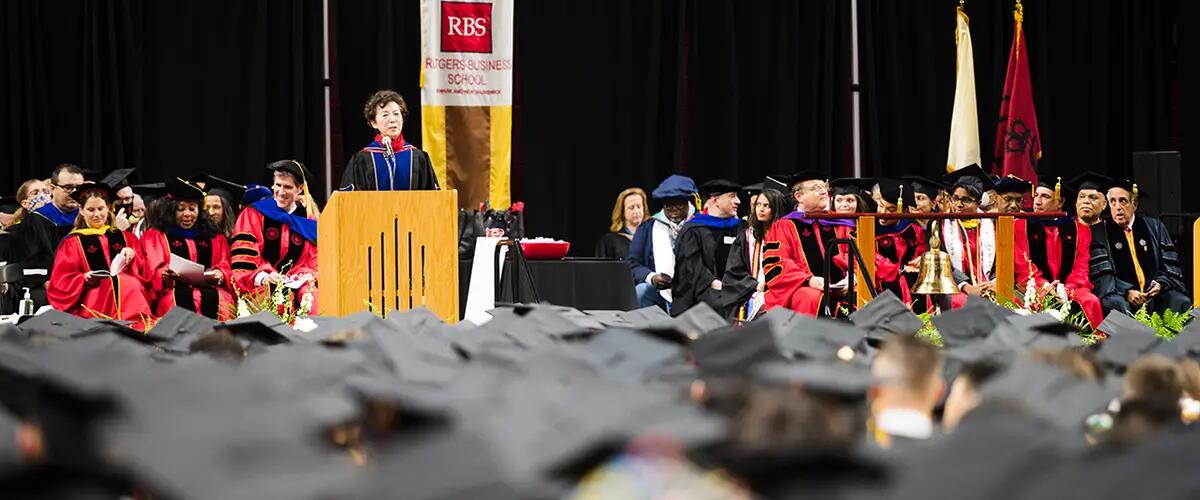 Dean announces $3 million gift to Rutgers Business School at undergraduate convocation
Nearly 1,300 students graduated from Rutgers Business School-New Brunswick in a convocation marked by the announcement of a gift from alumnus Robert Platek, his wife, and MSD Partners to support diverse students in the Road to Wall Street Program.
After nearly two years of pandemic-related restrictions on gatherings, an overflow crowd of Rutgers Business School-New Brunswick undergraduate students and their families packed the Jersey Mike's Arena on May 12 for a traditional convocation ceremony.
Nearly 1,300 students in caps and gowns sat in rows of folding chairs across the center of the arena before an arc of red and white balloons. When Rutgers Business School Dean Lei Lei offered congratulations to the Class of 2022 spread out before her, thunderous cheers and applause filled the arena.
The ceremony was marked by the announcement of a $3 million gift to Rutgers Business School – by the Convocation Speaker Robert Platek, his wife, and MSD Partners. The convocation also represented the swan song of retiring Senior Associate Dean Martin Markowitz, who resumed his trademark of pausing the formalities for a quick selfie on the podium.
In his convocation address, Platek, a partner at MSD Partners and a Rutgers Business School alumnus, offered a mix of inspiration, encouragement, and sage advice to the graduating students. "I am grateful to be doing what I love," he said. "I hope you can find the same source of fulfillment."
He urged the students to work hard, to embrace luck and to realize the "power of the Rutgers Business School degree."
Platek, the first generation of his family to attend college, spoke of his own work ethic – instilled by his father – his competitive nature and his drive to outperform and overachieve. He also provided the students with real world examples of the sort of bumps – being laid off from Chase Manhattan Bank and having a tough supervisor who inspired fear – they may encounter during their careers despite their hard work.
The keys to success, he said, are passion, curiosity, and adaptability. He also credited his wife for her sacrifices and support. "This speech is only my story, but it doesn't happen without her," he said.
He urged the students to establish a strong foundation as they begin building their career. "Move into change with little or no fear," he said.
Watch a video of the ceremony.
As the crowd applauded Platek, Dean Lei presented him with a giant thank you card covered with the signatures of hundreds of graduating students. Then turning back to the crowd, she said, "I also want to use this opportunity to make a very special announcement."
Lei described a gift of $3 million the Plateks and MSD Partners made to Rutgers Business School to support diverse students selected for Road to Wall Street, the most established of the Road to Success Programs. The announcement set off exclamations of surprise and applause from the crowd and the podium, where nearly 60 faculty members sat with Rutgers administrators.
The gift will create the MSD Scholars Initiative to work closely with Road to Wall Street and Rutgers Business School's Office of Inclusion, Diversity, Equity and Access to support and train diverse talent – students from historically underrepresented communities – for jobs in the finance industry.
In addition to scholarships, the initiative will provide specialized training and mentoring to MSD scholars. The first 20 MSD scholars will begin classes in the fall of 2022.
When Francine Conway, Rutgers University-New Brunswick chancellor, addressed the graduating students, she spoke about the importance of rites-of-passage like convocations "to celebrate transitions to a new stage of life."
The inability to gather, to celebrate were difficult, but also provided a lesson to the students about grace and the fortitude to persevere. The same themes were echoed later by Anish Chouthai, president of the Rutgers Business School Governing Association.
He described a freshman year that started with optimism and got interrupted by uncertainty. "I'm proud of our resilience," he said.
"As we move on," he said, "remember what you have been through."
As Dean Markowitz began announcing the names of the graduating seniors, he pointed out that many of them were wearing vibrant-colored sashes and cords. The adornments represented their involvement and their achievements during college. As he explained the meaning of some of the colors, Faez Rehman, a finance student, sat quietly, touching the gold-colored cord hanging over his chest.
During her remarks, Chancellor Conway also recited the words of a "philosopher" whose prose was recognizable immediately to many in the crowd. "Will you succeed," she said, reading the words of Dr. Seuss. "Yes. You will indeed."
Graduating senior Ariel Buenano, who studied marketing and supply chain, was savoring the sweetness of her success as she sat with a crowd of classmates waiting for the convocation to begin. She said she had already started a full-time job in operations management at Target, a position that allows her to use her new skills and knowledge in supply chain.
"I'm working. I'm completing my education and making my parents proud," she said. "I'm ecstatic."
- Susan Todd
Press: For all media inquiries see our Media Kit