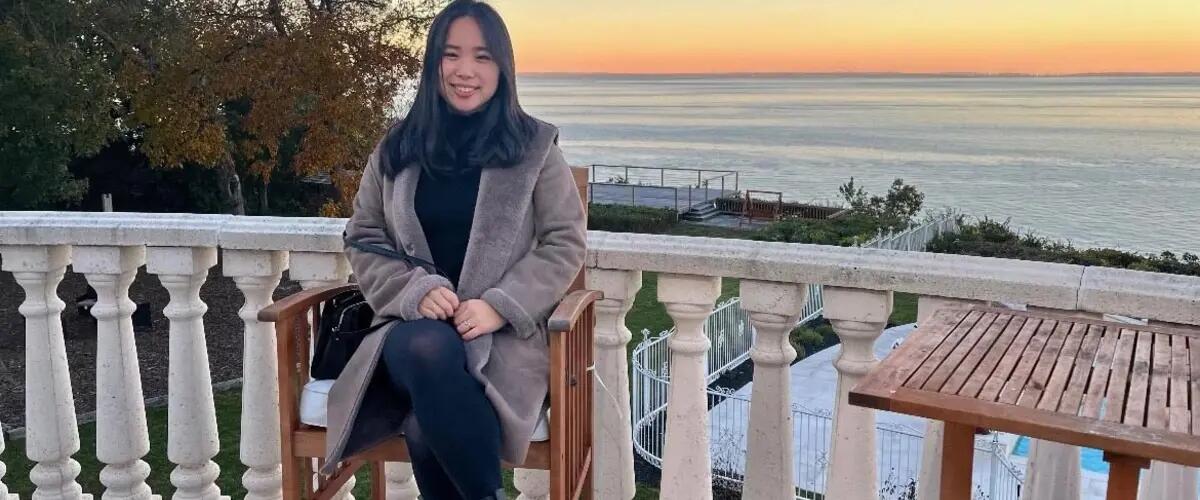 Science student emerges as entrepreneurial leader
Jaime Lim had been single-minded about becoming a doctor before the pandemic sent her home from college.
With the extra time, Lim learned personal finance and dabbled in stocks. She also tried her hand at e-commerce, making print-on-demand T-shirts, hoodies, and masks with her own designs. "It was more of a project than a business venture, an experiment to test how these online side-hustles worked," Lim explained.
Lim has immersed herself in entrepreneurial opportunities since transferring to Rutgers-New Brunswick as a sophomore. She is currently president of the Road to Silicon V/Alley Program (RSVP), Rutgers Business School's selective organization for students from across the university with an entrepreneur spirit. Lim has already completed a minor in entrepreneurship, and though she will graduate in May with a bachelor's degree in exercise science, she has set her sights on a career in business consulting. "This is what I'm passionate about," she said.
Lim has found strong mentors within RBS, including Gary Minkoff, an assistant professor of professional practice who taught three of her entrepreneurship classes; Mukesh Patel, an assistant professor of professional practice in entrepreneurship and director of RSVP; and professor Kristy Fall, RSVP's assistant director. She also found mentors outside Rutgers through networking.
"Jaime has the hallmarks of a promising entrepreneur," demonstrating perseverance, curiosity, leadership and emotional intelligence, Minkoff said. "She puts herself out there as a leader, which is what entrepreneurs are: change-makers."
Minkoff said Lim proved herself a strong student too, asking many questions in class to ensure she understood information. "She always put the learning first," he said.
Lim took the popular Innovation, Creativity & Entrepreneurship class with Patel during the spring semester of sophomore year. The class "opened my eyes to different ways of thinking," said Lim, who became a teaching assistant for the class the following semester.
She joined RSVP her junior year not only to expand her professional network, but to make like-minded friends. She'd transferred to Rutgers when classes were online only, so she was starting from scratch. "I wanted to be surrounded by business-oriented, ambitious students," Lim said.
Serving as RSVP's president has allowed her to practice management and communication skills. She is liaison between the student executive board and entrepreneurial professionals who sit on the program's board of directors. This fall, Lim is organizing a series of virtual workshops, each run by a member of the student board. Lim's workshop will be an introduction to networking, a skill she constantly hones. Students in RSVP come from diverse backgrounds, so the leadership strives to create an array of programming, she said.
Read more about Rutgers Business School's Road to Success Programs that help students combine classroom learning with experience and training that prepares them for the real world.
Lim's involvement in RSVP helped her land a summer internship at TIFIN Clout, a marketing financial technology platform. Professor Fall connected her with Niharika Shah, chief growth officer at TIFIN Wealth, who also serves on the RSVP board of directors. Lim spent her summer writing articles and social posts and created email templates.
She spent part of the summer planning to launch a Rutgers chapter of Scholars of Finance, a national organization focused on the ethics of finance. She is the co-founder and executive vice president of the Rutgers chapter.
Minkoff said Lim has shown courage in pursuing her entrepreneurial dream. "I'm inspired by her ambition," he said. 
-Margaret McHugh
Press: For all media inquiries see our Media Kit