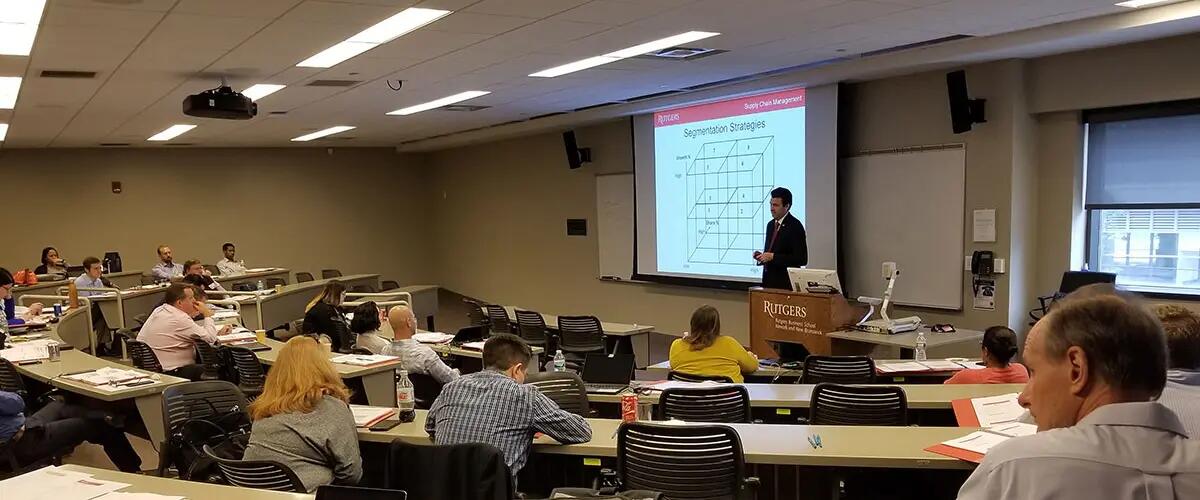 Educational Opportunities
Center for Supply Chain Management
With your professional success in mind, the Rutgers Center for Supply Chain Management offers a series of executive education programs designed to address the challenges of today's global markets.
All companies in today's competitive global marketplace face unprecedented pressures to create both shareholder and customer value. The demand for supply chain professionals who are highly trained in the tools, techniques and processes used by world-class firms has never been greater.
Supply Chain Management Certificate Program
Offered only once per year, this three-day executive level program provides insights to leading edge strategies and processes for middle to senior-level supply chain leaders. Taught by world-class Rutgers faculty and senior SCM executives, the course content combines contemporary theory with real world applications used by global leaders.
Advanced Global Supply Chain Leadership Academy (AGSCLA)
The AGSCLA is a continuous education program that enables supply chain managers to develop and maintain the skills and competencies needed in the global competitive market. The AGSCLA features the best faculty in the Rutgers Business School in tandem with experienced industry faculty and industry leaders. The AGSCLA will collaborate with leading global academic institutions to deliver a true global experience. Additional details coming soon!
ISM Certified Professional in Supply Management (CPSM®)
ISM-NJ and Rutgers Business School present training sessions for SCM professionals who hold the CPM and are preparing for the CPSM® Bridge Exam, and for new SCM professionals who are preparing for the CPSM® designation exam. Please contact us at cscm@business.rutgers.edu.
SAP Student Certification Academy
SAP is an Enterprise Resource Planning system used by companies throughout the world. The course will be taught by certified instructors from SAP America and will result in "SAP Certified Associate" certification from SAP America which has world-wide recognition. Pre-requisites apply.
Customized Supply Chain Education
Rutgers has a wide range of world-class faculty and industry-hardened adjunct faculty that can provide customized training to meet your specific education needs. This training spans the full end-to-end supply chain. Please contact us at cscm@business.rutgers.edu.
High School Supply Chain Management Program
Learn more about the Supply Chain Education Partnership program and how high school students can get a head start on their future
Scholarships
The Advisory Board of the Rutgers Center for Supply Chain Management is pleased to announce a Scholarship opportunity for First Year full-time MBAs who are concentrating in SCM.