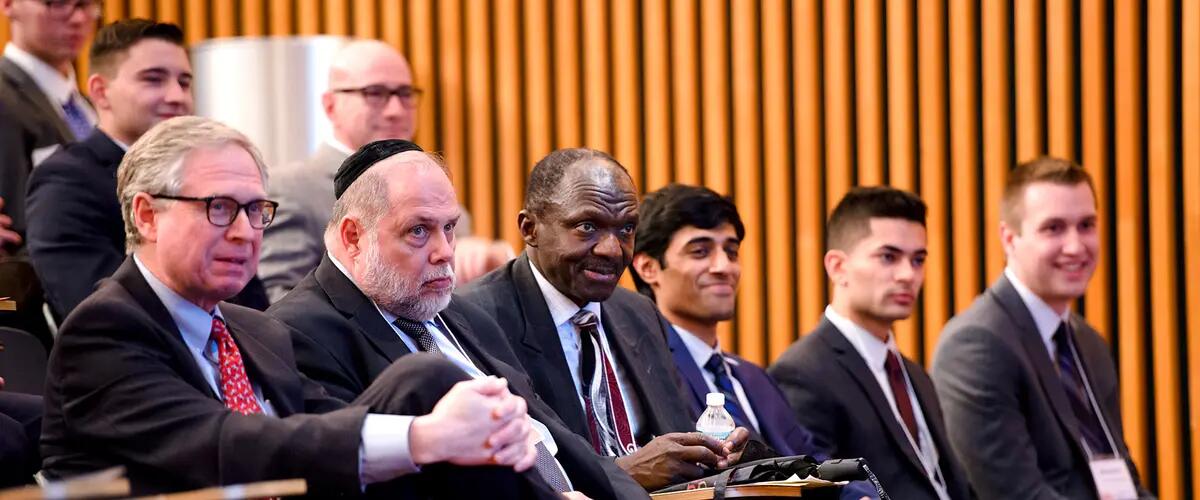 Recent events hosted by the Rutgers Financial Institutions Center
Past Events
Investors Bank Corporate Headquarters, November 10, 2017
Mr. Kevin Cummings (CEO) and members of the senior management team of Investors Bank, spoke on 'Risk Management' to Professor Darius Palia's MBA & MQF students at Investors Bank's corporate headquarters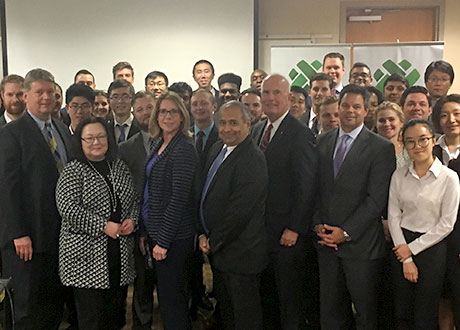 Rutgers Business School, November 24, 2015
Legendary bank lawyer H. Rodgin Cohen, Senior Chairman, Sullivan and Cromwell lectures MBA students on the current developments and impact of the Dodd-Frank Act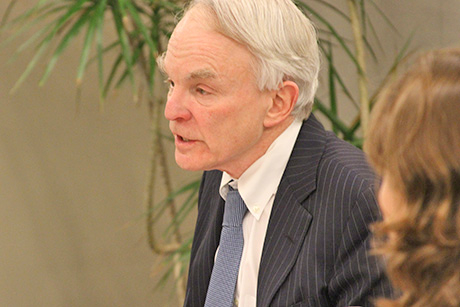 Investors Bank Corporate Headquarters, November 3, 2015
Investors Bank CEO and President Kevin Cummings and senior executives of Investors lecture students on how Investors built a fast-growing, profitable and highly-reputable bank that values its community and customers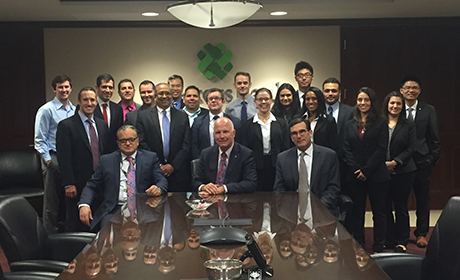 Rutgers Business School, October 20, 2015
Former Chairman and CEO Bank of New York Mellon Tom Renyi lectures MBA students on the market based solutions for the Recent Financial Crisis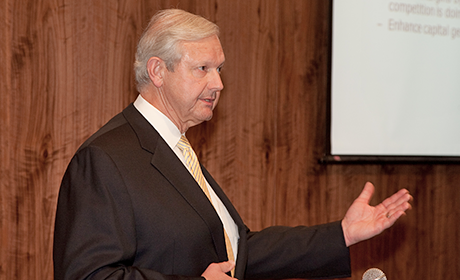 Rutgers Business School, November 18, 2014
Bank of New York merger with Mellon Financial Corp. featuring former CEO and Chairman Tom Renyi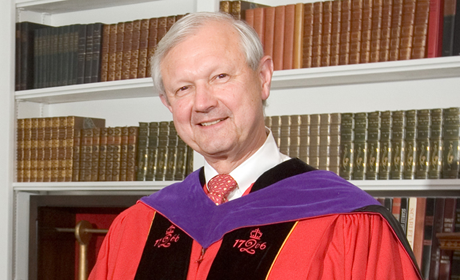 Investors Bank Corporate Headquarters, October 28, 2014
An Evening with the Board of Directors of Investors Bancorp and Professor Darius Palia

Panelists included Kevin Cummings, President and CEO; Brian D. Dittenhafer, Lead Director; James H. Ward III, Director, Risk Committee; Salvatore Gianvecchio, Senior Vice President; Thomas C. Stackhouse, Senior Vice President and Chief Credit Officer.
Rutgers Business School, September 17, 2014
Careers at Regulatory Agencies & Outsmarting Consumer and Investment Fraud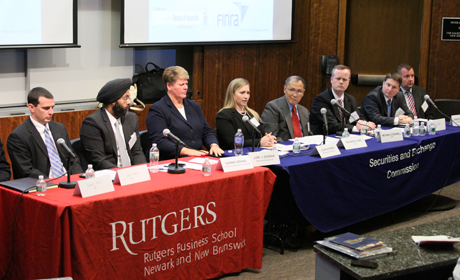 Senior executives from the SEC, FBI, US Attorney's Office and other federal government agencies offered pointers to faculty, students and the general public on how to protect themselves from financial fraud schemes and identity theft. They also offered tips to students interested in pursuing careers at financial regulatory agencies.
Rutgers Business School, November 1, 2013
Symposium on the Future of Banking: Opportunities and/or Regulatory Overreach
This symposium featured panels on How to Manage a Fast Growing Bank in the New Regulatory Environment, Issues in Banking: A Corporate Governance and Regulator Perspective, Managing a Small Community Minority Owned Bank in the New Regulatory Environment, and Community Banking - A Career Opportunity.
Rutgers Business School, November 6, 2012
Risk Management in a Fast Changing Regulatory Environment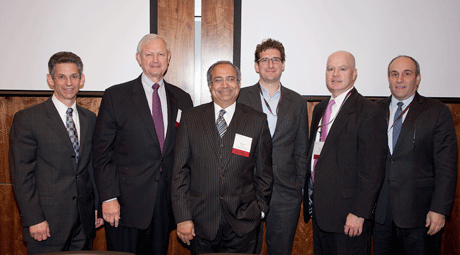 Bankers and financial professionals attending a conference hosted by Rutgers Financial Institutions Center led by Professor Darius Palia, sounded resigned to the fact that they will have to live with controversial rules such as the Dodd-Frank Act, but even as the industry restructures, there are signs that stricter reforms are coming.
In an article on the conference that appeared in The Star-Ledger, Charles Morris, an economist with the Federal Reserve Bank of Kansas City was quoted as saying, "I believe we have a fundamental problem in our banking system."
Morris and his former boss, Thomas Hoenig, who is currently director of the Federal Deposit Insurance Corp., have pushed for strictly limiting the trading activities of banks that receive federal subsidies. "By restricting activities... we believe we can reduce the likelihood of future crises."
On the other end of the spectrum, Mitchell Eitel, a partner at Sullivan and Cromwell who has represented financial institutions for 25 yeas, believed the new regulations would not have prevented the 2008 financial crisis.
Read more about the conference:
Rutgers Business School-Newark, September 25, 2006
Mr. Rodgin Cohen (Chairman, Sullivan & Cromwell) on Perspectives in Corporate Governance
This plenary talk by one of America's foremost lawyers Mr. Rodgin Cohen of Sullivan & Cromwell was given on the topical issue of Corporate Governance. Mr. Cohen was ranked in a tie for first place as best business lawyer in the US in 2001-02 and has been listed by the magazine CFO as one of the "Global 100," the 100 people that have the greatest influence on the world of the CFO. Mr. Cohen talked about board room leaks, executive compensation, timing of stock option grants, shareholder activism, mergers, and the regulatory and legal environment that banks and other firms face in the post Sarbanes-Oxley era. After the talk, Mr. Cohen answered questions from the audience. This event was well attended by students, faculty, and practitioners.
Rutgers Business School-Newark, May 12, 2005
The Corporate Governance Conference
This conference was jointly sponsored with the Whitcomb Center for Research in Financial Services brought together faculty and PhD students to present and discuss their research on Corporate Governance. Participants were from Rutgers Business School-Newark and New Brunswick, the Economics Department in New Brunswick, Rutgers Law School, and the Business School in Camden. Topics included the impact on firm value by management earnings, related party transactions, board of directors, large institutional ownership, causality, celebrity CEOs, liquidity, and credit risk, among others.
Newark Museum, December 9, 2004
The New Environment Facing Financial Institutions
The morning session involved talks by senior executives each followed by a question and answer session. The first morning speaker was Mr. Peter Fisher (Managing Director, BlackRock, former undersecretary U.S. Treasury) who discussed "Risk Management, Strategy and Practice for Financial Institutions in the 21st Century"; the second speaker was Ms. Ann M. Limberg (President, Bank of America New Jersey) on "Private Wealth Management and "Wowing" Your Customers"; and the morning session ended with Mr Albert Gamper (Chairman and CEO, CIT) on "The Changing Landscape of Corporate Governance in Financial Institutions: Reflections on 17 Years as CEO".
Following lunch and a tour of the Newark Museum were two panel discussions that included prominent lawyers and executives. The first panel session discussed "Mergers" with a focus on the increasing pace of mergers between banks and/or other financial institutions and its profound impact on the industry. Panelists included Mr. Martin Alderson-Smith (Senior Managing Director, Blackstone Group), Mr. Dennis K. Block, Esq. (Member, Cadwalader, Wickersham & Taft), Mr. Rodgin Cohen (Partner, Sullivan and Cromwell), and Mr. James E. Glassman (Senior Economist, JPMorgan Chase). The second panel discussion discussed "Conflicts of Interest" with a focus on the potentially significant conflicts of interest that exist within financial institutions. Panelists included Mr. Eric Kriftcher (Director, Fixed Income Compliance, Nomura Securities International, Inc.), Mr. Michael Horn (Partner, McCarter and English), Mr. Wayne Carlin (Partner, Wachtel, Lipton, Rosen & Katz), Mr. Mark C. Rifkin (Partner, Wolf Haldenstein Adler Freeman & Herz), Mr. Seth Taube (Partner, Baker Botts, LLC), and The Honorable Joseph Walsh (Supreme Court Justice Emeritus, Delaware Supreme Court; of counsel McCarter and English).
Rutgers Business School-Newark, April 27, 2004
The Impact of the Patriot Act on New Jersey's Financial Institutions: Compliance Issues and Challenges Facing Regulators, Consumers, and Industry
This conference brought together prominent executives and regulators who discussed the considerable impact (both the pros and cons) of the Patriot Act on New Jersey's financial institutions. Participants from regulatory agencies included Mr. Fred Finke (Deputy Controller, Office of the Comptroller of the Currency-NY), Mr. Robert Tillman (Banking Director, New Jersey Department of Banking and Insurance), Mr. Richard Charlton (Counsel, Federal Reserve Bank of New York), and Mr. Thomas Barnes (Regional Deputy Director, Office of Thrift Supervision). Participants from industry included Mr. Gerald Lipkin (Chairman, President and CEO, Valley National), Mr. Michael Horn (Partner, McCarter and English), Mr. George Hanley (Senior Vice President, Prudential Financial), and senior executives from Gibraltar Savings, PNC, and Wachovia Corporation. This event was well attended and received significant media coverage.