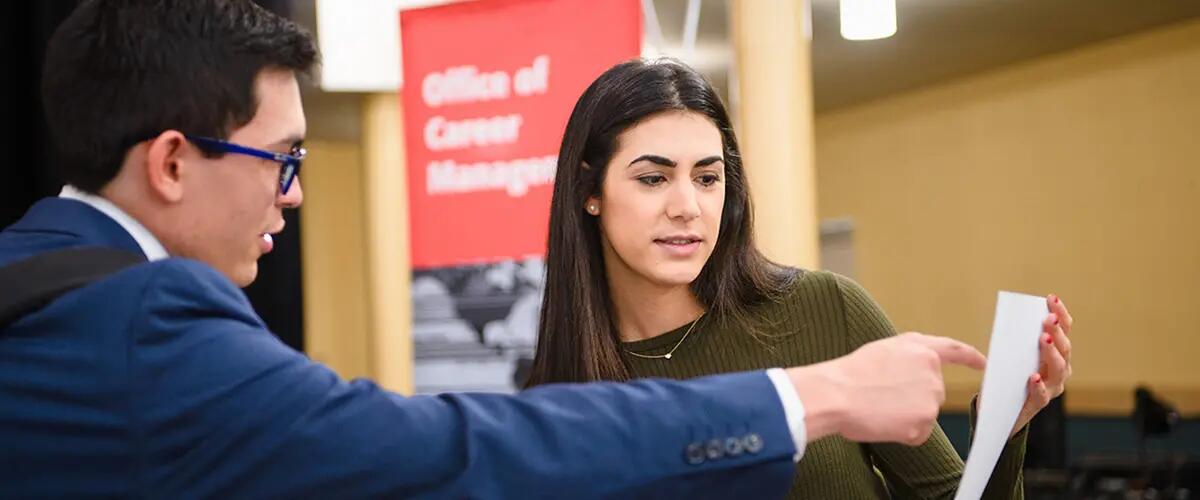 Career Management builds job-readiness into college education boosting return-on-investment
In addition to world-renown faculty and highly ranked academic programs, a distinguishing strength of Rutgers Business School-Newark and New Brunswick is an Office of Career Management that equips students with the skills to compete successfully for their dream jobs.
Rutgers Business School senior Sina Abrahim was among the students who missed the usual milestones of college graduation in 2020 – the procession in cap and gown, the walk across the stage to receive his degree, the last hurrah with classmates.
But at the end of that disappointment, Abrahim had another dream he was able to realize: a full-time job at J.P. Morgan.
In addition to its world renown faculty and highly ranked academic programs, a distinguishing strength of Rutgers Business School-Newark and New Brunswick is an Office of Career Management that equips students like Abrahim with the skills and confidence to pursue their dream jobs.
"We are proud of our ability to deliver an affordable world-class education and student experience that provides opportunities for career success," said Rutgers Business School Dean Lei Lei.
In its 2020 Top Value Business Schools, Poets & Quants ranked Rutgers Business School-New Brunswick No. 13 and Rutgers Business School-Newark No. 31 in the nation based on a five-year return on investment of $196,302 and $169,768, respectively. This was the third year in a row RBS-New Brunswick was ranked in the Top 15 for Return On Investment for a business degree (2018, 2019, 2020).
Choose Rutgers Business School
Learn more about the student experience, companies that hire our students and more. Our admissions team, faculty and students will give you an overview of why so many students make Rutgers Business School their school of choice.
Abrahim, who transferred into Rutgers Business School as a sophomore after realizing he was more interested in business than biology, is an example of the student success that fuels those rankings. At Rutgers Business School, he excelled in finance, took on a student leadership role and worked closely with the career management office on campus.
"I realized if I wanted to succeed, I had to take initiative," he said. Abrahim went to career management to get coached for interviews and to learn how to make his resume more effective at highlighting his knowledge and strengths. "They definitely prepared me," he said.
Rutgers Business School's mandatory business forum sets the stage with resume-writing, interviewing and networking skills, but the Office of Career Management continues providing opportunities for students to work with career counselors, meet recruiters and hone their skills at job fairs and special events.
The results of Rutgers Business School's emphasis on career management is reflected in internship and employment rates. In 2019, 91.5 percent of Rutgers Business School-New Brunswick reported having full-time jobs after graduation and 78.6 percent secured internships. At Rutgers Business School-Newark, 56 percent of students had internship experiences and 83.4 percent of seniors reported taking full-time jobs after graduation.
The employment outcomes are one of the reasons Rutgers Business School is consistently highly ranked among other institutions in the country and the Big 10.
During the course of their careers at Rutgers Business School, students also have opportunities to develop leadership skills, test their knowledge in experiential learning experiences and competitions, and to thrive on campuses that offer diversity, accomplished faculty and entrepreneurial outlets.
High-achieving students may also receive intense career preparation, including the ability to work closely with mentors, in programs such as Road to Wall Street, Road to Silicon Valley, Road to CPA, Women BUILD (Business Undergraduates in Leadership Development) and B-STAR (Business Student Transition at Rutgers.)
Rutgers Business School's Road to Wall Street is a unique program that draws on the strength of both faculty and alumni to set students on a path to Wall Street's most impressive firms. The three-year program offers students internships and mentoring from Wall Street executives. As part of the program, students take a "Financial Modeling and Marketing Analytics" course to prepare them with specialized, analytical skills.
Lauren Kelly, who graduated Rutgers Business School in 2017, said Road to Wall Street became "one of the most meaningful experiences of my college career."
Kelly is currently working at Morgan Stanley. She is one of dozens of Rutgers Business School graduates who take new jobs in New York City's financial district each year. Goldman Sachs, Morgan Stanley, J.P. Morgan Chase and Citi are among the school's top employers.
Modeled after Road to Wall Street, Rutgers Business School launched Road to Silicon Valley last year to cultivate a new generation of innovative business leaders. Each year, Road to Silicon Valley selects between 75 and 80 students to participate, giving business school students first preference.
Mukesh Patel, the founding director of the program who brings rich insights as a serial entrepreneur and experienced angel investor, said Road to Silicon Valley aims to prepare students to build and lead companies and to work for some of the most innovative companies in the world.
"For us, preparing for jobs is a big focus." - Jenna Kott, a junior studying marketing.


The program is inter-disciplinary, offering a curriculum that combines learning in technology, business and critical soft skills such as public speaking and emotional intelligence. Students are given opportunities to collaborate, compete and network through a variety of experiences, including conferences and global competitions.
Two separate academic tracks enhance the student's education by immersing them in curriculum and experiences to prepare them for leadership in innovation and entrepreneurship in the unfolding and ever-changing digital age.
Sarah Pomeranz, a graduating Rutgers Business School and Honors College student, said the program also plays an important role in building a network of alumni, students and professionals that will be vital in helping students land jobs in the "Googles of the world."
"It's exciting," said Pomeranz who led Road to Silicon Valley's first student leader board, Rutgers Business School is putting itself on the map as a place where large tech companies and smaller, equally innovative start-ups can find talent," she said.
The experience of students, the quality of Rutgers Business School faculty and the efforts of caring career management offices is reflected each year in national rankings. Both of Rutgers Business School's campuses have consistently ranked among the top 100 ranked by Poets & Quants. Students from both campuses are listed in the annual Poets & Quants 100 Best Business Majors [RBS-Newark Best & Brightest and RBS-New Brunswick Best & Brightest].
Known for its strengths in finance and entrepreneurship, Rutgers is also highly ranked for students studying accounting, supply chain and marketing.
When Rutgers Business School junior Jenna Kott, who is studying marketing, started attending the mandated business forum class last year, she said she began to get serious about preparing for her career.
She joined LinkedIn and started doing mock interviews – a grueling exercise but one that helped her to land her first internship last summer. This year, she will experience a second internship at the pharmaceutical giant Novo Nordisk.
"In general, students attending other schools aren't getting what we get to prepare for careers," Kott said. "For us, preparing for jobs is a big focus."
- Susan Todd
Press: For all media inquiries see our Media Kit