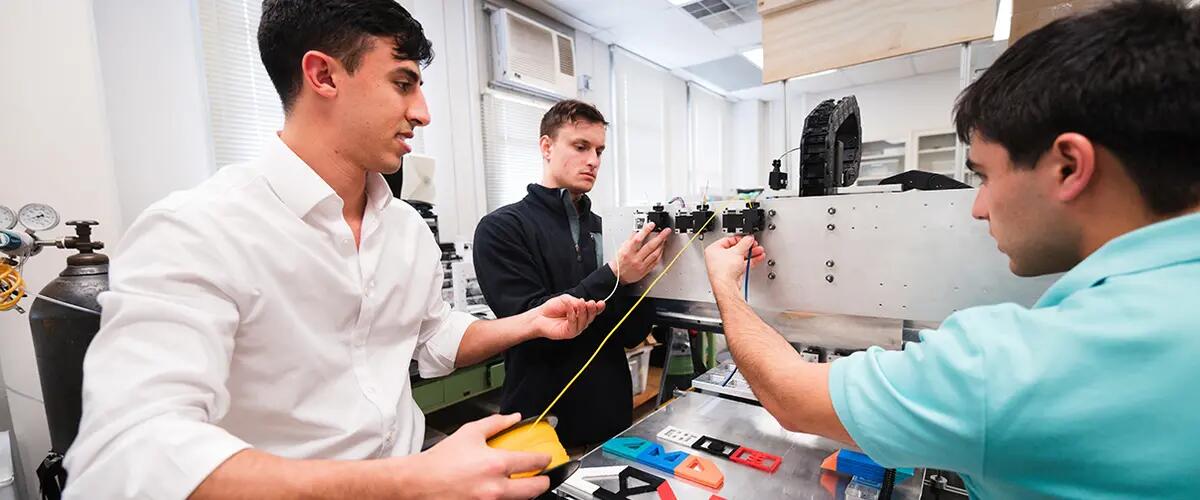 Ecosystem of entrepreneurship at Rutgers is creating student-founded businesses
The ability to create products, build companies and innovate inside companies are emphasized in a variety of classes and programs at Rutgers Business School. Students from across Rutgers University are benefitting.
As Jeremy Cleeman finished his undergraduate engineering degree at Rutgers, his advisor encouraged him to continue his studies as a graduate student. If he stayed, Cleeman had a condition: He wanted to invent.
Collaborative for Technology, Entrepreneurship and Commercialization, a tech accelerator housed within Rutgers Business School, offers a class for graduate science students and Rutgers MBA students where Cleeman got his chance.
The course offered Cleeman and fellow engineering student, Alex Bogut, a chance to develop their idea for a nozzle that would make the 3-D printer finishing process more efficient. At the same time, they worked with instructors as well as executive and entrepreneurial mentors to learn about what was necessary to take the nozzle to market.
"I learned a lot about making a startup survivable," said Cleeman, who hopes to build a company around the nozzle.
The Collaborative for Technology, Entrepreneurship and Commercialization is part of an ecosystem of entrepreneurship at Rutgers. The ecosystem is broad, fostering multidisciplinary collaboration, creativity, and knowledge about every aspect of business building. It consists of classroom learning, spaces where ideas can be developed, opportunities to build networks of advisors and identify mentors. It includes access to legal advice and vital, early-stage funding.
Rutgers Business School may sit at the heart of the ecosystem, attracting students from across the university to its entrepreneurship minor and curriculum, but the network encompasses the Innovation Lab, developed at Honors College at Rutgers University-New Brunswick, where entrepreneurial-minded students can develop their social impact projects into viable ventures. It also includes I-Corp, a program sponsored with funding from the National Science Foundation that provides training for students trying to commercialize new inventions.
The Rutgers ecosystem isn't only inward facing. It stretches into the communities around the campuses and helps form more connections across New Jersey. It continues to develop, not in complexity but sophistication. The Center for Urban Entrepreneurship and Economic Development (CUEED), which has pioneered a variety of entrepreneurial training programs for Newark area business owners, serves as an example. CUEED recently strengthened its ability to support underrepresented and female founders who have gone through its Black and Latino Tech Initiative with the creation of a Black and Latino Angel Investment Fund. The BLT Initiative is a pre-accelerator for founders of color. It strives to connect the founders with mentors and to help them develop skills as well as relationships with the goal of helping them attract investors and funding that can help support their ventures.
"Entrepreneurship is not something you can do alone," said Professor Jeffrey Robinson, who teaches social entrepreneurship and has helped to establish some of CUEED's entrepreneurship programs. "You want to have people around you who are interested in helping and supporting you."
"At Rutgers, there's a whole lot that a fledging entrepreneur can take advantage of," he said.
One of the forces within the Rutgers ecosystem is Mukesh Patel, a serial entrepreneur, an entrepreneurial lawyer, investor, and Rutgers Business School professor. Patel came to Rutgers after creating a tech incubator called Juice Tank that has supported more than 100 startups. He is also a co-founder of Next Bridge, a private equity firm.
Robinson described Patel as the connector. "That's what makes him special, he's played all the roles, and he knows what has to be done and who can help," he said.
Patel's ventures got the attention of professors like Robinson and Matt Matsuda, the founding academic dean of the Honors College of Rutgers-New Brunswick. His role at Rutgers Business School began as a guest lecturer in classes taught by Robinson and others.
Patel recalled meeting with Matsuda over coffee in a campus Starbucks. Matsuda was building the Honors College and he was looking for a theme. "What about social innovation," Patel said. "You could build courses and a lab and have project where students and teams could take an idea that has social impact and run with it."
The conversation led to the creation of the Innovation Lab at the Honors College. Patel is founding director of the Innovation Lab and serves as the college's director of innovation.
On the Honors College website, Innovation Lab is described this way: an experiential and practicum course that "uses a multidisciplinary and collaborative approach to teach students innovative and creative design-thinking at the intersection of business and social enterprise, as well as the practical aspects of launching and leading a social innovation start-up venture."
Patel said an inflection point for entrepreneurship at Rutgers came in 2017 when a team of Rutgers Business School undergraduate students won the $1 million Hult Prize for social entrepreneurship with a low-cost transportation company in Pakistan called Roshni Rides. 
Since then, the ecosystem has continued to develop and produced more student-led startups."In the last five years, our student teams have won close to a half million dollars in prize monies," Patel said. "That's been exciting."
"Entrepreneurship is not something you can do alone," said Professor Jeffrey Robinson, who teaches social entrepreneurship and has helped to establish some of CUEED's entrepreneurship programs. "You want to have people around you who are interested in helping and supporting you."
The following are some of the stand-out student ventures that have emerged from the Rutgers ecosystem.
PeduL: Founders Chisa Egbelu and Kayla Michèle are Rutgers alumni, but they started the company in 2016 when they were students. PeduL is a platform that helps corporations recruit and develop diverse talent through student scholarship programs. Egbelu and Michèle went through the Center for Urban Entrepreneurship and Economic Development's Black and Latino Tech Program, and the company recently received a $100,000 grant from Google's Black Founders Fund Awards.
Nutrivide: The company's novel device, Nutrifier, stores and dispenses micronutrients and medicines vital for infant survival and development. Much of the work to develop Nutrifier occurred in the Honors College Innovation Lab. The team, now mostly Rutgers alumni, has won more than $90,000 in prize money to advance their invention. The product was moving into a pilot test late last year.
Smart MS3: The company's disc-shaped monitor can record the activity and progress of a patient being treated in physical therapy. The company was founded by Akashdeep Randhawa, a Rutgers bio-neuroscience student, who joined the Entrepreneurship Living and Learning Community as a freshman. Randhawa and his team have raised more than $250,000 in financing. MS3 was one of 12 startups selected to participate at Techstars NYC Accelerator Program in spring of 2022.
BabySafe Health: In 2021, four Rutgers freshmen developed an app to help reduce racial health disparities and give all babies an equal chance of being born healthy. To refine the app as well as their business model, the team participated in the National Science Foundation's Innovation Corps (I-Corps) that serves as a training program and accelerator to help push inventions to market. The team went on to win several major competitions. They are continuing to work on the app with the Honors College Innovation Lab and the Innovation, Design and Entrepreneurship Academy, where it originated.
While Honors College students are immersed in social entrepreneurship as part of their academic experience, another point of entry for students with entrepreneurial ambitions is the Entrepreneurship Living and Learning Community.
Alfred Blake, who founded the Entrepreneurship Living and Learning Community, said he views it as a funnel that provides entrepreneurial-minded students with access to the opportunities that Rutgers offers.
"One of my measures of success, is have they been exposed to I-Corps, the Maker Space, the Innovation Hub," said Blake, who is assistant director of the undergraduate entrepreneurship program at Rutgers Business School. "In the LLC, they are introduced to these things early. They don't get lost, and they don't lose out."
Another powerful feature of the LLC is horizontal mentorship, or students learning from each other's skill sets and experiences, said Blake. Students in the LLC also learn soft skills in the Rutgers Entrepreneurial Academy of Leadership taught by Blake.
"Soft skills are vital in entrepreneurship," he said.
Around the same time the Innovation Lab opened, Patel created a new course at Rutgers Business School called Innovation, Creativity and Entrepreneurship. The class, known familiarly as ICE, requires no textbooks and invites free-flowing conversations. It features guest speakers and innovative lessons intended to instill students with a mindset of confidence and daring and the ability to engage with people and network.
Tiffany Cospito, who is studying management and leadership, said she found ICE to be empowering. "I never thought I would get so much out of a class," she said.
One class assignment required students to meet 100 people in 100 days. "I thought it was going to be impossible," she said. "I ended up meeting someone who works at Google."
Patel acknowledges there is overlap among the courses and programs and events when it comes to development of soft skills, especially networking. "In entrepreneurship, networking is where you find your teammates, your co-founders, your mentors and investors," Patel said. For other students, it may help them secure internships and other career opportunities.
Road to Silicon V/alley offers student entrepreneurs opportunities to enter pitch and case competitions and provides access to entrepreneurs, venture capitalists and angel investors. And like ICE and the C-Tec course, it offers students workshops in specialized topics, from AI to patent law. But there's a career development aspect to Road to Silicon V/alley and ICE, an intentional instilling of intrapreneurship, or an ability to be adaptive and innovative within an organization like a large company.
Maria Migliorino, a 2020 Rutgers graduate, was a sophomore when she decided to add a minor in entrepreneurship. She took the ICE course, and she served as one of the founding members of Road to Silicon V/alley.
Now working as a senior analyst with Accenture, Migliorino attributes her ability to connect with people to her involvement in the Rutgers ecosystem, especially Road to Silicon V/alley. "It gave me a leg up," she said.
She is active in employee resource groups and has been given opportunities to meet with top executives. "Being in these entrepreneurship courses, you learn that you can do anything you want to do, especially if you have the network," she said.
Patel created the Road to Silicon V/Alley  (RSVP) as a way of plugging Rutgers students into innovation hubs across the U.S. One of the ways that happens is by accompanying students in Road to Silicon V/Alley to Startup Grind in California's Redwood City.
"How does a student at Rutgers work for a startup or a public company in the Silicon Valley – it's very hard," Patel said. "Why? Because Stanford and Berkley and UCLA will grab the lion's share of those opportunities and the University of Michigan, Harvard, MIT and Wharton will take the rest."
And yet Patel sees some of the connections that Rutgers students are making in Road to Silicon V/Alley and even through guest speakers in the ICE class leading to exactly those sorts of opportunities. One of his students is doing an internship at Tesla, he said. Another landed a job at Microsoft.
"These things," he said, "are starting to happen."
- Susan Todd
Press: For all media inquiries see our Media Kit