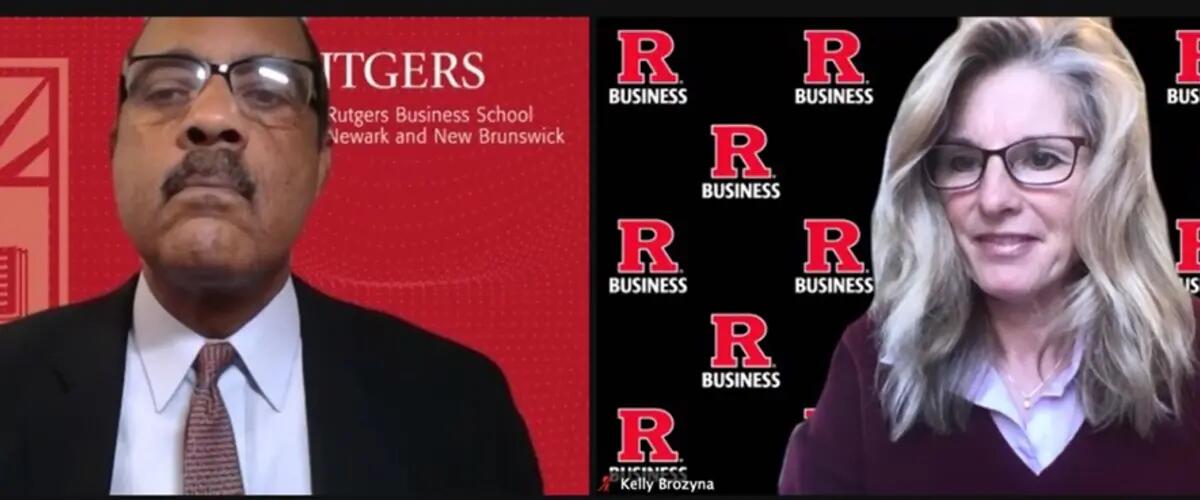 Symposium offers advice, resources and hope to business owners struggling through pandemic
The Business Community Engagement Symposium celebrated its fifth year with a program featuring master chef José Andrés who connected from San Andres Island where he was located to provide relief to hurricane-battered Nicaragua.
A virtual version of the symposium attracted hundreds of attendees, many of whom connected to hear Andrés, founder of World Central Kitchen, talk about his service to communities around the world. His most recent efforts included partnerships with Newark-area restaurants that provided nearly 50 million meals to front-line workers during the peak of the coronavirus pandemic.
Andrés spoke about his inclination to spring into action and to be on the ground – often well before major relief organizations -- in his efforts to provide help in times of disaster. "There's too much emphasis on planning and having a plan," he said.
One of his insights was particularly timely for small business owners who are struggling to survive from restrictions resulting from the COVID outbreak. "If you don't adapt," he said, "you will not make it."
During panel discussions, experts from the New Jersey Small Business Development Centers, the state Economic Development Authority and Public Service, Electric and Gas as well as business owners like Mitch Cahn and Marjorie Perry traded information about resources and tactics for sustaining business operations.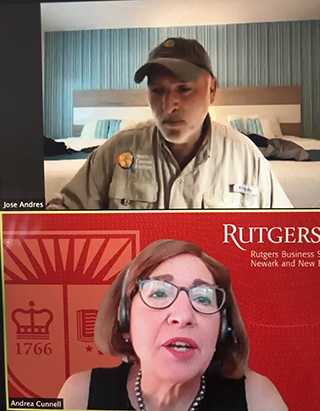 Perry, CEO of MZM Construction & Management Co., talked about relying on peers and connections for ideas and resources and she stressed the importance of planning ahead so business can resume when the crisis is over.
"Disruption is pretty normal in entrepreneurship. This is a severe disruption shift for us," said Perry during a discussion on procurement and contracts. "Hopefully, you were already living at that operational excellence, so that when something like this comes, it's not such a hard shift to keep your business profitable."
Mitch Cahn, president of Newark-based Unionwear, advised business owners to look for marketing and business opportunities, use the pandemic interruption to train their staffs and remember to build capacity so they can rebound quickly when business resumes and there are fewer competitors.
The experts who spoke during the panel discussions, including Tai Cooper, senior vice president of the New Jersey Economic Development Authority, emphasized the resources, including special programs and loans, which are being offered to restaurants and small businesses that have sustained heavy losses as a result of the pandemic.
The symposium is a signature event for Rutgers Business School, a reflection of Dean Lei Lei's strategic goal of having social impact as an anchor institution in Newark and New Brunswick, where the school's two campuses are located. This year, the symposium was titled, "Small/Mid-Sized Business Challenge: Making "Dough" Rise in the New Economy" was particularly salient as the pandemic continued to take a toll on business owners.
Leon Fraser, an assistant professor of professional practice in management and global business, has served as committee chair, leading the planning and execution of the symposium. This year, a number of Rutgers Business School staff and faculty participated, including Lyneir Richardson, Kevin Lyons and Arturo Osorio who moderated panel discussion. Andrea Cunnell, director of alumni and corporate engagement, interviewed Chef Andrés.
The symposium began with welcoming remarks from Dean Lei and Ashwani Monga, provost and executive vice chancellor at Rutgers University-Newark.
As moderator Lyneir Richardson thanked some of the panelists for "dropping gems" of insights, he also reminded everyone to be hopeful. "There's no future in pessimism," he said.
Press: For all media inquiries see our Media Kit