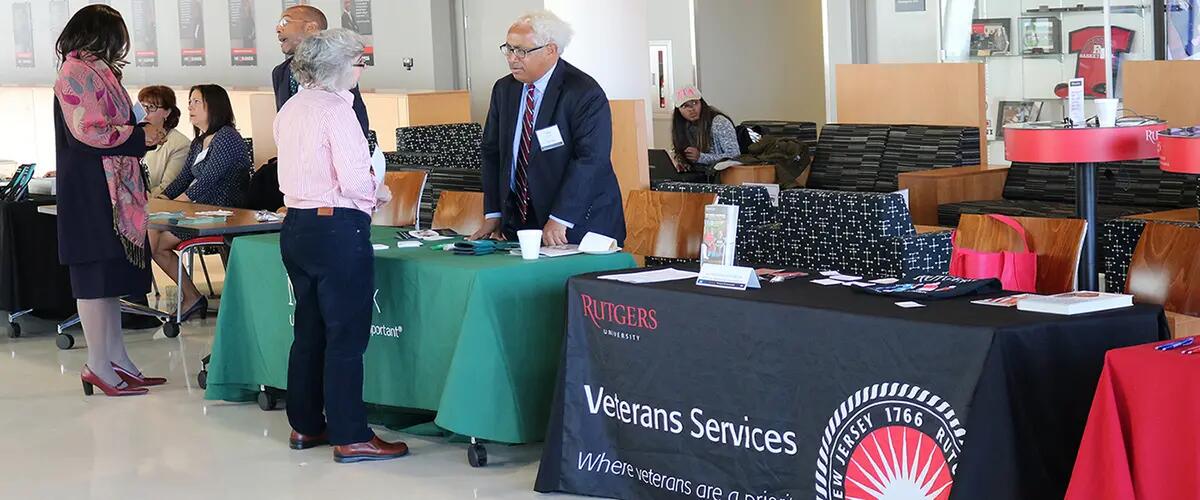 Veterans
Undergraduate Program in Newark
Rutgers students and faculty, along with alumni and staff, have served in the U.S. military since the American Revolution.
Rutgers welcomes National Guard and Reserve members and veterans returning from service from around the world. You, and those who will come home in the years ahead, have earned our respect, admiration, and support as you begin a new phase of your lives.
To help make your transition to college life as smooth as possible and your college experience rewarding and productive, we offer support to prospective and current student veterans and Reserve component personnel through a variety of programs, services, and resources on our campus.
Applying to Rutgers Business School
There is no special channel for applying to Rutgers Business School Undergraduate Program in Newark for a degree program as a veteran or service member; you apply the same way as other prospective students.
First-year students
Starting out fresh? If you don't have credits to transfer, you apply as a first-year student.
Transfer students
If you've taken college courses and have at least 12 credits, you apply as a transfer student.
Financing Your Education
There are programs, financial aid, and scholarships that help veterans, active duty service members, and eligible dependents foot the bill for a higher education. In one of the largest programs, many people who served in Iraq, Afghanistan, and elsewhere will be heading to universities under the terms of the new Post-9/11 GI Bill. Which program is right for you? That depends on your personal circumstance, so it's up to you to get information to weigh your decision carefully.
For more information on the United Stated Veterans Administration educational assistance programs, please contact the the Department of Veterans Affairs at 1-888-442-4551.
Once you have been admitted, visit the Rutgers Newark Office of the Registrar to establish a file for enrollment certification and the receipt of corresponding veterans benefit.
Student Resources
At Rutgers Newark, you're not alone. There are hundreds of other students here who share your background in the service. Meet them via the Rutgers Student Veteran Organization (RSVO). They are great people ready to introduce you to Rutgers.
Be sure to take advantage of your time here to follow your interests or delve into new pursuits. There are plenty of club options to explore. Check out Rutgers Business School Undergraduate Program in Newark Student Organizations. You'll probably find something that grabs your attention.