Rutgers at County College of Morris
Rutgers, The State University of New Jersey and County College of Morris (CCM), have established a partnership to bring area residents the opportunity to obtain Rutgers University baccalaureate degrees while staying close to home. This initiative provides educational services at County College of Morris (CCM).
How does the Rutgers at CCM program work?
This program allows CCM students to complete their first two years at CCM, and upon completion of an Associate Degree, transfer up to 60 credits into a Rutgers University bachelor degree program. Rutgers will provide the upper-level courses required to complete a Rutgers major on campus at CCM.
Which Rutgers majors will be available at CCM?
Business

Leadership and Management (Beginning FA 18)
Marketing ( Beginning FA 18)

Criminal Justice
Psychology
What are the admissions requirements for the Rutgers program at CCM?
Admission to undergraduate programs at CCM is open to all students who have completed an Associate Degree (or have 60 transferable credits)from an accredited college and who meet the Rutgers University admissions criteria.
Admission decisions are based upon a comprehensive review of each completed application.
A completed application must be submitted including transcripts, fees, and other supporting documentation for a decision to be made. For more information please visit the admission website.
How do I apply?
Applicants to the Rutgers-CCM partnership should complete the standard Rutgers application found online. Choose the "County College of Morris" program which is the last question on the "Enrollment Information" tab of the Undergraduate Application.
Where do I send my transcripts?
For all programs, application credentials should be sent to:
Undergraduate Admissions Operations Center
Rutgers, The State University of New Jersey
Proctor Hall
65 Davidson Road, Suite 301
Piscataway, NJ 08854
Can I enroll in CCM and Rutgers courses at the same time?
Whether or not a student will be allowed to take additional credits at CCM will be determined in a one-on-one consultation with a Rutgers on-site advisor.
As a Rutgers student at CCM, do I have the option of enrolling in classes at another Rutgers University campus?
Rutgers off-campus programs are designed for students to complete all of their requirements locally at CCM. And, as such, students are expected to complete all of their coursework there. In special cases, as determined by the Rutgers on-site advisor, students may be allowed to take a course at another Rutgers campus.
What will my diploma say?
This program consists of Rutgers courses, taught by Rutgers faculty and graded by the same Rutgers standards as all other Rutgers students. Our students at CCM are earning a Rutgers University degree. There will be no mention of your matriculation in an off-campus program.
How can I learn more about the Rutgers at CCM program?
Please contact Tara Wuorinen, Manager of Academic Programs.
Rutgers at County College of Morris
214 Center Grove Road
DeMare Hall, Room 269
Randolph, NJ 07869
Phone: 973-328-5670
Email: rutgers-ccm@dceo.rutgers.edu
Website: www.rutgersatccm.org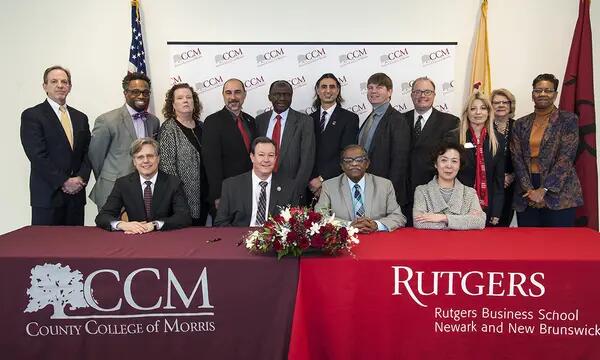 School News
Rutgers Business School to offer marketing and management classes at the County College of Morris