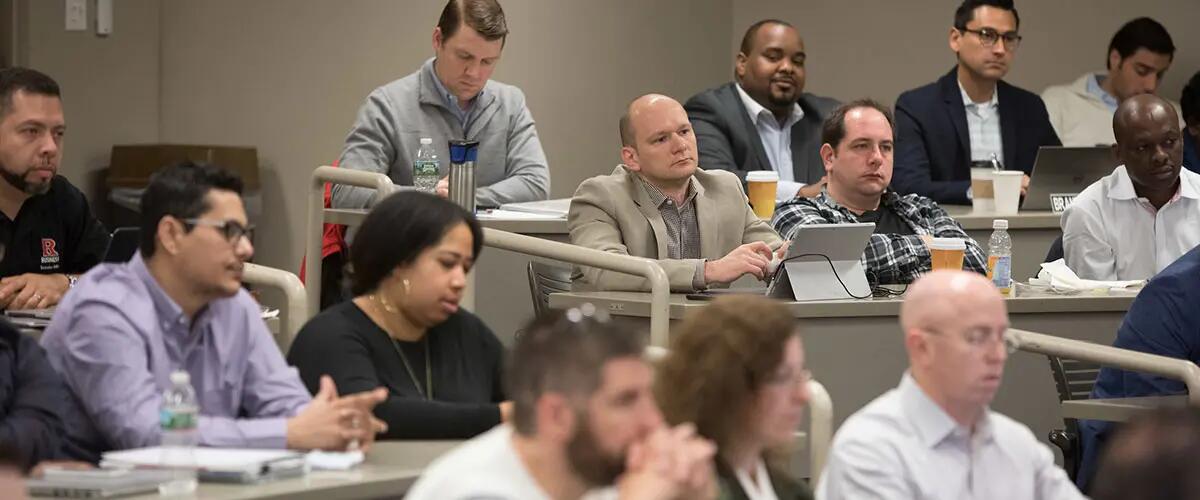 Executive MBA Course Schedule & Descriptions
The Rutgers Executive MBA curriculum is 57 credits—45 core credits and 12 elective credits. With the exception of the summer Vietnam program, all electives (3 courses, 9 credits) are taken in the final semester of the program. Additionally, you may choose to pursue a concentration by taking all of your electives in the same area. 
Courses run on alternating weekend days (Saturday one week, and then on a Sunday the following week) and also include a week-in-residence at the start of each semester.
Semester One
Fall Term - 1st Year - 12 credits
Click on each course title to learn more about the course.
Macroeconomic Policy Analysis (3 credits)
This is a highly applied Macroeconomic Policy analysis course, where the students typically analyze fiscal and monetary policies from Wall Street Journal articles that may be just a few hours old! Current global fiscal and monetary policies, budget and trade deficits, global capital flows, and their effects on inflation, output, employment, interest rates, stock prices, housing bubbles, commodities, and exchange rates, are analyzed. The course is highly global in nature and extremely relevant and current. Some current topics are: What is currently driving global inflation, and how can this be fixed?  What was the role of Modern Monetary Theory (MMT) in keeping inflation in check during the global pandemic? What was the global Liquidity Trap and why was it important? Why do stock prices often have little to do with the real state of the economy?  How will economies rebound after the supply-side shocks such as Ukraine and Covid are behind us?  This course along with the Managerial Economics (Pricing) course in Semester 2 has been ranked #2 in the world in EMBA programs globally for the fourth time in a row by Financial Times, and in the Top 10 at least 8 times.
Interview with CEO Magazine (London)
I am very pleased to share that due to the program quality and reputation reflected in the ranking of our Rutgers Executive MBA program as No. 8 globally by the prestigious CEO Magazine (London) [released 2/16/22], Alexandra Skinner, editor of the London-based publication, conducted an interview with Farrokh Langdana for its Spring 2022 issue [see "Rutgers: More than just an EMBA Powerhouse"]. CEO Magazine (London) has been widely circulated among CEOs and business opinion leaders around the world and can be found in Business Class lounges in major airports globally.

The strength of a large public business school like RBS depends, to a great extent, on student satisfaction and program reputation. Thank you Farrokh, your EMBA team, and many of our faculty and staff members who taught and supported the Rutgers EMBA Powerhouse, for your continued effort and excellence in putting RBS on the global map!!!

- Dean Lei 
Statistical Analysis: Prelude to Data Analytics/Big Data (3 credits)
Business analytics focuses on analyzing data, including Big Data from multiple sources, to make and implement informed organizational decisions, and to design Strategy at virtually any level. This course introduces the use of statistical methods and probability, and the fundamental skills which drive this decision-making process. Cutting- edge software applications, coupled with a strong focus on the interpretation of computational results, yield powerful applicability to real-world decision-making. Examples are drawn from such settings as supply chain management, pharmaceuticals, health care, market research, quality control, and production. This course, and this material form the "bedrock" for the modules in Digital Transformation and Big Data Strategy that follow later in the program.
---
Testimonial from Mike Stanzione, Emba 2021, in the frontline of the Battle Against Covid-19:
I had to reach out to you because I can't thank you enough for everything you taught me last year (2019)! As you know, I run chronic care management programs for high-risk Medicare-aged individuals. We launched a brand-new program in January of this year (2020, the Covid Year) and I just got the results of the first study done by my healthcare economics team. This is a team of epidemiologist and statisticians. I've been partnering with them over the last several months to complete the initial study.

It's a challenging time to be looking at the impact a clinical program like mine delivers. Inpatient admissions are down across the board due to COVID. The question we needed to answer was, is my program working at keeping folks out of the hospital or are they simply not going because of COVID (which could, in turn, increase mortality rates)?

Prof. Langdana reminds us of your famous dictum, Rosa:  "Correlation does not imply Causation"  And this has been fundamentally important in "identifying" the causality using your statistical analysis. In addition, Farrokh had told us in our interviews with him, that the Statistics that you taught us, Rosa---ranked #3 in the world in all EMBA Programs by Financial Times---is the very foundation, the bedrock, for Digitization and Big Data Strategy (which subsumes Data Analytics). And he was so right!

I've been in the weeds with these brilliant statisticians and epidemiologists aligning on study design and, because of you and your classes, Rosa, I actually understood what they were talking about for the first time in my career! We were able to not only control for COVID, but also match the population to a control group of over 1000 characteristics!

Thank you very much from a humble student of yours!

-Michael Stanzione, REMBA 2021
Business Law for Managers (2 credits)
An overview of business law within the context of law in general. Studies the interplay of law, business and society, with an aim to implementing responsible and successful management. Managers must develop legal literacy and an appreciation of the role of law in the effective and ethical management of their businesses. Students learn how managers can use the law tactically and strategically to create solutions for business objectives without incurring undue legal or business risk.
Executive Leadership (3 credits)
What is "Leadership" in the context of today's highly global and highly digital/virtual workplace? What is Change Management and how can you leverage Change in a rapidly evolving technological landscape? How do you motivate your team? Your company? Yourself? How do you assign accountability to high-powered teams that are in, say, four different time zones with four highly diverse business cultures? Do you know how to effectively plan for a negotiation, and how to make sure that your ideas get heard?
A recently added component on Innovation Management is designed to help students understand the importance of innovation to the performance, and indeed, the survival of their companies. Is there an Innovation Ecosystem? Or is Innovation endogenous? Or should Innovation be outsourced if it is not a Comparative Advantage for your company? Or does it pay to not be an Innovator---maybe it is best to focus on a standardized product? If Innovation is to be cultivated at work, then how do executives optimally manage an ongoing innovation system?
This course is taught by a team of veteran professors, with each one being a well-recognized subject matter expert in a particular aspect of Executive Leadership. The course deploys class discussions, role playing, case analyses, simulations and projects to give participants hands-on skills to be deployed at work right away. Many of the topics also synergize strongly with the Powerhouse Advantage courses in Presentation Skills since the REMBA program really emphasizes ultra-strong proficiency in verbal and written communication skills.
The following are brief synopses of the modules conducted by individual professors:
---
Ralph Gilgliotti: Crisis Leadership and Change management.
Change Management Strategy in the Post-Covid World
This session will introduce key concepts and considerations for effective change management in a post-COVID context. Students will have an opportunity to discuss various change management frameworks and apply strategies through an interactive business simulation.
 
Strategic Communication Skills for Virtual and In-Person Leadership
This session will introduce central concepts and strategies for engaging in strategic leadership communication. Students will have an opportunity to reflect on one's communication practices, expectations, and goals for engaging in leadership in an increasingly digital environment.
---
Jerry Kim: Innovation Strategy for Senior Executives
Session 1 – DESIGN THINKING: Organizing Creativity and Avoiding Strategic Inertia
Fostering creativity throughout the organization is one of the most critically important jobs of an organizational leader. While our culture and society celebrate the heroic genius of the individual inventor (e.g., Steve Jobs, Elon Musk), research suggests that having the right organizational structures and processes has a far bigger impact on innovative outcomes. In this session, we will examine the team and organizational-level conditions that enable leaders to maximize organizational innovation and creativity. In particular, we will focus on "design thinking" as a methodology that can foster creativity and innovation. A deeper understanding of the core principles behind "design thinking" will further help us understand why organizations and leaders often fail to change despite disruptive threats and environmental changes, and provide a framework for how leaders can overcome strategic inertia.
Session 2 – Building Resilient and Innovative Organizations in Times of Crisis
In times of crisis, innovation may seem like a luxury for many organizations. Yet, crisis situations are exactly when the capability to generate new approaches and solutions are most valuable. Building on the notion that "crisis management is innovation on steroids", the session will examine what leaders must do to navigate novel threats and highly uncertain environments by leveraging innovation within and across organizations. Using a case study on the Space Shuttle Columbia disaster, we will explore the common mistakes leaders make in high-stakes crisis situations, and discuss how leaders can build organizational cultures that prevent large scale errors, and exhibit resilience in the face of challenges.
---
Terri Kurtzberg: Executive-Level Negotiations, and Managing Virtual Interaction
Associate Professor of Management and Global Business Terri R. Kurtzberg focuses on three areas of Executive Leadership in REMBA: (i) Executive Negotiations, (ii) Virtual Interactions, and (iii) Navigating Leadership Blind spots (this with Prof. Ameri described in the following blurb). In Executive Negotiations, Prof. Kurtzberg offers a glimpse into the methods of master negotiators, including the following: What must you do before you even walk into the room? What tactics and strategies will work for you, and how do you deflect those of others? How do you handle disputes? Can you effectively influence others?
The Virtual Interaction module aims to uncover blind spots in communicating with others to become more effective in both day-to-day and big-picture interactions, whether across the hall or around the globe. In this module, Prof. Kurtzberg will focus on helping each EMBA student become more effective at leading and participating in virtual team interactions. Both common virtual team problems and realistic solutions will be discussed. Topics will range from early team interactions and building trust, to coordination difficulties and leadership challenges over global supply chains. Problems created by electronic communication will also be addressed.
---
Terri Kurtzberg/Mason Ameri: Navigating Leadership Blindspots
How does an organization communicate with its employees? How do you, as a leader, signal to your direct subordinates? When something goes awry, can you identify the causes and address them at different levels? Each of these issues stems from the culture of an organization. The saying "culture eats strategy for breakfast," by management expert Peter Drucker describes the idea that a leader needs analytical skills to realize the organization's vision and strategic goals, as well as an understanding of the psychology of the workplace to create and enact a prosperous culture. Disconnecting the two may put an organization's success at risk. The goal of this session, conducted by Professors Kurtzberg and Mason Ameri, is to help you understand how an organization's culture can be a source of competitive advantage and can influence outcomes at the individual, group, and organizational levels (e.g., employee attitudes, innovation, market share, and more).
---
Farrokh Langdana: The Cycle of One. Unconventional Leadership for a Conventional World
The Rutgers Executive MBA program abides by a philosophy called the "Cycle of One," originally developed by Prof. Langdana. It is embedded into your learning experiences here. More than ensuring that you acquire the necessary business and management tools, we are committed to growing you as "unconventional" leaders so that you can apply what you've learned in the classroom to the decisions you make in the boardroom.
What is the Cycle of One?
Managers often begin their careers as lonely interns and then power through their mid-career by mostly working in teams. But at the end, when they make it to the corner office at the C-level, they often have to make hard decisions alone—it is indeed "lonely at the top". This progression—the lonely intern, then the team player and then finally the CEO making difficult and poignant decisions alone—is our "Cycle of One."
How it works
Rutgers Executive MBAs are trained to think on their feet—to think fast and to be bold enough to make rapid-fire decisions alone, if and when they have to. Often these decisions involve leaning towards more humanistic and compassionate (and unconventional) choices, and to "throwing away the rule book".
To foster this, throughout the program, students participate in short Cycle of One exercises where an urgent situation demanding a quick decision, is presented to the participants. Many of these situations are embedded in historical context; there is a huge emphasis on Leadership in History in this program.You play the part of the CEO, and are given moments to quickly respond. There is no team discussion, no coach, no mentor, no "break out" session, no internet—this critical decision must be yours and yours alone, and must be made expeditiously.
Welcome to the Cycle of One, a concept that will be continuously developed by multiple professors right through your four-semester EMBA experience.
---
Jessica Methot: Leveraging Organizational Networks
While managing human capital is a critical competency for leaders, it is no longer effective to simply manage individual employees.Leaders operating in dynamic and boundary-less environments must manage webs of connected assets in order to find, utilize, and coordinate employees' knowledge, skills, and expertise.This "networked" approach has implications for the way individuals share knowledge, generate ideas, and collaborate.In this session, Prof. Methot will focus on an array of topics related to how leaders can best leverage organizational network analysis (ONA) tools to achieve strategic outcomes. Topics will include:
(i) identifying critical relationships that should exist to ease workflow and support strategic objectives, (ii) pinpointing central players and key opinion leaders to alleviate collaborative overload and effectively distribute resources, (iii) coordinating employee expertise and bridging silos, and (iv) building agile and resilient organizational networks.
---
Jim Smith, Jr.: Ultra-Powerful Presentation Skills
Dr. Jim Smith, Jr., CSP, a highly sought-after presentations skills specialist, speaker, author, and coach, comes on board to ensure that Rutgers EMBAs learn the art of making exceptional, high impact business presentations. Professor Farrokh Langdana had been searching for a veritable superstar to train the EMBAs to make memorable presentations, and he finally found him, thanks to Brian Warrick (Metlife Executive, EMBA 2008).
In this session, Dr. Jim focuses on voice projection, eye communication, audience engagement, storytelling, modulation and optimal PowerPoint presentations (i.e., bringing out the story in each slide so that your audience members can hear, see and feel what you're saying). Additionally, there is a session in which he will teach Executive MBAs how to open, close and structure business communications to diverse audiences such as potential investors, boards of directors and hostile audiences. Dr. Jim's exposure to EMBA has recently been increased to give students greater opportunities to present in class. If you are transitioning from a world of Research, Medicine, Finance, IT, etc., to another world in which you will be client-facing, or moving to the C-level and making high-level presentations to your stockholders, your Boards, the Media, and so on, then this module will be transformative! Dr. Jim has presented to both national and international audiences of all sizes.
---
John Tintera: The Art of Strategic Writing
One of the less glamorous but absolutely necessary areas of "heavy lifting" in the business world—or any world, for that matter—is really effective writing. Beyond the speeches, the schmoozing, the PPT presentations and the conference calls, is the real written report. And this simply must be perfect; it has to draw readers to the main points, and then reinforce them by making precise, concise, and convincing arguments. The written document has to ensure that readers with limited time and often limited attention are "getting your point".
Prof. John Tintera, writer, publicist, publishing executive extraordinaire, and Rutgers EMBA alum, will lead this 3-hour intensive session. "What's the best way for executives to sell their proposals internally when they're competing with other proposals for limited funds? How should executives communicate news that might not be very good, to their Boards of Directors, or to the Media? What do you write to the head of HR who is threatening to shrink the size of your staff?
The perfect memo, report or even email can and does make all the difference, and conversely, we all know what a badly worded email can do---thud! We have all been there!" This intensive seminar will be completely hands-on. You will be guided through a series of writing exercises and given on-the-spot feedback. Grow your writing muscles and learn to say what you mean—and say it well, and say it fast—every time.
---
Dr. Bershad: Leadership Lessons from the Frontline
It all began with an EMBA class Project in Prof. Rosa Oppenheim's Analytic Techniques course; the course is really Data-driven Strategy, and Rosa teaches two courses in The Powerhouse.
In a remarkable display of adaptability and creativity, Dr. Josh Bershad, then CMO at Robert Wood Johnson Hospital in NJ, had deployed Prof. Oppenheim's Queuing Theory models to Healthcare! Instead of minimizing assembly and procurement time for components in an engineering process, Josh had now re-engineered the models to minimize patient waiting time, to shorten reimbursement time form insurance companies, to cut waiting time in the inner office after seeing the nurse, to optimize the follow-up scheduling, and so on. It was fascinating! It takes a lot for Rosa to be impressed---and she was impressed!
Fast forward to the present. Dr. Josh Bershad has created a C-level position at RWJBarnabas, the mega-hospital conglomerate in NJ, to run operations systems based on his original Rutgers EMBA project. Currently he is the Executive Vice President of Physician Services and also the Chief Medical Officer of the Rutgers Athletic Program, along with too many other activities and Board memberships to include here.
Josh has addressed the Powerhouse several times in the past, but now he will be featured on a regular basis in the newly engineered "Executive Leadership" course. Josh will conduct a session, "Leadership Lessons from the Frontline", based on his experiences in Healthcare from physician to CMO to EVP. The session, while embedded in Healthcare, will have Leadership lessons for every discipline. Furthermore, participants will connect with one of our all-star alums, and will also observe Josh's Presentations Skills, at the C-level.
Powerhouse Advantage I (1 credit)
The Rutgers EMBA Powerhouse Advantage Series constitutes a number of extremely timely and relevant modules sprinkled over the four semesters.  This "course" covers not just a huge range of "must know" topics, but also the executive skills necessary for success.  All Powerhouse Advantage sessions are delivered by top-notch and real-world-tested communicators who are at the apex of their careers.
Lectures offered in our Powerhouse Advantage series will nimbly vary from year to year, depending on the demands of the class and of the global corporate workplace.
Learn more about Powerhouse Advantage courses here.
Semester Two
Spring Term - 1st Year - 15 credits
Semester Three
Fall Term - 2nd Year - 15 credits
Special Topics: Vietnam: Opportunities & Challenges (3 credits)
Summer Vietnam Program
The 10-day Vietnam Experience program happens the summer following the second semester, and brings students to Vietnam for a unique business education experience. Because the trip occurs between semesters 2 and 3, credits are applied to semester 3.
*This course counts as one of 4 required electives.
Business Strategy (3 credits)
Prof. Langdana, Director, Rutgers EMBA: "Most Strategy courses in EMBA programs are mainstream Strategy courses with a token gesture to real-world applications. Others are mainly strategy courses that attempt to incorporate Corporate Strategy, almost as an aside. This Strategy course taught by Prof. Humberto "HAP" Patorniti, is unique in one major respect: HAP thoroughly integrates hard-core Corporate and Business Strategy frameworks with a realistic emphasis on execution. This advanced strategy course provides EMBA candidates with a unique perspective on how corporations formulate strategies to allocate resources, create (or destroy) value for its business units, and how to implement strategic plans. Using the case study method, EMBA candidates will examine strategies of successful and failed corporations. EMBA candidates will discuss practical and field-tested methods that corporate and business leaders use to achieve sought-after results. Lastly, EMBA candidates will be exposed to a wider perspective of management practices through breakout sessions and practical applications. This course, taught by professor HAP, is all about enabling you to become an even more rounded thought leader"
---
COURSE OBJECTIVES
  At the end of this course, EMBAs should be able to:
Identify the cornerstones of successful corporate strategies
Recognize methods used by multi-business corporations to create value between and among their business entities
Foster an appreciation of the external forces that influence and shape the corporate and business strategic planning process
Be equipped with the necessary skills to analyze, assess, design, and implement business strategies
Utilize management concepts discussed in the course to enhance EMBA candidates' executive & business acumen
Financial Statement Analysis (3 credits)
An advanced course that uses concepts from all aspects of business to understand and analyze the data being reported in financial statements. It also integrates aspects of forensic analysis. Special sections on mergers and acquisitions and taxes are also included in the syllabus, as well as a module titled "Models of Bankruptcy." The general principles, techniques, and tools taught in this course are fundamentally designed to judge the performance of any business corporations (big or small) anywhere in the world –public or private, in the manufacturing, retailing, or services sectors.
Instructor: Suresh Govindaraj
International Business (2 credits)
Covers strategies for penetrating foreign markets, how changes in the global economic and cultural environment impact company decision making, and introduces basic analytical tools, such as country risk assessment, and hedging of foreign exchange risk. The approach is to translate theory and concepts into real-world management practice. Issues such as outsourcing, offshoring, inshoring, and global supply chain strategy will be discussed in detail.
Marketing for Decision Making/Marketing Management (3 credits)
Incorporates foundational concepts combined with the latest marketing tools that impact customer perceptions, purchase decisions, brand positioning and loyalty, consumer behavior, segmentation, and targeting.  These key concepts, as well as the marketing mix elements (the four P's), are incorporated into a long-term, highly competitive team marketing decision simulation as well as in-course exercises and case studies.  This core marketing course is the foundation for marketing electives offered in the fourth semester that include Marketing Strategy, Digital Marketing Analytics, Brand Management, and Marketing Research.
Powerhouse Advantage II (1 credit)
A series of specialized modules comprise this single-credit course. Modules vary by semester and availability. 
Learn more about Powerhouse Advantage courses here.
Semester Four
Spring Term - 2nd Year - 16 credits
Financial Strategy (3 credits)
Takes direct aim at providing a holistic exploration of how C-level executives manage the entire balance sheet, rather than just assets, in order to drive revenues by creating and sustaining comparative advantages in their product market. Even the most forward-thinking and innovative business strategies are worthless if the firm doesn't have access to the funds to implement them. The class has a strong entrepreneurial focus and is particularly beneficial for those students who one day aspire to either run a company or own their own business.
Global Trade: Leading in a Protectionist-Nationalist World (1 credits)
"Back in the day, virtually all economists would be for 'free trade," writes, Professor Farrokh Langdana who also is the Director of Rutgers EMBA. He calls this Global Trade Stage 1. "Then we had the globally connected economy, and the outsourcing thing happened, and virtual global workers started appearing in our living rooms via the internet--that's Global Trade Stage 2," explains Prof. Langdana. 
This new course is a highly applied cutting-edge course that focuses on the fact that global trade is now on retreat everywhere. Global Nationalism-Protectionism (NP) is the order of the day, and certainly rampant here in the USA, and with Brexit in the UK, in France, in Germany and India, and certainly in China. This Nationalist-Protectionist (NP) world is Global Trade Stage 3, according to Langdana.  
The new course will explore: How should executives run global supply chains in this post-Covid environment? What really should be offshored or outsourced, or now in-shored back into the US?
This course will deeply explore the massive Biden subsidies built into the IRA (the Inflation Reduction Act) and the CHIPS act, subsidizing the domestic production of semiconductor chips and "green" energy produced here or in "friend-sourced" countries.  Is the battle for EV (electric vehicle) dominance and EV batteries just beginning?  Or is it the wrong battle---a day late and a dollar short?
Managing Strategic Digital Transformations (2 credits)
Change as a constant has never been more real than with digital transformations. Digital transformation is a hot topic--but what exactly is it, and what does it mean for 21st-century leaders? This course discusses the exponential rate at which technology changes and creates an imperative for organizations to deconstruct their value chain to gain a competitive advantage. This course will explore how four technologies—elastic cloud computing, big data, artificial intelligence, and the internet of things—are fundamentally changing how business and government will operate. While this profound and fast-moving transformation happens, today's leaders should learn how to use change frameworks to survive and thrive in the new digital landscape. This course will explore emerging trends and technologies and possible future by covering vital external drivers of digital transformation. In this course, we will also cover approaches for change frameworks, planning and managing strategic transformations in the total enterprise, including leadership, processes, structures, and culture; exploring how forms of organizing change are linked to various competitive strategies and performance; and building skills for designing, implementing, and managing strategic transformations. High-level guest speakers from Amazon, Microsoft, Google, etc., will be key features of this newly designed course.
Instructor: Prof. Zeki Pagda
Electives (9 credits)
In addition to the three core courses taken this term, you will also select 3 electives in the area of your choice. You may obtain a concentration by taking all three electives in a specific area—such as finance, marketing or supply chain management—or you may pursue a concentration in another available area of interest. Students may also concentrate in other areas offered by RBS (e.g., Pharmaceutical Management, Real Estate Finance, etc.) or customize their own concentration through a combination of a Research Seminar (Independent Study or Consulting Project) and other courses offered within RBS.
Sample Elective Course: Finance for the C-Suite
Learn more about electives here.

Class Schedule
Our class schedule is built for executives and professionals with full-time jobs and responsibilities that extend far beyond work. Mid-week, late-night classes after a 10-hour work day just won't work for most of our students—you need a schedule that complements your work and personal life and where you get the most benefit from your time in the classroom.
Rutgers Executive MBA classes run on alternating weekend days.
Sample Class Schedule
| | |
| --- | --- |
| 7:30-8:30 | Breakfast is served! Students use this time to get settled in and meet with their study groups. |
| 8:30- 10:15 | Financial Accounting |
| 10:15-10:30 | Coffee Break |
| 10:30-12:15 | Financial Accounting (part 2) |
| 12:15-1:15 | Lunch |
| 1:15-3:00 | Supply Chain Logistics |
| 3:00-3:15 | Coffee Break |
| 3:15-5:00 | Supply Chain Logistics (part 2) |
Week-in-Residence
For one week at the beginning of each semester of the program, our students participate in a week-in-residence—an intensive week of classes hosted at The Heldrich Hotel, New Brunswick where you will learn, work and eat with the classmates in your cohort.
This week is academically intensive and rigorous, but allows you to complete roughly 25 percent of your coursework for the semester.
Beyond the academic rigor, however, this week of living together with your classmates builds teamwork, provides networking opportunities and creates friendships and bonds that extend beyond the completion of the program. The week-in-residence is a cornerstone of the Rutgers Executive MBA.
WIR Sample Schedule
| | |
| --- | --- |
| 8:00-9:00 | Breakfast |
| 9:00-10:45 | Morning Session starts with Data Driven Analysis |
| 10:45-11:00 | Coffee Break |
| 11:00-12:45 | Continue with Morning Session |
| 12:45-2:15 | Lunch – Networking with first Year students and assigned mentors |
| 2:15-4:00 | Financial Accounting |
| 4:00-4:15 | Coffee Break |
| 4:15-6:00 | Financial Accounting (part 2) |
| 6:00-7:15 | Dinner |
| 7:15-9:00 | Evening Session, half session on Financial Accounting |

Electives
Learn more about electives available to you and the Powerhouse Advantage elective, a series of special courses and lectures that are a central part of your academic experience.
I decided to go back to school for my MBA to expand my business skill-set to be considered for roles of increasing responsibility. The Rutgers EMBA proved to be the ideal choice. From the professors, readings, trips and my classmates, I gained knowledge that was implemented immediately in the workplace.
— Mark A. Miller, Executive Director, Marketing Services, Olympus America Inc.