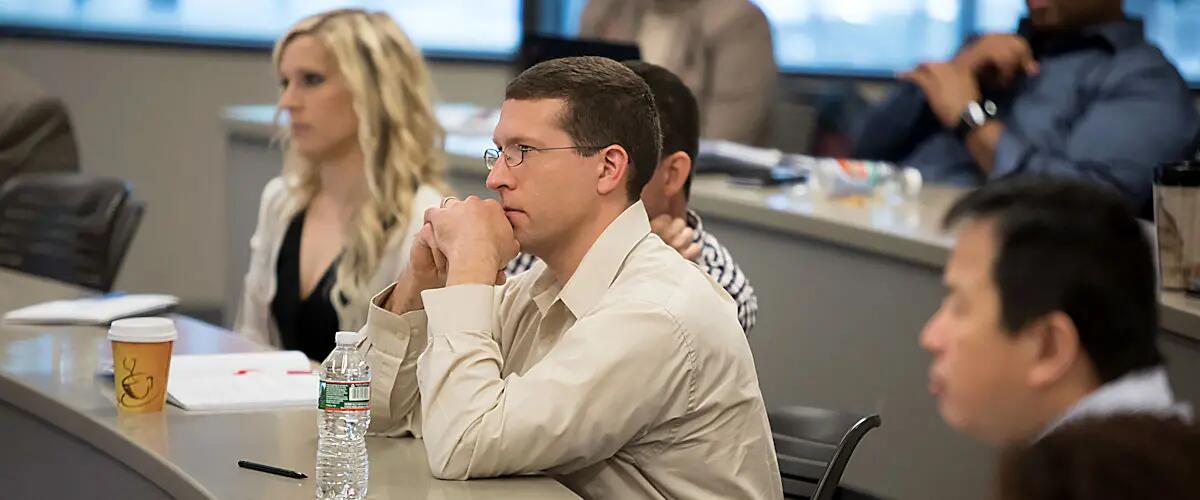 Executive MBA Program Overview
The Rutgers Executive MBA program is built for experienced, working professionals.
Our students run companies, work 60-plus-hour weeks, endure long commutes and raise families – all at the same time.
Getting your Rutgers EMBA won't be easy, but with a weekend-based program completed in just 20 months, we've designed an experience that makes it possible to integrate an advanced degree into your busy life.

The Power of Practical Learning
Our promise to you is simple: what you learn in class today, you'll use at work tomorrow.
That practical focus is the philosophy that drives our program. We are committed to creating, teaching and adapting a curriculum that is relevant, practical, timely and in tune with what's happening in the markets.
Whether it's the core courses that are the backbone of the EMBA program or the "Powerhouse Advantage" specialized courses taught by industry mavens that add value to your experience here, all of it will be useful. We promise.
The Power of Support
Earning your Rutgers Executive MBA is about more than leveling-up and getting a top-tier, highly ranked education. It's about getting that education while becoming a passionate leader with soul.
Our program thrives on camaraderie and mutual support—well beyond just class days. Rutgers EMBA is a culture of collaboration. So we assign our students to study groups based on location and commute, so you can get together with other classmates who live or work near you. Compete against yourself. Support those around you. Here, everyone is in this together.
We also know that your classmates aren't your only support system—your family, friends and those closest to you will play a critical role in your success. We want to support them, too. So we've created events that bring them into the fold, offering your loved ones a chance to see what Rutgers EMBA is all about, and lending you the opportunity to pursue your passion while remaining connected to those close to you.

The Power of Elite Faculty
Earning your Executive MBA isn't just about getting a degree. It's about getting a game-changing education and growing as a passionate leader.
Rutgers EMBA faculty are chosen from more than 160 professors on the Newark and New Brunswick campuses, ensuring that EMBA professors aren't just experts in their fields, but extraordinary communicators in the classroom.
You will learn from the best and use what you learn. 
I want to express my thanks to the faculty's efforts in teaching us the latest material in a very practical and understandable way. And especially, I want to thank you for having established this program and implemented this very special REMBA culture where the school is not a hurdle but a supporter for the mastering of all the challenges (and sometimes pains) involved with these studies.​
— Markus Braun, EMBA Alumnus​