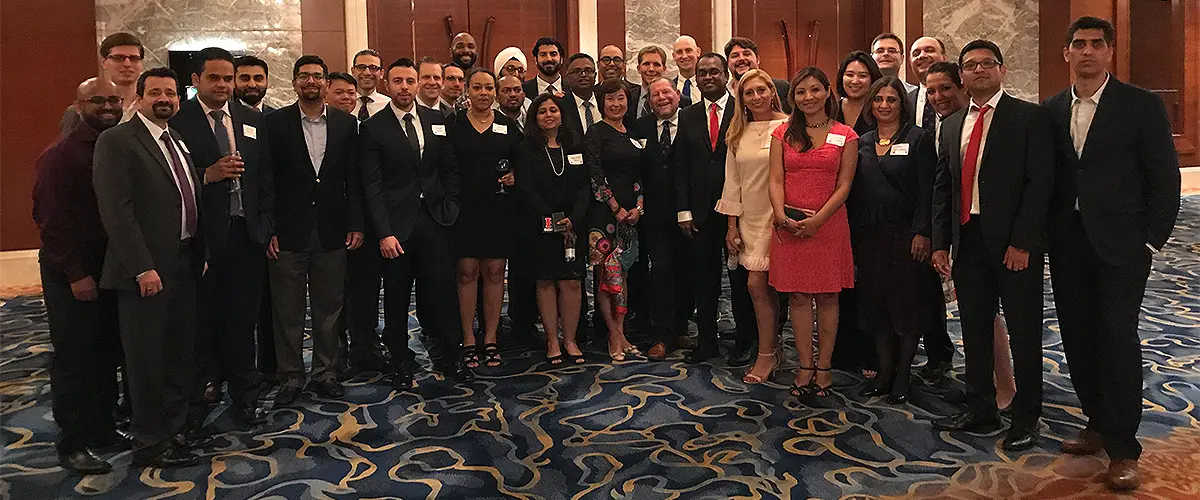 Executive MBA Alumni Benefits & Events
The Power of Connection
We take networking seriously in the Rutgers Executive MBA program.
From the moment you join the Powerhouse, you are connecting with those around you and those who've gone before you. That's the benefit of being part of a program filled with experienced professionals and executives—the REMBA Alumni Networking Upgrade.
This isn't your average networking experience. This is about building a powerful and dynamic community committed to helping one another succeed.
The Executive Brief (Alumni Updates)
A channel for alumni to stay connected and engaged and share success stories. Our newsletter includes the latest updates about the program, alumni and students' promotions and success stories, as well as the program's latest events, school news and career resources.
Alumni News
Learn about the accomplishments and success stories of EMBA alumni by staying connected on social media.
EMBA alumni are among healthcare workers battling Covid-19
EMBA Powerhouse Healthcare Professional Network
This group is for EMBA healthcare professionals who may be working in one of the many related fields of Healthcare. Emba alumni who are Doctors and Nurses, or in any other clinical roles, hospital administrators, HC consulting, technology (designing and deploying HC Platforms) and life sciences. The goal is to leverage the deep knowledge, networks, and skill sets held by EMBA professionals who are working in the healthcare field.
The EMBA healthcare professionals network seeks to regularly host curated events focused around the latest emerging and innovative technologies, networking, educational opportunities, and guest speakers in the field. Past events have focused on integration of healthcare systems, data analytics, healthcare block chain and healthcare management in clinical research and treatment outcomes.
This network came alive during the COVID-19 Crisis when Powerhouse Doctors, Nurses, Clinicians and Hospital Administrators were calling and emailing for help with PPE. The Rutgers EMBA Healthcare Network---in fact the whole REMBA alumni network---deployed fast, to quickly come to the rescue.
I would not have been able to reach the C-suite without the education I received at RBS in the EMBA Program.

- Dr. Patrick Caubel, RBS EMBA '04 Chief Safety Officer, Pfizer
At a recent national nursing conference called ACDIS (Association for Clinical Documentation Integrity Specialists), 3,000 nurses, doctors and other allied health professionals, I met an advanced practice nurse from the University of Chicago. When we had the chance to network, I said I was so glad to meet someone from a prestigious academic medical center, after all, I received my EMBA from Rutgers in New Jersey…before I could finish my sentence, she exclaimed, Rutgers! You are from Rutgers? That's really great! I will be so glad to learn from YOU this week — YOU are the top of the TOP! She went on about our Rutgers EMBA programming and how the University of Chicago has been looking to innovate the way Rutgers has done.

Melanie Halpern is a clinical documentation improvement specialist with focus on patient safety and high reliability organizations at Newark Beth Israel Medical Center, RWJ Barnabas Health.
— Melanie Halpern, EMBA Class of '99
Networking Events
Opportunities to network within the EMBA program and Rutgers Business School abound. Here's a sampling of our EMBA-exclusive opportunities. 
Powerhouse Series
Throughout the year, our EMBAs are invited to attend the Powerhouse Series, a compilation of certificate offerings and informative panel discussions on the latest trends and topics.
View the latest installment of the Power House Series
International Networking
Every June, when the EMBA class visits China for 10 days, we conduct networking sessions in Beijing and Shanghai with alumni from the China programs formerly offered by Rutgers. These are very well attended, and often are the first steps in forming strong networking alliances across the Pacific.
EMBA Golf Classics
Golf events are organized by the current classes and alumni, and are held at local golf courses. 
Golf is followed by dinner and, of course, vigorous networking all day! Often, golf classes for first-time golfers are also arranged.  If golf is not your thing, students and alumni may attend only for dinner and networking.

Rutgers Business School Community
As a Rutgers Executive MBA student, not only do you have access to EMBA-exclusive events, you are part of the greater RBS community and have access to attend many other events and workshops outside of the program.
Thanks for two great years that will continue to have an impact on my life till the day I die. I have met such a wonderful group of people that I will be friends with for life—that have common interests, goals—and I am sure we will be in touch forever. It is too bad there are no ROI measures for that ...
— Brad Kinnas, EMBA alum