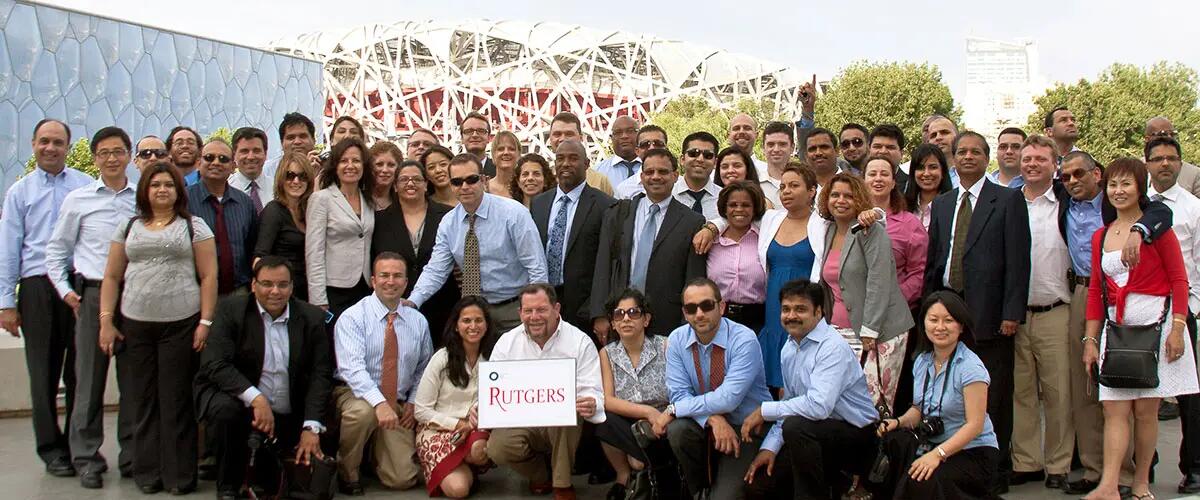 Executive MBA: The International Experience
The Rutgers EMBA classes of 2021 and 2022 are visiting Copenhagen and Athens in Summer 2022. For the future, China again? Europe again? South America, India? As this planet slowly emerges from the pandemic, we shall see. More current details at the EMBA Open Houses. Please register to attend one.
Register for an Open House Here
---
The U.S. and Chinese economies are inextricably linked – not just in the flow of goods and services but also via the less visible inflow of capital from Asia (about $3.5 billion a day) that helps finance our budget deficits.
To appreciate the challenges and vitality of the Chinese economy first-hand, Rutgers EMBAs participate in a 10-day summer residency program in Beijing and Shanghai. The course includes business visits, seminars with key international business and government officials (both U.S. and Chinese), and day trips. You will witness first-hand the energy, complexity and dynamism of the Chinese economy, along with the challenges and opportunities for U.S. business in China.
As a U.S.-based Rutgers EMBA student, you will also get to interact with your Rutgers-China EMBA counterparts (RBS has been running EMBA programs in China on a continuous basis since 1993, longer than any other American university), thereby upgrading your networking base.

Program Details
Rutgers EMBAs visit Beijing and Shanghai in early June, following their first year in the program.
The base cost for this program is included in your program fee. The only thing you'll have to cover is your round-trip airfare between the U.S. and China, your visa fee and meals on open days while on the trip.

Past itineraries have included business visits to:
Boeing (Tianjin)
Chrysler-Daimler
Lenovo
Shannon Garments (jacket manufacturer for Liz Claiborne)
Port of Shanghai (managed by Maersk)
Siemens Mobile Phone Equipment
Coca-Cola
Sanofi-Aventis
Seminars with representatives of the U.S. Embassy and the Deputy Director General for the China Council for Promotion of International Trade.
Cultural visits with local guides:
The Great Wall
The Forbidden City
The Bund (Shanghai)

The China trip is like the culmination of everything you've learned up to that point. There was that moment in China where you had an opportunity, away from home, away from the stresses of work, to think about what this program really meant to us and what we could do with it.
— Edward Groh, VP & Senior Counsel - Labor, Employment & Litigation, Raymour & Flanigan