Executive MBA Alumni
Stay connected to the Powerhouse
The Power of Family
Welcome back home.
Whether you graduated last month or years ago, as a Rutgers EMBA alum, you continue to be a vital part of our program and its future.
We believe our alumni are the heart and soul of our program, so we want to help you stay connected, get involved, access resources and opportunities, and be part of your continued success. 
Follow us on Facebook to keep up with all the latest news from the program.
Executive MBA Alumni Benefits
As an EMBA alum, there are a host of services available to you through our program. 
Take electives within the Executive MBA programs, as well as other programs within Rutgers Business School
EMBA alumni have the opportunity to come back and audit electives offered within the program and also benefit from career services
Visit Symplicity to access Alumni services.
Want to find out details about an upcoming alumni networking event, get signed up for EMBA news or access job listings and career services?
Connect with our Career Management & Alumni Relations Office.
Executive MBA Council Network Advantage
The Rutgers Executive MBA is a member of the academic association that represents the Executive MBA (EMBA) industry, the Executive MBA Council (EMBAC). Members of EMBAC (US and Global EMBA Programs) continuously meet at conferences to share best practices, disseminate knowledge, and foster a community among high-quality programs.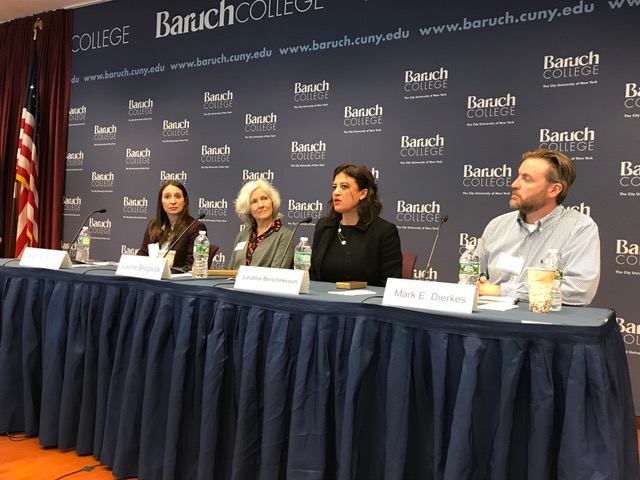 Dr. Loubna Erraji, discusses «Alumni for a Lifetime: Cultivating Return on Education in EMBA & Alumni Relations and Volunteer Engagement», From Left: (Alison Charlebois, Deputy Director, Student Services Executive Programs, Zicklin School, Baruch College/CUNY; Laurie Sedgwick, Director of Career Management, Executive MBA Programs and Alumni, Samuel Curtis Johnson, Graduate School of Management at Cornell University; Loubna Erraji; Mark E. Dierkes, Director of Recruitment/ EMBA Alumni Liaison, Executive DBA & Executive MBA, LeBow College of Business, Drexel University).
Give to Rutgers Business School
Top-tier business schools are built on a foundation of hard-working students, world-class faculty, and the generosity of its alumni and friends. Rutgers Business School's ability to maintain and improve upon its standing among peer business schools and enhance the value of an RBS degree relies heavily on private support.
Learn more about how you can give to Rutgers Business School initiatives and programs and continue a legacy of excellence for future students. 
Connect with Us
Are you an alum who wants to get involved, but you don't know where to start? Want to get our newsletter or share a professional or personal update with us? 
You've come to the right place. 
Contact:
Kathleen Harmon
Assistant Dean, Special MBA Programs
1 Washington Park, Room 454
Newark, NJ 07102
(973) 353-5028
As an Executive MBA graduate, you have access to the benefits and opportunities available to both Rutgers Business School and Rutgers University alum. 
Learn more about benefits, events, giving and how to get involved.